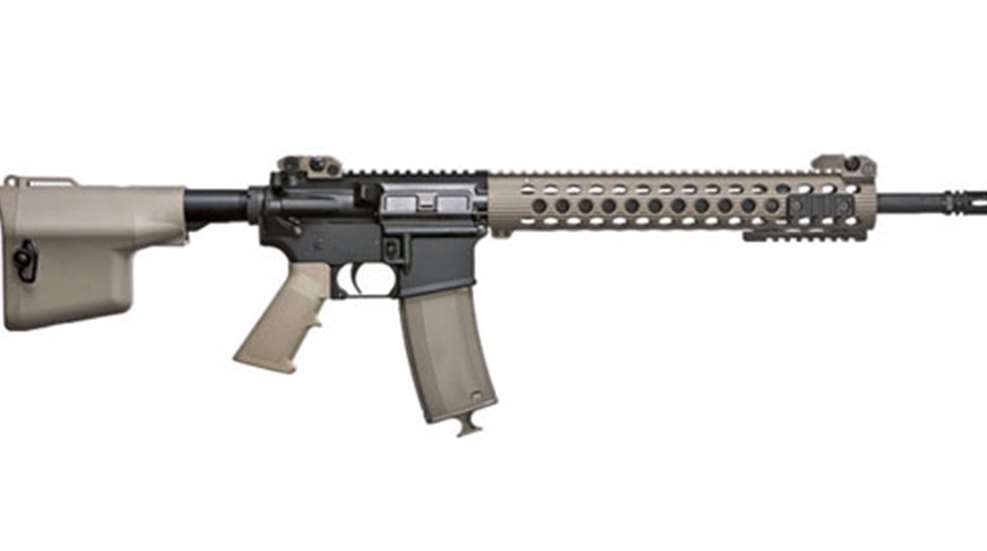 Sometime in 2009, a fellow AR-smith graciously pointed me in the direction of Del-Ton, conveniently located in nearby Elizabethtown, NC. I was happy to learn the company was not only able to ship critical items like bolt-carrier groups and barrels, it was also providing accurate delivery predictions. The fact that the company was a two-hour drive from my shop was the icing on the cake. I have watched Del-Ton grow in the years since, expanding its products and services to include a wide variety of complete firearms along the way.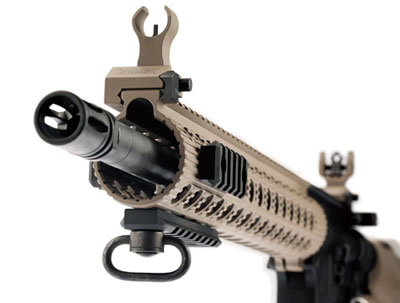 The current AR market is slowly creeping away from the standard configurations that use two-piece handguards and mil-spec front-sight assemblies. The trend toward more flexible models with folding sights and modular, free-floated barrels has not escaped Del-Ton's attention. Its new TRX is a clear step away from the traditional AR flagpole. A quick look at the TRX on the floor of the 2012 SHOT Show confirmed I should test one. Fortunately, Del-Ton was happy to help and quickly loaned me a new TRX with Flat Dark Earth (FDE) furniture.
For more photos of the Del-Ton TRX, click here.
The TRX appears to be set up for tactical shooting, but as with most other modern semi-automatics, it can certainly be pressed into service for other needs, too. Del-Ton incorporated Troy Industries' products throughout the TRX. Most noticeable at first glance are the 13.8-inch BattleRail free-float tube and Battle Ax CQB stock. The fore-end has one each of Troy's solid 2- and 4-inch moveable rail sections.
The TRX exposed me to Troy's Battle Ax CQB stock for the first time. It is clearly designed with three things in mind: shorter overall length for use with body armor, a counterweight to the barrel and in the odd chance you need to butt-stroke your enemy, it provides a big chunk of steel on the rifle's aft end. The shorter overall length is certainly noticeable, as I had difficulty obtaining proper eye relief with an 8X riflescope for accuracy testing, even though my one-piece mount and scope were fully forward.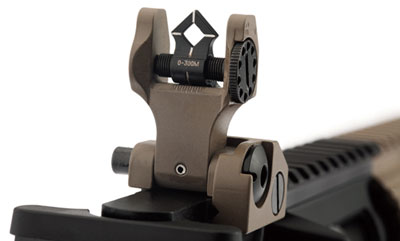 Given that most modern AR carbine stocks are adjustable to any of six positions, I am not so sure the shorter-than-normal stock makes sense. Most of my 21 years in uniform were spent wearing body armor (with a chest plate), and I never had trouble shortening my collapsible-stocked guns for CQB. Although, the heavy stock does change the balance of the shouldered rifle in a very positive way. As for the inclusion of the metal buttplate for hand-to-hand combat, I will simply say this particular attribute is more whimsical than it is useful
Forward of the TRX's mil-spec-diameter receiver extension are Del-Ton's DTI-15 lower receiver and a flat-top upper with forward assist, ejection-port cover and M4 barrel-extension cuts. The standard A2 pistol grip, stock, free-float tube, sights and Troy's 30-round, polymer BattleMag were all FDE colored. The folding Troy sights feature a "Di-Optic Aperture" rear, graduated for two sets of ranges. Its rear-most diamond-shaped aperture is marked for 0- to 300-meter targets and was easy to acquire. Rotating the aperture rearward brings up a fairly small, V-notch blade marked for 300- to 550-meter shooting. Here again, I had a problem with the shorter stock. My 43-year-old eyes simply could not resolve the finer aiming points of the long-range notch, so I was unable to use it with any degree of precision. Although your eyes should focus on the front sight for accurate shooting, you have to be able to see the rear well enough to align the two and I could not do that. Either the stock needs to be longer or both rear sight positions should feature enclosed apertures. I suppose eye surgery is another option.
The TRX's guts contained a single tungsten "H" (heavy) buffer, stock-AR trigger group, enhanced extractor spring and a mil-spec, chrome-lined bolt-carrier group. The trigger had lots o' creep, but eventually broke cleanly at 5.75 pounds, which is decent for a stock model. A medium-contour, 16-inch barrel sported a mid-length direct-gas-impingement system, Troy low-profile gas block and an A2 flash hider. Del-Ton provides a pushbutton QD sling attachment for use with any of the TRX's four on-board QD sockets: one on each side of the stock, one on the stock's toe and another on the moveable 4-inch rail section bolted to the Troy fore-end.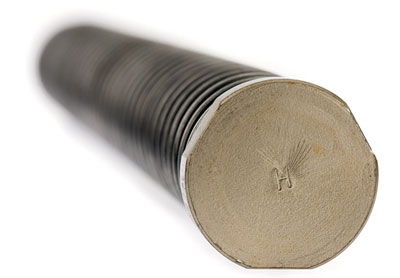 I do not believe a batch of good features necessarily makes a good rifle, so I was anxious to get the TRX out on a flat range to complete my shake out. The 1:9-inch twist barrel pushed me to select projectile weights on the lighter side, so I went with good 55-grain performers. I fired 90 rounds for accuracy and drop testing at 100 and 300 yards, respectively, and another 40 rounds of 55-grain FMJ target fodder inside 25 yards to get a feel for the ergonomics of the rifle when shooting on my feet.
No malfunctions were noted and overall shootability of the TRX was very good. The stock had a natural feel when placed against the cheek for firing, and its increased weight definitely helped balance the rifle nicely. I found transitioning laterally from one target to another was much smoother than with a barrel-heavy carbine. Using a 1.5X optic at close range, the increased eye relief provided by the sight eliminated the short stock problem I had while shooting prone at 8X. The best load tested managed a pair of 1-MOA groups and averaged 1.1 MOA overall at 100 yards. Such accuracy tells me a good trigger and a more user-friendly stock would likely make the TRX a prime candidate for pursuits requiring superior accuracy. As tested, Del-Ton's TRX would make a fine battle rifle with above-average accuracy for a gun in that class.
Specifications
Manufacturer: Del-Ton: (910) 645-2172, del-ton.com
Action Type: Direct-gas-impingement, semi-automatic
Caliber: 5.56 NATOCapacity: 30 rounds
Barrel: Free-floated, 16-inch chrome-lined, medium-contour
Rifling: 6 grooves: 1:9-inch RH twist
Sights: Troy flip-up BattleSights, dual-aperture rear; protected front
Stock: Six-position collapsible Troy Industries Battle Ax CQB stock, A2 pistol grip
Trigger: 5.75-pound pull weight, single-stageLength: 32.25 inches (collapsed), 35.5 inches (extended)
Weight: 7.2 pounds
Accessories: One Troy 30-round BattleMag, one pushbutton QD sling attachment, operator's manual, lock, hard case
MSRP: $1,250
Shooting Results
| | | | | |
| --- | --- | --- | --- | --- |
| Load | Velocity |   | Group size |   |
|   |   | Smallest | Largest | Average |
| Black Hills 55-grain MPG | 3,125 | 1.1 | 1.3 | 1.2 |
| Hornady 55-grain GMX | 3,030 | 1.5 | 3.0 | 2.0 |
| Hornady 55-grain Zombie Max | 2,887 | 1.3 | 1.9 | 1.5 |
Velocity measured in fps and determined using the drop-truing method. Temperature: 67 degrees Fahrenheit. Accuracy measured in inches for five consecutive, five-shot groups at 100 yards from a prone supported position.