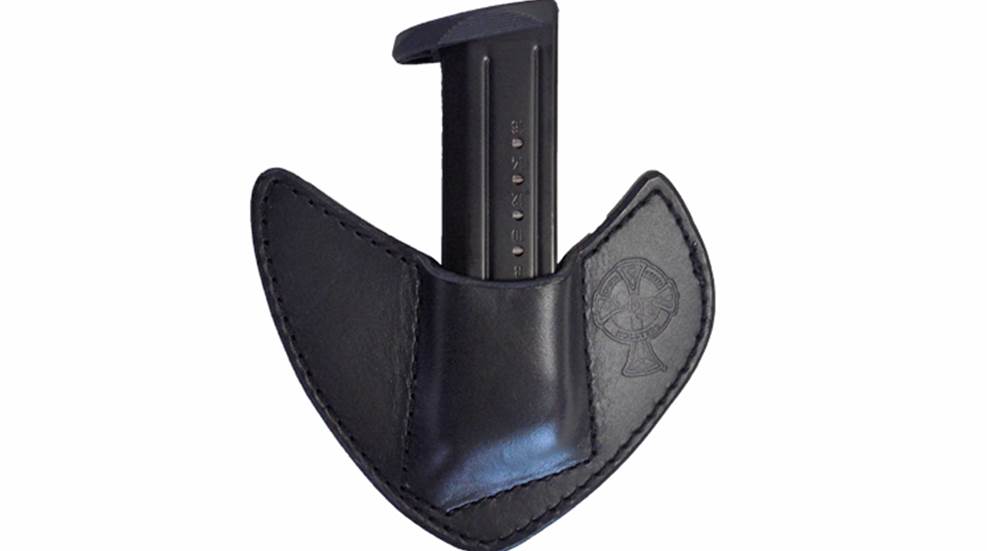 As our own Sheriff Jim Wilson has so recently opined, if you carry a semi-automatic handgun, you really should carry a spare magazine. Mr. Murphy has a way of showing up at the worst possible times, and most common malfunctions in a semi-auto pistol center on the magazine. Having a spare mag just plain makes sense even if you don't think you'll need the extra fodder.
If you're trying to be discreet, hanging in excess of a half-pound of spare magazine and ammo on your belt can be less-than-satisfactory. It's hard enough to hide a moderately sized handgun, let alone a 17-round reload. Fortunately, the folks at CrossBreed Holsters have an ingenious solution.
The Gideon magazine carrier is designed to sit in a pants pocket and hold either a single- or double stack magazine ready for use. Angled "wings" ensure the carrier stays in the pocket while you retrieve your spare mag, and it really does stay in place. 
MSRP: $24.95. Available in black, Havana Brown, Chocolate Brown, London Tan and Horsehide ($5 premium).