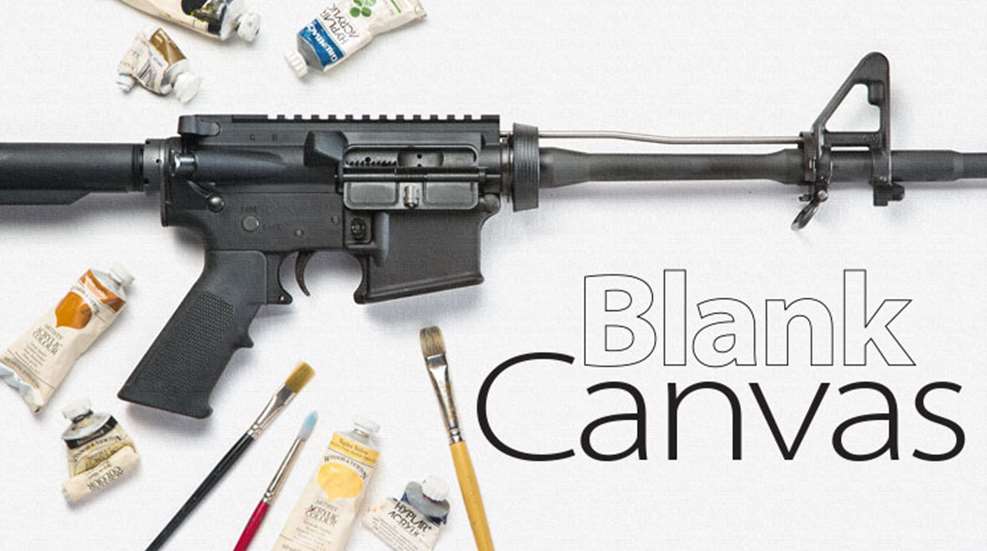 When a firearm manufacturer launches a new SKU off of an existing product line, chances are pretty good that it's a minor variation. A new color, different furniture, specialized sights or any other number of minor changes can result in a "new" product that's just a twist on something extant. With the OEM line, Colt went in a completely different direction and started offering less on its standard M4-style carbine.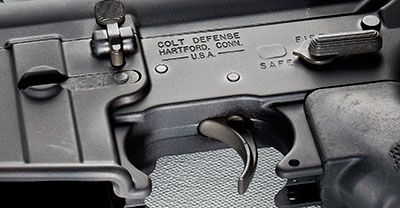 Rather than put on Mil-Spec components that will wind up in a box within hours (if not minutes) of getting the rifle home, Colt decided to offer a near-literally bare-bones carbine. Items not critical to the rifle's operation were left off—the handguard, trigger guard and buttstock are not included—so the end user can choose from a plethora of options to install as they see fit. The thinking is clear: These items are destined to be replaced by an aftermarket option of the shooter's choosing. Why not offer a model that comes without items the customer doesn't want at a more-attractive price? It shows savvy attention to market forces and customer needs. 
Colt Product Director Justin Baldini explained, "It's tough to watch customers buy a top-quality rifle, only to throw parts of it into the 'parts bin,' and spend more money to complete it. In this case, we chose to offer a rifle that still uses top-quality components, but drops most of the ancillary parts that are personalized immediately after the sale in order to get closer to the value that the consumer is looking for."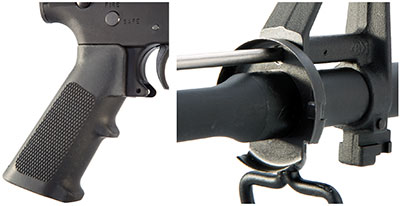 Be honest, here. How many Mil-Spec buttstocks and handguards are sitting in a box, bucket or bin in the back of your closet? I'll go first: Lots. The Mil-Spec buttstock isn't terrible, but there are so many great aftermarket options available today that it doesn't make sense to keep it. Myriad companies exist for the seemingly sole purpose of feeding our AR-15 customization addiction, so why not start with a bare-bones rifle that doesn't need parts removed? 
Baldini made another salient observation about the OEM, "We recognize this isn't likely to be somebody's first M4/AR-15 purchase, but rather their second or third. For this purpose, it's been very successful." 
The enthusiast looking for their first AR-15-style rifle has a number of excellent entry-level options available. For around $600, there's the Smith & Wesson M&P15, Ruger AR-556 and numerous offerings from other manufacturers (see the January 2015 issue of Shooting Illustrated for our round-up of inexpensive ARs) available to the neophyte looking to fill the AR-15-shaped hole in their armory. Once addiction takes hold, though, it demands to be fed. The discriminating aficionado looks to the next level, and companies like FN America and Colt offer honest-to-goodness Mil-Spec rifles of sufficient quality to arm our Soldiers.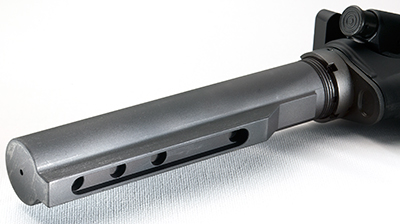 Military heritage, reputation and company history are excellent reasons to look at the Colt. Baldini explained further, "As you can imagine, being the original M4 manufacturer, we're constantly inundated with companies looking to put their accessories and furniture onto our rifles. The primary purpose was to offer accessory manufacturers a way to showcase their handguards, buttstocks and pistol grips on a top-quality rifle without throwing away valuable furniture to do so." He continued, "In the past we had gone down the road of creating a myriad of different SKUs with a bunch of different options, but it's a manufacturing nightmare. With the OEM rifles in place, we've not only been able to support these accessory manufacturers with what they need, but even help out some of our LE and Commercial distribution partners by giving them access to a quality base carbine that they can build special orders on. It's been a big relief to our operation."
In a nutshell, the AR-15 accessory market has become so expansive and pervasive that it made more sense to offer nothing, rather than something that would only be discarded. It's a pretty shrewd business decision, and shows that Colt is responding to complaints about ignoring the civilian arms market. It is the first manufacturer of which we are aware to offer a "stripped" carbine, and does so at a substantial savings: the OEM1 has an MSRP 20 percent lower than a complete Colt carbine. By offering the very basics, Colt has placed the company's sought-after brand within the reach of a much larger audience. It has done so in a way that makes good sense, too, since the overwhelming majority of folks who buy the OEM series will either own the parts needed to complete it or have plans for it that extend well beyond Mil-Spec components.
The pistol grip brings up an interesting side note. Both versions of OEM (the OEM1 we received has an A2 front sight, while the OEM2 has a low-profile gas block for a freefloat fore-end) come with a standard Mil-Spec pistol grip. While the grip is another area for frequent customization, Colt ran headlong into a conundrum with it. It needed to be in place to sell the rifle, as without the pistol grip in place, the operation of the safety is incomplete. However, coming up with a block to temporarily hold the safety detent and spring in place would require time and resources, and a quick analysis showed it made better sense to continue to use the existing grip.
Baldini discussed the history of the OEM-series pistol grip, "You can imagine the volumes that we mold and stock for the standard Mil-Spec A2 pistol grip. By the time we design, have tooling made and amortize the tooling costs over whatever that part would be; it wouldn't be worth bothering."
The carbine itself is, well, a Mil-Spec, 16.1-inch-barreled, AR-15-style carbine. It handles just like you'd expect an AR carbine to handle, with all controls exactly where you expect them to be. Familiarity is this longarm's stock in trade: the M4 has been the military's go-to carbine in excess of 20 years; there's a reason Uncle Sam keeps buying them. It's handy, powerful and can perform a wide variety of tasks with only minor modifications needed—think of it as the Swiss Army knife of rifles. If you've been shooting ARs at all, you'll pick up the OEM1 and immediately feel at home with it.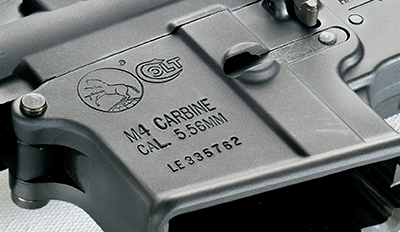 On the range, no surprises were encountered with the OEM1. It handled like a carbine-size AR-15 should, with familiar heft and weight distribution. Outfitted with simple furniture (the Mission First Tactical Minimalist stock, Mil-Spec trigger guard and Magpul MOE handguard), the OEM1 resembled several of the ARs in my safe at home, and the overall feel is quite similar. The trigger, however, feels like an upgraded version; rather than the "dragging an anvil down a gravel road" feel of some Mil-Spec triggers, the Colt's felt a lot more like the refined ALG Defense upgrade. A very small amount of take-up, followed by a stout pull, resulted in a very clean release that rivaled aftermarket upgrades. It's not target- or precision-grade, but that shouldn't be expected from an M4-style carbine. 
Function was exemplary; the Colt handled everything we put into it over a wide range of bullet weights, style and cartridge composition. Whether it was 75-grain match-grade ammunition or 55-grain steel-cased Russian plinking ammo, the OEM1 fed, fired and ejected everything that went into it. For the formal accuracy testing we opted for more standard rounds, settling on common bullet weights and designs for the official testing. While the 1:7-inch twist is designed for heavier bullets—evident in the accuracy results—function with common 55-grain fodder proved to be as seamless as with heavier projectiles. Overall results were pretty much what were expected for a carbine; it's asking a lot to expect a sub-$1,000 carbine to run sub-MOA groups, but 1.5–MOA is not out of reach with the right ammo. 
The real take-home lesson with the OEM1 is there really are no surprises. It's going to work, it's going to work well and you're going to be able to depend on it for whatever task you assign. Carbine class, home defense or just a fun day at the outdoor range ringing steel at 100 yards; all of these are easily achieved with the Colt OEM1. There's no reason this carbine couldn't be someone's first AR—or their fourth. The OEM1 could be a good contender for your next AR-15-style rifle.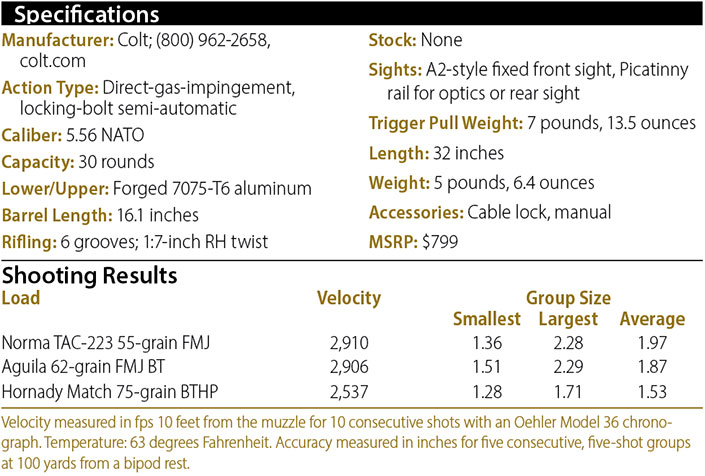 ---
Build Options

While there are thousands of different configurations possible, we put together a few profiles possible with the Colt OEM1. While we couldn't list all the manufacturers of aftermarket parts for the AR-15, here are a few ways the OEM1 can be "finished" to your liking, with a finished, total cost of each configuration. 

#1 Budget-Friendly
In keeping with the lower cost of the OEM, here are components that offer great value at a reasonable price. Obviously, Magpul offers a wide variety of colors other than the eye-catching pink shown.

Magpul MOE buttstock.......................................$39.95
magpul.com
Magpul MOE handguard......................................$24.95
Magpul MBUS Rear Sight ...................................$57.95
Magpul PMag Gen3 30-round magazine.......$14.95
Magpul MOE Trigger Guard, Polymer.............$8.95
Total budget configuration cost.............$945.75



#2 Lightweight
If shedding ounces is more your style, outfitting the OEM in the lightest components possible can be done while still maintaining something resembling a budget. Total weight: 6 pounds, 2 ounces.

Mission First Tactical Battlelink Minimalist stock..$59.99
missionfirsttactical.com
American Built Arms Pro Handguard.............................$40.99
abarms.com
CMMG Trigger Guard assembly...........................................$7.95
cmmginc.com
Blackhawk Flip-Up Rear Sight............................................$61.45
blackhawk.com
Mission First Tactical polymer magazine....................$14.99
missionfirsttactical.com
Total lightweight cost............................................$984.37



#3 Tactical
While "tactical" has become somewhat of an overused cliché, we're using it to mean adding function without excess—only using components that bring usefulness to the equation.

Command Arms Skeletonized Buttstock..$80.50
commandarms.com
Mission First Tactical Tekko Rail................$124.99
missionfirsttactical.com
Wilson Combat Tactical Trigger Guard......$19.95
wilsoncombat.com
YHM Flip-Up Rear Sight..................................$100.50
yhm.net
Hexmag 30-round magazine...........................$14.99
hexmag.com
Total tactical cost................................$1,139.93



#4 Ergonomic
For the final version, we opted for components that added comfort and ergonomic features to make the most of your range experience.

FAB Defense GL-ShockCP stock.........................................$119.05
fab-defense.com
FAB Defense Monopod Buttpad..........................................$96.80
fab-defense.com
ErgoGrips UltraLite Z KeyMod 2-Piece Handguard..$191.75
ergogrips.net 
Brownells Oversized Trigger Guard....................................$24.99
brownells.com
Command Arms Flip Up Rear Sight....................................$60.38
commandarms.com
TangoDown 20-round magazine............................................$15.95
tangodown.com
Total ergonomic cost............................................. $1,307.92

There might be lighter, cheaper or more ergonomic accessories out there that we haven't covered, but this is intended to be a quick snapshot in readily available parts for the AR-15 carbine.