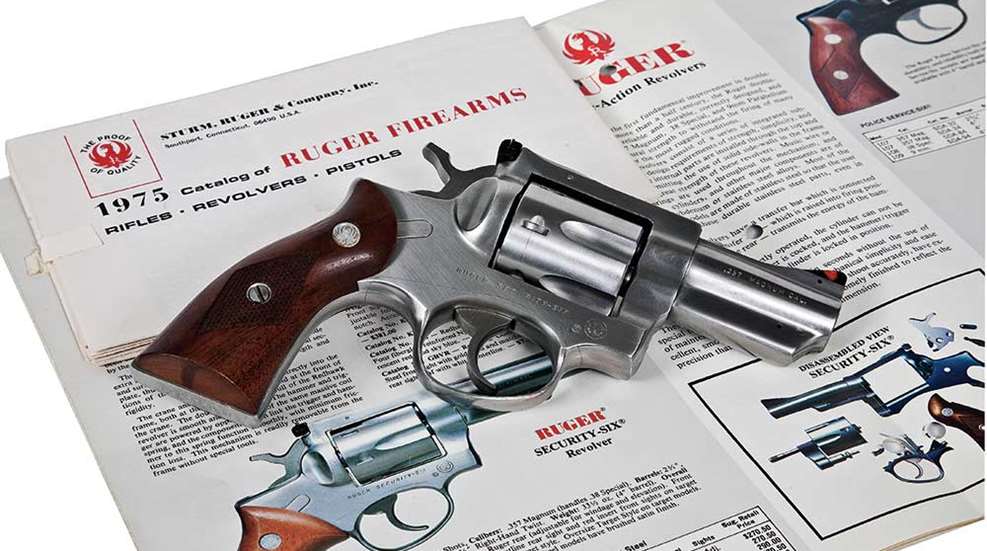 The late CEO of Continental Airlines, Robert Six, used to buy practically any gun with a "six" as its serial number or as a model designation. So it's a pretty safe assumption that he would have owned a Ruger Security-Six, the first double-action revolver produced by Sturm, Ruger & Company after coming off of a whirlwind .22 semi-automatic ride and a flurry of single actions that pretty much revolutionized the handgun world. Now Ruger was about to do the same thing with double actions.
Bill Ruger, always on the competitive edge, knew his now-prosperous company had made tremendous inroads with civilian shooters, but it was losing out on the lucrative law enforcement and self-defense handgun markets by not having a double-action revolver. So he set his sights on what he rightly determined would be his two biggest competitors—Smith & Wesson and Colt. Both dominated the law enforcement field with medium-frame wheelguns.
Ruger started analyzing the double actions of these two stalwarts, and perceived what he considered to be common flaws in their designs. Both revolvers incorporated side plates, which Ruger viewed as a structural weakness. In addition, their lockwork, although different, basically dated from the late 19th century. As such, they were complex, expensive to manufacture and required labor-intensive hand fitting.
As early as 1966, Ruger, along with designers Harry Sefried and Henry Into (who eventually left to work for Colt), began perfecting what would finally be introduced in 1971 as the Ruger Security-Six. Starting with a basic concept Ruger sketched out on a sheet of paper, the handgun slowly, methodically began to take shape. It was to be like no other double action that had come before it, with Ruger and Sefried eventually holding patents on various mechanical components, though Ruger is credited with the wheelgun's basic design.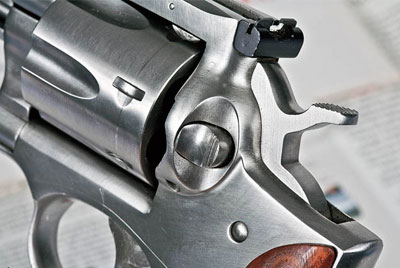 Initially, the Ruger Security-Six was offered as a blued version with an investment-cast frame, a ribbed barrel and cylinder forged from solid bar stock, adjustable rear sights and a pinned, Baughman-style quick-draw front sight. Some very early models were also made with fixed sights (not to be confused with Ruger's later Police Service-Six). A stainless variant, using the company's proprietary Terhune Anticorro steel, was brought out in 1975. Aside from commemorative and custom issues, three basic barrel configurations were produced: 2.75-, 4- and 6-inch lengths. As might be expected, the gun was chambered for the lawman's favorite, the .357 Mag. cartridge, which could also handle milder .38 Spl. loads. In addition, a few early production Security-Sixes were chambered solely in .38 Spl.
Following Ruger's vision, the new wheelgun had no sideplates. In fact, the only screw held its oil-finished, checkered American walnut grips to the backstrap, which was integral with the frame—a carryover adapted from Ruger's earlier single actions.
The Ruger Security-Six was a solid-frame revolver that incorporated overengineered, dome-shaped recoil shields (also reminiscent of Ruger's single actions). The hammer, with its transfer-bar safety—as opposed to Colt and Smith & Wesson's rebounding hammers—was accented by its polished sides and physically more prominent than those found on the competing Colt and Smith & Wesson revolvers, suggesting this was a double action equally amenable to single-action shooting. The fact was, with its 3- to 4-pound single-action trigger pull, the Security-Six was much more practical to shoot by manually cocking than in double-action mode, given its lengthy pull requiring almost four times more pressure. Shooting the Security-Six double action was tantamount to using a grip exerciser.
No matter. As with all Ruger handguns, the Security-Six was affordable. Ruger's use of investment-cast chrome-molybdenum steel—a process pioneered with the company's Single-Six—brought the Security-Six in at an extremely competitive price of only $89. Even a few years later, when the cost of a Security-Six rose to $121, Smith & Wesson's Model 19 was going for $143 and a Colt Trooper listed for $161.
Also helping to keep costs down was the Ruger Security-Six's completely modular construction. This resulted in ease of assembly, which sped things up at the factory and made it equally convenient to disassemble the revolver in the field for maintenance.
After verifying the gun was empty, all one had to do was remove the grips, cock the hammer (which exposed a hole in the bottom of the hammer strut) and, using a disassembly pin stored in the left grip panel, the revolver could be broken down into five basic parts. They consisted of: barrel, frame and grip assembly; cylinder and yoke assembly; trigger-action assembly; walnut grips; and hammer strut and mainspring assembly. Music wire and stainless steel coil springs were used throughout. All of the small, internal parts were made of stainless steel, thus practically guaranteeing maintenance-free longevity. The gun's only failing—aside from its hefty trigger pull—was the less-than-ergonomic grip shape.
Nonetheless, the Ruger Security-Six was quickly embraced by its intended audience, which included countless branches of the U.S. government ranging from the Border Patrol to the Post Office Police. The number of law enforcement agencies that adopted this pistol can be indicated by the number of Security-Six commemoratives produced over the years, including the M.C.O. (Minnesota Conservation Office) 1979 Special Edition, the Police Marksman Association two-gun set—in which a Security-Six was cased with a Ruger Redhawk—a stainless California Highway Patrol model which, ironically for a law enforcement commemorative, was chambered in .38 Spl. and the Government of India, Border Security Force, chambered for the .380-caliber rimmed cartridge.
In time, 3- and 4-inch bull-barrel variants were produced. The Ruger Security-Six also sired two variants, the aforementioned Police Service-Six, chambered in .357 Mag., .38 Spl. and 9 mm, and the Speed-Six, which featured fixed sights, a rounded butt and came in the same three calibers, as well as .38 S&W. With slightly more than 1.2 million guns produced, the Security-Six was discontinued in 1985. It was replaced one year later with Ruger's GP100, while the Police Service-Six and the Speed-Six stayed in the line until 1988.
The Ruger Security-Six was a workhorse, and a few Ruger salesmen were said to delight in running their samples over with their cars, after which they would fire some impressive scores with these same guns. Even today, after multiple thousands of rounds, a Security-Six will rarely wear out, which is why you don't see many of them for sale. When you do, they may be battered externally, but internally they remain functional. Although the Security-Six was built like a tank, perhaps it is more fitting to say a tank was built like the Security-Six.