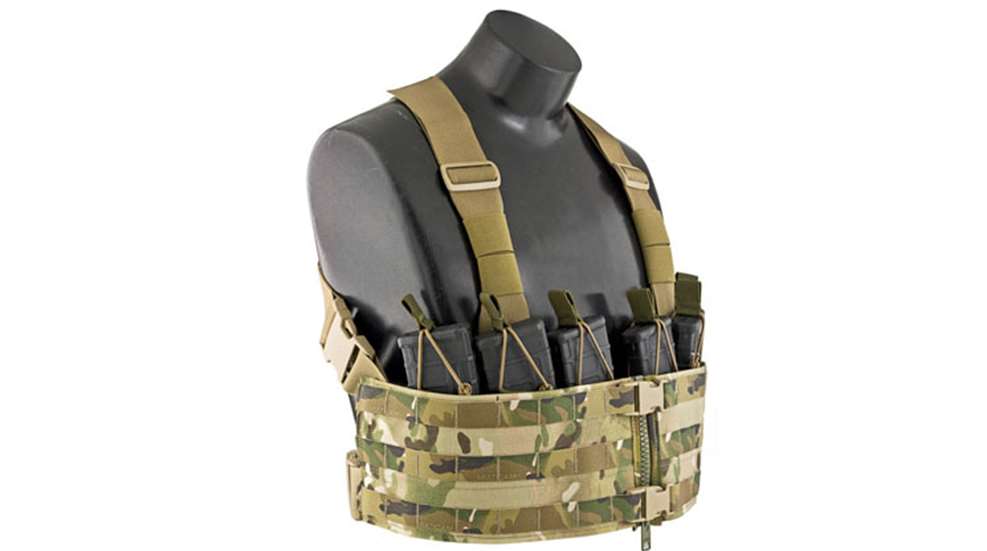 When in the woods, I like to move quickly and quietly, carrying as little gear as possible. I attribute this to my younger days deer hunting in the bottomlands of eastern North Carolina, where every extra pound you carried was an extra pound pushing you down into the muck of a freezing swamp.
The minimalist, high-mobility philosophy has carried over into gear selection for my AR-15s as well. I want something that can carry a shooting-class load of four to six magazines and keep them out of the way of the pistol holster and pistol magazine pouches worn on my belt. A few extra pockets for a magazine loader or a folding knife are fine, but that's about it.
Simple, fast, light and out of the way—I want a chest rig. It is, in theory, just a couple of pouches strapped to your chest, held on by webbing that goes over your shoulders and around your back. It fits close and rides high enough to leave your belt free for other gear.
I was fortunate enough to get a quartet of chest rigs from Blue Force Gear, Viking Tactics, Mayflower Tactical and Esstac to test. Each model is a solid bit of gear, with its own unique strengths and design ideas, showing something as simple as a chest rig can become almost anything you need it to be.
The biggest part of the Blue Force Gear Ten-Speed M4 Basic Load Chest Rig is its name. It's an ultra-light, bare-bones rig, consisting of not a lot more than six elastic pouches sized for AR magazines or anything else of comparable size you can cram into them, including knives, compression bandages, pistol magazines or small radios.
While lightweight and form-fitting, the Ten-Speed is rugged enough for anything I would ask it to handle as a chest rig, and the elastic pouches holds magazines tight without needing a cover, snaps or bungies. The AR-pouches fit standard 20- and 30-round aluminum magazines, Magpul PMags, and one of the most difficult magazines to fit in a pouch, the Lancer L5. The L5 is one of the best functioning magazines on the market, but the ridged mag-well stop molded into its body is tough to fit in many magazine pouches. The Ten-Speed is also small and light enough to be worn under outer garments by covert or plainclothes operatives, a claim few other manufacturers can make. Simple and comfortable, the Ten-Speed, will fit the needs of most civilian AR shooters.
The Viking Tactics MOLLE Chest Rig is lightweight, cool, comfortable and incredibly adaptable due to the two-by-seven rows of MOLLE webbing sown across the front of the rig's four AR-15 mag pouches, and three-by-two MOLLE webbing sown on each side. You can attach additional pouches of your choosing to customize the basic lightweight VTAC rig into almost any configuration.

This rig rides very close to the body with nothing to stick-out or snag, and the bungie cord holding each mag in place is topped with a sticky, synthetic-leather tab like you might find on wide receivers' gloves. It is among the most adaptable lightweight chest rigs on the market, and will excel in competition, carbine classes and active-shooter scenarios, as well as for military operators in scenarios where light weight and speed are critical factors.
Mayflower Research and Consulting's LE/Active Shooter Chest Rig is far more complex than either the Viking Tactics or the Blue Force Gear models, but then, it was designed with a specific, difficult mission in mind. Built for law enforcement officers as a quick-donning-scenario vest carrying the equipment cops need when responding to a shots-fired situation, it has pouches designed to carry four 5.56 NATO magazines, two pistol magazines, a patrol radio, a baton, an OC canister or flashbang, and it adds three small general-purpose pockets in the front.
The H-style harness has channels to route radio antennas and wires, or they can be used for hydration tubing. It can be stripped down and mounted to the front of a Mayflower Low-Profile Armor Carrier.
The fourth chest rig I tested was the one with the most obvious infantry-centric focus in its design. The Esstac Bush Boar A1 is an example of split-front chest rig that focuses on a modular approach.
While the three preceding chest rigs were designed for the basic four-magazine load-out more common to civilian and law enforcement scenarios, the Bush Boar holds up to six M4 magazines in a unique internal pouching system, whereby the magazine pockets ride on the inside of the chest rig's body while MOLLE webbing lines the exterior. Variants of the Bush Boar can carry two more or two fewer magazines, and the pouches themselves can be swapped out so you use the same chest-rig body with attachments and only need to change the magazine pouch panels as you transition among weapon systems, making it the most versatile of the chest rigs tested and perhaps the most utilitarian for shooters who own both AR and AK-pattern rifles.

The rig I tested came with the company's Boar Padded Harness as well, which makes sense on a heavier rig like the Bush Boar designed for long-term abuse. It provides a padded, one-piece harness system with modular sleeves that install on either shoulder strap (one non-slip sleeve, one PALS sleeve and one hook-and-loop sleeve), modular PALS on the back for pouches or hydration and a drag handle.
Each of these chest rigs excel in the specific mission envelope for which it was designed, while retaining enough core functionality to suit a wide range of general purpose applications.