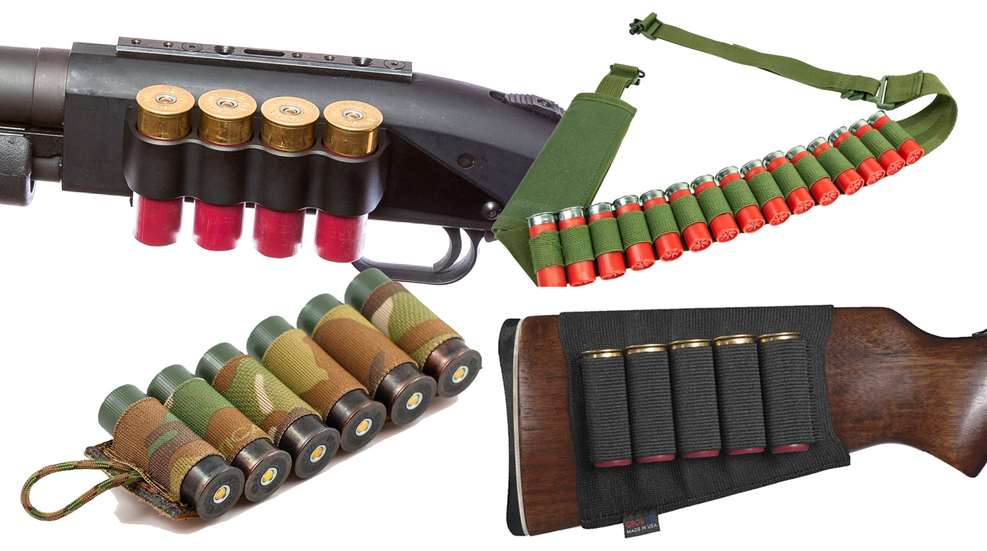 "I wish I'd had fewer rounds," said no one ever. AR shooters can keep 30 rounds in the gun and 30 more in a spare mag stored by their fingertips. That's standard. Most modern semi-automatic handguns hold around 15 rounds, while at least that many more can be loaded via a spare mag in the blink of an eye. Even a revolver can be recharged in a few seconds with a speedloader kept on the belt. But shotguns? They hold five or six shells, maybe eight, if it's got a mag-tube extension. Frankly, it's not all that hard to envision burning through these rounds in a few short seconds once the adrenaline hits. That's why nearly all professional defensive-shotgun instructors preach the benefits of arming yourself or, better yet, your shotgun, with a shell carrier.
Shell carriers—also called shell caddies, shell cards, side saddles or various forms of bandoliers—simply lend a method to keep more rounds handy and organized if things get "western." Of course, old bird hunters might say, "What's all the fuss? I'll just throw a few shells in my pocket in case I need 'em, and I'll be fine." 
But the reality is, when the chips are down, trying to fish shells from your pocket to reload your empty gun is not at all efficient. Besides, you might not even have a pocket. (I know some of you people sleep in your cargo pants, but I don't.)
On-gun shell carriers provide a way to top off the magazine or reload the chamber with one hand, and, with practice, without taking the gun off target. They also lend another advantage: By adding nearly a pound of weight (the carrier plus five or six shells), felt-recoil is reduced significantly. My theory is that I've got to carry the weight of extra shells anyway, I might as well let them mitigate recoil, too. For anywhere from $10 to $100, attaching a shell carrier to your defensive shotgun is a damn good idea. 
Here are a few representations of the most popular styles, along with some specific examples: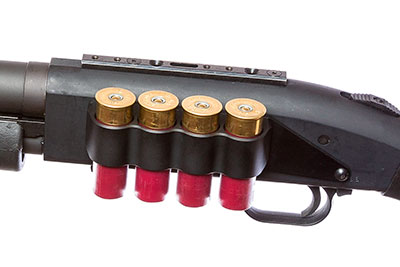 Hard-Sided, Pin-Mounted Shell Carriers
These are single-piece units machined from aluminum that mount directly to the shotgun's receiver via screws that utilize the receiver's existing holes. I consider this type of product to be among the very best on the market in terms of quality. It holds from four to six shells, depending on the model. The only downside is that these are generally only available for Mossbergs and Remingtons, but there are brands such as TacStar that offer a similar product for other models. As with any screw-hole-mounted gun product, use a drop of LocTite to mitigate the chance of the screws backing out with heavy use. One representative of this type is the Mesa Tactical SureShell Aluminum Carrier, which has MSRPs from $90 to $115.
---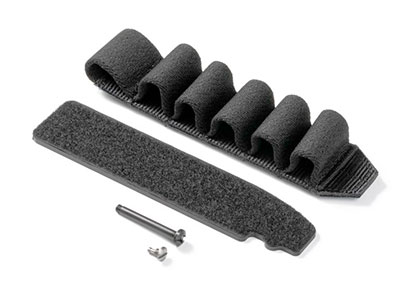 Soft-Sided Shell Carriers with Aluminum-Frame Mount 
This unit consists of a five-loop removable shell "card" that secures via hook-and-loop fasteners onto an aluminum frame mount that installs onto the shotgun's receiver pin and screw holes. The advantage of a "card" versus a hard-sided shell carrier is that a fresh card of shells carried in a pocket can be swapped out in an instant. Slugs or other types of rounds could be carried on an additional card, for quick transitioning based on the given scenario. Its downside is that the elastic loops can wear and grow loose with use, but then again, replacement cards are quite inexpensive. Shown at the left is the Vang Comp Detachable Side Ammunition Carrier Kit, which retails on the company's website for $110.
---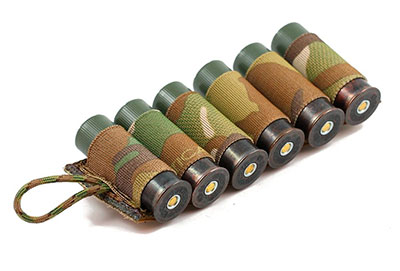 Soft-Sided Shell Carriers with Adhesive Mount
One internet search reveals that this type of shell carrier is prolific and quite inexpensive. One side of the fabric must be glued to the gun so that the mating shell card can be attached to it. If you go this route, consider ditching the product's provided adhesive or double-sided tape that's often not strong enough. Instead, consider a premium bonding agent like Shoe Glue, Gorilla Glue, etc. to ensure the carrier stays attached to your gun in the heat of battle. Prices range from $10 to $30 or thereabouts.
---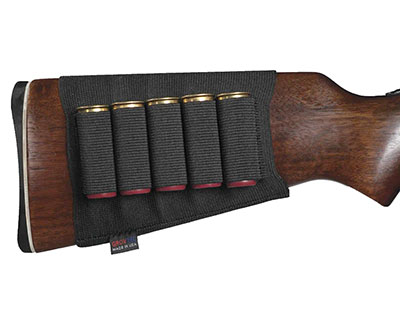 Elastic Buttstock Carriers
You've seen this style of shell holder at sporting goods stores everywhere. Its advantages are that it's cheap; also, fit is universal to any shotgun. Some even include a padded comb, which is great for using in conjunction with an optic. Cons? The elastic loops wear out over time and with use, causing shells to slip out. Also, placing the shells on the stock alters the shotgun's balance so that it becomes rear-heavy. You can get used to it, but it certainly makes the shotgun feel and handle differently. One example is the GrovTec Buttstock Ammo Holder, which retails for $16.
---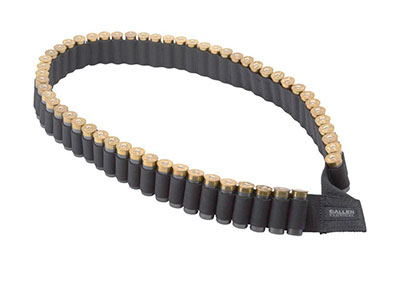 Shell Belt/Bandolier
While effective and able to carry 24 or more shells, I prefer on-board shell carriers because the extra shells always stay with the shotgun. I fear I wouldn't have time to put a belt on during a nighttime emergency; or, if I just threw it over my head and arm bandolier-style, it would clank around against me while moving and could cause problems. Reloading from a belt is also not quite as fast as loading from the side of the gun. However, some folks may prefer more shells over speed. If so, there are plenty of belts and bandoliers out there, ranging from inexpensive nylon web/hook-and-loop models, to full leather-and-metal buckle units. Prices range from $15 to $125.
---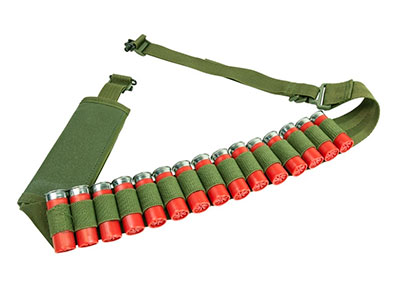 Sling Shell Holders
In theory, a sling that holds extra shotshells seems like a great idea. After all, all my defensive shotguns have slings on them, so why not get one that holds extra shells, too? So, I bought one. It looked great sitting next to my nightstand, but when I took my shotty to the range to practice, I found out that the swinging momentum—caused by the heavy shells on the sling as the gun is mounted and swung to the target—makes the shotgun rather difficult to aim. And, it makes running with the shotgun much more cumbersome. I would avoid this type of shell carrier, and opt for one of the first three options listed previously.