Consider the firearm makers that have introduced versions of the 1911 in the last decade; Smith & Wesson, SIG Sauer and Taurus, to name just a few. Whether or not it's your cup of tea, the 1911 chambered in .45 ACP is going to be around for some time to come.
C.O. Arms of Millington, TN, is offering its version of the classic pistol design in a couple of models built with concealed carry and personal defense in mind. I tested the company's new compact version, the AWP (All Weather Pistol) Extreme Combat. It has an Officer's model-length slide and a 3.5-inch bull barrel, but the frame is Commander-sized to accommodate standard 1911 magazines. The pistol arrived with two Act-Mag eight-round magazines in a padded hard case.
This pistol is faithful to its 1911 heritage, including a grip safety and manual thumb safety. The slidestop is located on the left side, as is the magazine release.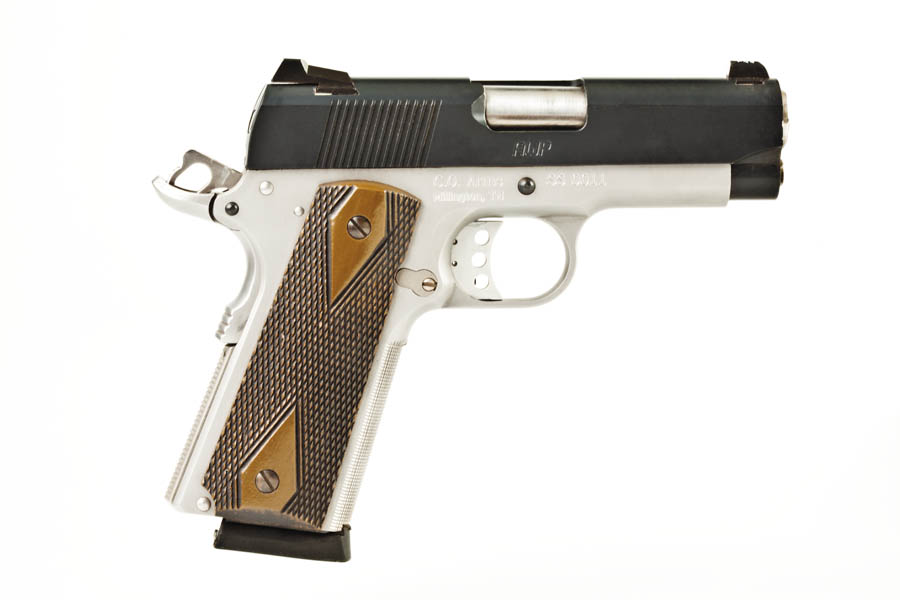 Digging into specifics, the Extreme Combat is built from stainless steel forgings. The slide is coated with a moly-Teflon finish called Carry-Tuff. Below the slide, you'll find a 416 stainless steel frame and double-diamond pattern Ergo grip panels. A full-length guide rod compliments the barrel.
Custom touches on the pistol include a checkered "combat" hammer. On the frontstrap, you'll find 24-lpi checkering. The mainspring housing is flat and checkered as well. A serrated, three-hole trigger with overtravel stop is included and a beavertail grip safety with a memory bump rounds out the package.
Atop the pistol, C.O. Arms has wisely replaced the original diminutive sights with XS Sight Systems' 24/7 Express Sights. The front sight on any fighting pistol is the most important, and you need to be able to locate it immediately during high stress and in all light conditions. The company's products make this process seem natural.
Range Time
For my range sessions, I used a variety of ammunition in both training and personal-defense configurations. Federal's American Eagle and Winchester's USA brand represented the 230-grain FMJ category.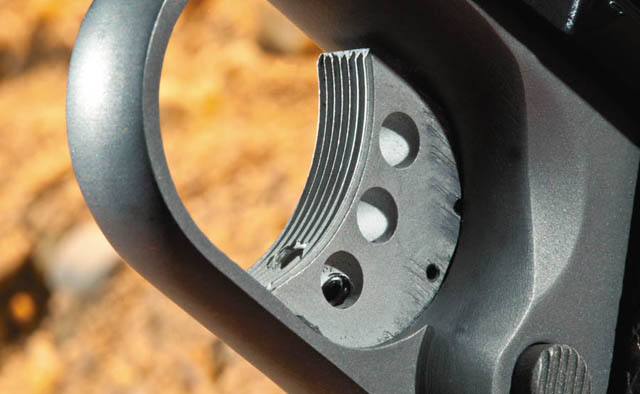 Controlled-expansion ammunition came from Hornady's Critical Defense line. This round uses 185-grain FTX bullets. Lastly, I tried a new load from K&A Ammunition, a 185-grain JHP.
Setting up my Shooting Chrony F1, I began recording speeds from the subsonic ammunition. From the 3.5-inch barrel, the 230-grain loads averaged in the 500 fps range and the 185-grain loads were around 900 fps. For a stubby tube, these results were about what I expected.
The next step was to bench the pistol and rest my arms on a folded range pad for some accuracy work. Twenty-five yards is pretty optimistic for a compact pistol like this, but I nonetheless posted my bullseye targets and settled in. Aligning the top edge of the XS Big Dot front sight just below the center ring of the target, I slowly pressed off my shots.
Moving downrange, I discovered all of the shot groups—while relatively consistent—impacted 5 to 6 inches high on the targets at 25 yards. Patterns averaged between 4 and 6 inches across. Admittedly, 25 yards is pushing the practical range for a compact defensive pistol, but it's something to consider.
For more-practical exercises, I dispensed with bench work and set up several steel targets. I brought along a Blade-Tech IWB holster, a couple of Blackhawk single-stack magazine pouches and my nylon BDU belt. Additional eight-round magazines I used were from Wilson Combat and Chip McCormick.
From a comfort-and-retention standpoint, the Blade-Tech holster secured the pistol properly, just behind my right hip. Naturally, a nice aspect of a kydex IWB holster is the fact it doesn't crush flat after the pistol is removed. Reholstering the pistol was not a problem.
I proceeded to run through a number of practical drills. If you are going to run from concealment, it's never a bad idea to practice actually drawing and engaging targets using your cover garment. Whether it's a vest, jacket or T-shirt, get out and train as if it were real. The first time you draw from concealment should not be because someone is trying to kill you.
My advice for these drills is to start out slowly and deliberately. Speed will come. Mind your hands and other body parts. Remember, if you shoot yourself, it still counts. Learn to be smooth and deliberate. Speed is merely a byproduct of a high level of skill and a lack of extraneous movement.
Having just returned from a fighting pistol refresher course, I also ran through a number or scenarios I consder worst-case drills, during which, I shot strong and weak hand only. I also practiced clearing stoppages with one hand. This requires the shooter to tap the magazine on something—the hip is a good solid place—and rack the slide on your belt, holster lip, shoe heel or whatever is handy.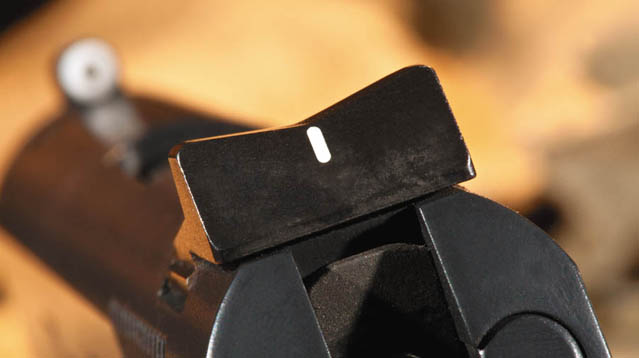 It was during this portion when I found it extremely difficult to rack the slide single-handed due to the design of the rear sight. The sloping unit is aesthetically pleasing and very popular with firearm enthusiasts. As a matter of fact, tens of thousands of police duty guns have been sold with a sloping rear sight. Most folks simply never attempt this emergency stoppage-clearance drill and therefore never realize the shortcoming of the design. XS Sight Systems offers a number of rear sight configurations, and if I had my choice, I'd opt for the more-traditional squared steel rear sight.
Running the included Act Mag magazines along with the McCormick and Wilson models, I found the Wilson Combat magazines were the most reliable. That is, on occasion the McCormick and Act-Mag units would not drop free or lock the slide back when empty. These two have nearly identical followers. The Wilson magazines never missed a beat. Again, given my way, I'd include Wilson Combat magazines with this pistol.
Parting Thoughts
For a century now, the .45 ACP has been a favored man-stopper and the 1911 has been the preferred device for launching said cartridge. Despite advances in modern technology, the American gun-buying public still favors the classic pairing.
C.O. Arms has answered this request by producing 1911 pistols containing features for practical defensive carry. Is this combination for you? Maybe some trigger time with a C.O. Arms AWP Extreme Combat will help you decide.
Manufacturer: C.O. Arms; (206) 888-2899
Action Type: Recoil-operated, semi-automatic
Caliber: .45 ACP
Capacity: 8+1
Frame: 416 stainless steel with 24-lpi checkered fronstrap
Slide: 4140 carbon steel; moly-Teflon Carry-Tuff coated, matte-black
Sights: XS Sight Systems 24/7 Express, windage-adjustable tritium post rear, Big Dot tritium front
Barrel: 3.5 inch, forged stainless steel, bull configuration
Rifling: 6 grooves; 1:16-inch RH twist, broach-cut
Trigger Pull Weight: 6 pounds, 4 ounces
Length: 6.75 inches
Height: 5.25 inches
Weight: 34 ounces
Accessories: Hard case, manual, two eight-round magazines
MSRP: $1,599