I hope by now you have read my article in the June 2015 issue of Shooting Illustrated magazine about building a lightweight AR-15 carbine.
The goal was to use only the best parts to build a sub-5-pound rifle. I wanted not only to keep the weight down, but to also maintain an off-the-chart "cool" factor. I think I achieved all those goals. The rifle shoots very well, runs like a tuned machine and has been called "the coolest gun on the planet." It also has a narcissistic streak, as it demands that it be the center of attention everyplace it visits.
I could not be more pleased with this rifle, but with my deep blue collar roots I am a little nagged by the cost of the thing. It's not an outrageously priced gun; in fact, the cost/value ratio is very well balanced, with the parts totaling $2,419.59 without optics or sling. For a gun like this that's a very reasonable price.
However, it's still enough that building one will take a little planning for most working men's budgets. It pains me to see my shooting buddies drooling over the gun and coveting one of their own, while knowing that an impulse buy would probably be a catalyst for divorce.
One of the great joys in my life is my cluttered and chaotic shop. My Zen is found standing on its concrete floor, inhaling the smells of machines and firearms while messing around with guns. I need little excuse to tackle a new project and all this set me to thinking about another way. I wanted to see what would happen if I used more conventional and less expensive parts to build a rifle. Other than the barrel, fore-end and maybe the buttstock, I made no real attempt to find the lightest parts as I did with the first rifle. Instead, I stuck with inexpensive parts or often parts that had just accumulated in my shop over several decades of gun guy geekiness.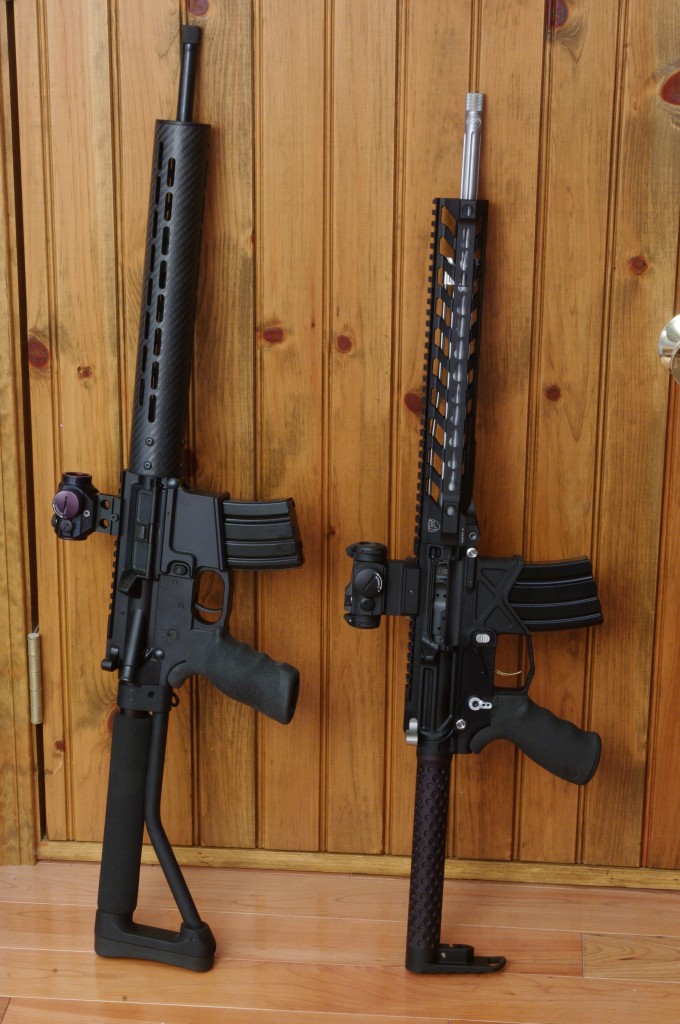 Hidden deep in a tool box drawer I found a Layke Tactical lower receiver that I had won in a 3-gun match a few years ago and forgot I had. However, buying a receiver is easy right now and lower receivers are inexpensive. I checked Brownells and they had one on sale for $49.99.
I always keep a Brownells or DPMS lower parts kit or two on hand. Rather than use the trigger group in the kit ("Fire-Control Unit" in Tac-speak) I used one of the new 3-pound pull Velocity Triggers units. Any gun is only as good as its trigger and you can never extract all the potential out of any rifle with a poor trigger. While this drop-in trigger is relatively inexpensive with an MSRP of $150, I recognize that aftermarket triggers are considered pricey. Personally, I think it's the best money you can spend for your AR. However, those on a budget and that don't mind that it sucks, can cut cost by using the mil-spec trigger in the parts kit. No reflection on anybody's parts kit, all mil-spec triggers suck. They are designed to be used in battle by half-trained, scared spitless young soldiers and are not for precision shooting. If you ever doubt that, remember that the Government Accounting Office figured out that U. S. forces fired 250,000 shots for every insurgent killed in Iraq and Afghanistan. Everybody has an opinion why. Personally, I suspect it's the triggers. Rather than chance it, my AR-15s all have good triggers from JP, AR Gold, Velocity or Timney because I can't afford that much ammo.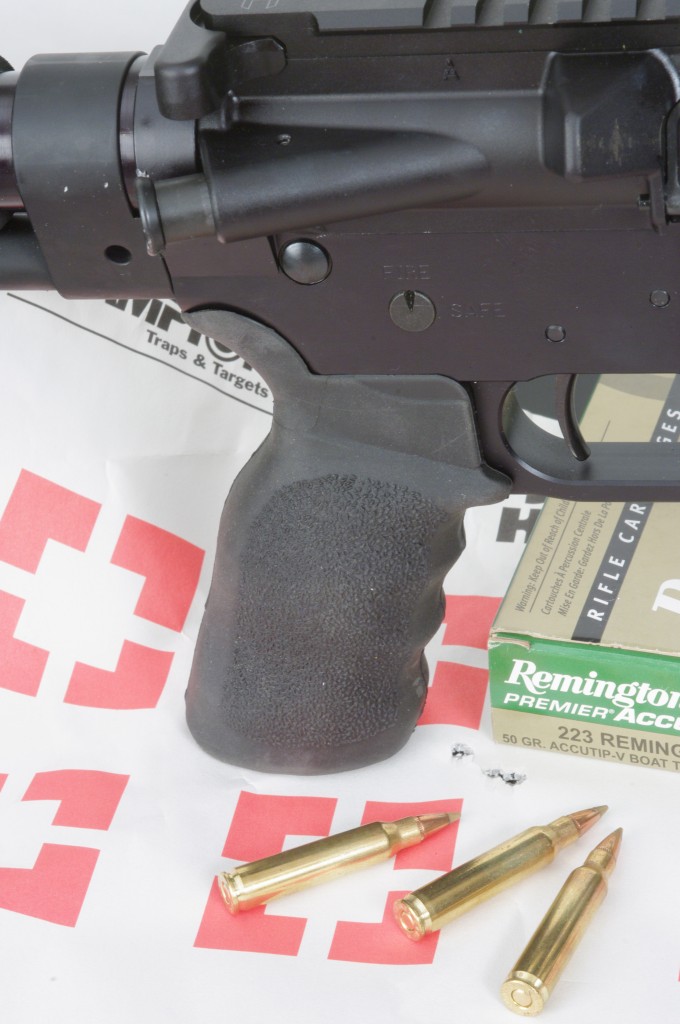 For the record, the Velocity Trigger had a smooth pull and broke at 3 pounds 5 ounces.

Nordic Components makes upper receivers. Mostly they sell them for OEM use by AR builders, but they put a lot of them into prize packages at shooting matches. I won my first one a few years ago at the Tactical Shotgun match they sponsor in Minnesota and the gun I built with it is the most accurate AR-15 rifle I own. I think it could win bench rest matches. With another Nordic Components receiver already on hand, the upper was never in question. I used a Nordic Components charging handle that I also had on hand. (If you want to buy their receiver, Nordic Components has a new extruded receiver on their website for $69. You won't find a quality upper receiver for a better price.)
For a barrel, I ordered a Daniel Defense 16-inch, 5.56 NATO lightweight barrel. This barrel is hammer forged and has a 1:7-inch rifling twist rate. Complete with the extension, it weighs in at 1.57 pounds. A low profile, .625 gas block and carbine length gas tube made it work. I also ordered a lightweight AP Industries carbon fiber 12-inch handguard, with a barrel nut. There may be less expensive alternatives, but few if any that are lighter.
I used a standard DPMS bolt carrier. The buttstock is ARFX Skeleton Stock. I used a JP Low Mass buffer and a JP polished and tuned buffer spring, because I already had them and they are excellent. The parts kit came with a grip, but I don't like the mil-spec grips, so I added an Ergo Grip Tactical Deluxe grip. All I was missing was a thread protector for the end of the barrel. I ordered that from Yankee Hill Machine.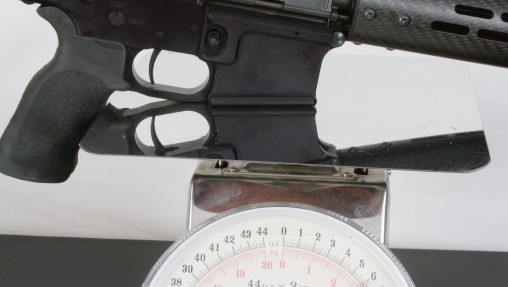 I mounted an Aimpoint Micro on a LUCID M7 Riser Mount.
The gun weighs 5 pounds, 9 ounces, so it's 11 ounces heavier than my other lightweight rifle. With the sight and riser, it weighs 5 pounds, 14 ounces. It shoots very well, runs without a hitch and costs $1,229.60 less.
Without the trigger, the grip and with a low-mass buffer and spring, it shaves $1,465.55 off the price of the high tech rifle. That means for every ounce difference in weight for the two guns, the price is $133.23.
As for the "Cool Factor" Well, I suppose that's in the eye of the beholder, but I can promise that the Family Treasurer will like this one.
Parts List
Nordic Components
Upper receiver: $69
Charging Handle:  $24.95

Velocity Triggers
Single stage drop in trigger: $150
Yankee Hill Machine
Thread protector: $23.50 (with shipping)
Brownells Inc.
Lower receiver: $49.95
Barrel: $289
Fore-end: $144.99
Bolt carrier group: $124.99
Lower parts kit: $69.95
(Note: If you order a DPMS parts kit without the trigger parts, it is $29.99)
Carbine-length gas tube: $13.29
Gas tube pin: $1.50
Brownells low profile gas block: $39.99
Ergo Grip 
Pistol grip: $19.95
Buttstock: $89.95
JP Enterprises
Buffer: $56.99
Buffer spring : $21.99
Total, not counting the sighting system: $1,189.99
If I used the grip and trigger in the parts kit and a less expensive buffer system, the total would be: $954.04
Total, with sighting system: $1,919.99
Riser for Aimpoint sight: $39
Aimpoint Micro T-1:  $691