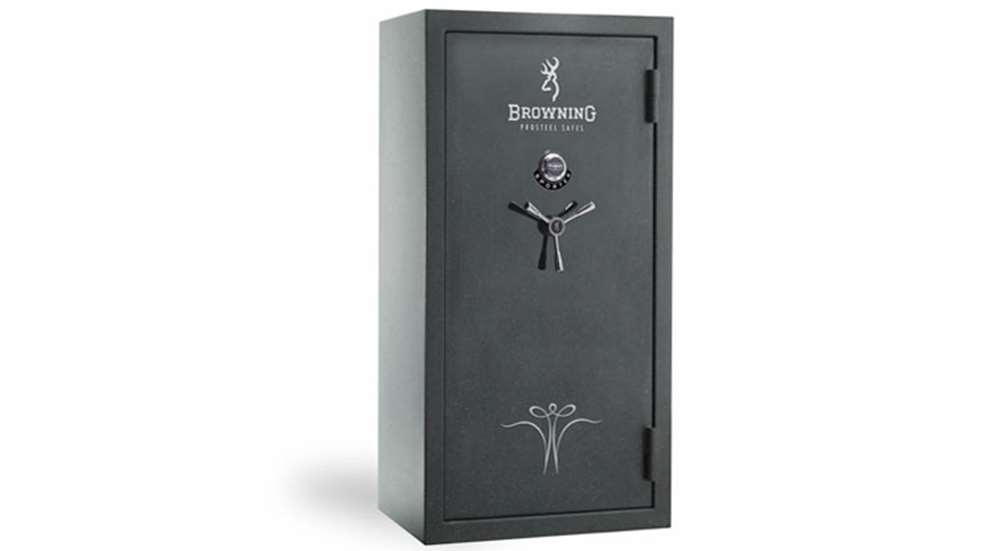 For incredible value in a reliable safe, the Browning Sporter Series Pro Steel safe protects and organizes your firearms and other valuables.  Four Sporter Series models are available ranging in gun storage capacity of 23 to 60 firearms.  The Sporter Series safes feature a 12 gauge steel body and 1,200-degree Fahrenheit/45-minute fire protection.
To help prevent break in, the Sporter Series safes feature 1-inch chromed locking bolts on both sides of the door that lock into the fully reinforced integrated door frame.  Sporter Series safes are available with a traditional combination lock or Electronic Lock and come in Hammer Grey or Gloss Black Finish.
The well designed layout of the interior of the safes allows users to easily organize firearms and other items that need safe keeping.  The top half of the safe door features the DPX Storage System that boasts a variety of pockets and pouches for more storage.  The DPX Storage System features a gun rack on the safe door for more storage and easier access to your most used firearms.
Suggested retail price ranges from $1,149 to $2,188 depending on model and features.