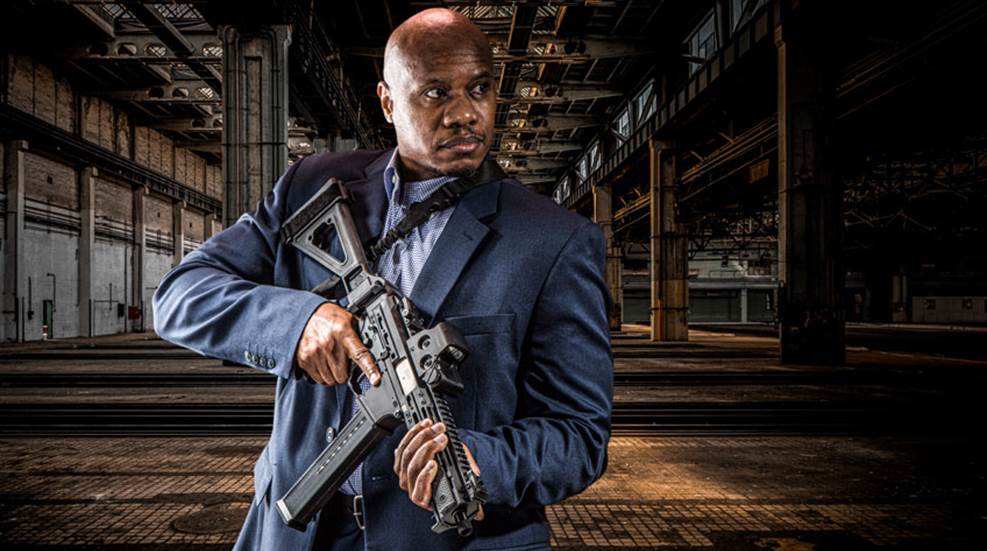 Looking back a couple decades, I do not recall anyone predicting that submachine gun-size, semi-automatic pistols would be anywhere near as popular as they are today. Thanks to a newfound appreciation for compact, user-configurable firearms and the pistol brace's ability to stabilize handguns with forward-mounted magazines, these very maneuverable handguns have evolved in both demand and design. Whether fed by rifle cartridges or pistol calibers, serious tools like LWRCI's SMG 45 are here to stay.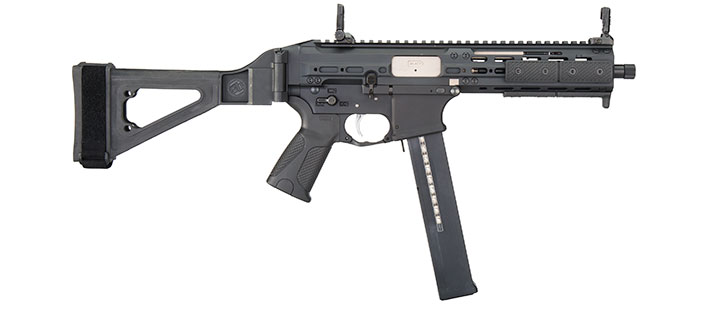 The SMG 45 is, obviously, chambered in .45 ACP and employs a short-recoil/delayed-blowback-operating system, which allows the barrel to travel rearward approximately 1/3-inch while the bolt stays momentarily locked up. Once chamber pressure drops to a safe opening level, the barrel stops and the bolt continues its cycle of operation. Because the barrel is not fixed, sound suppressors with Nielsen-type recoil boosters should be used with the SMG 45. It ships from the factory with a thread protector in place for unsuppressed use.
The pistol features a user-configurable, panel-covered, accessory-mounting system in front of the magazine well. Comfortable, bolt-on panels are positioned at the 3-,6- and 9-o'clock positions and include a forward-mounted handstop that does a great job of keeping the support hand out of trouble. Various lengths of bolt-on Picatinny rail sections and other accessories are available from LWRCI as add-ons. A continuous Picatinny rail runs from the aft end of the receiver to just behind the muzzle and the pistol comes with Magpul's MBUS Pro sights as standard equipment. 


The SMG 45's non-reciprocating charging handle folds flat and is easily swappable from left to right side. It takes approximately 2 seconds to remove and another 2 to reinstall, so long as you follow the instructions. Other ambidextrous features include the safety selector, left- and right-side (AR-style) bolt release levers and a paddle-style magazine release at the rear of the mag well. A right-side folding SB Tactical brace features a latch that releases easily once the large, left-side button is pressed. Since this pistol's recoil spring and guide are inside the receiver, it may be fired while the brace is folded. 


Disassembling the SMG 45 is simple, but following instructions is important here. If you try to "shotgun" the receiver from the trigger group like an AR, you will damage it. Instead, after ensuring the firearm is unloaded and removing the cocking handle, the two captive takedown pins may be driven from left to right. Once accomplished, the trigger group—along with LWRCI's Ultra Combat Grip—simply pulls straight off. That frees up the brace assembly to slide down a dovetail for removal. The SMG's bolt, recoil spring and guide are then removable from the rear of the receiver. 
While disassembled, you will notice that many internal components wear a nickel-boron coating to reduce metal-on-metal friction and ease cleanup. The trigger is 100-percent AR in design, allowing for easy, drop-in replacement, which may be unnecessary because the SMG ships with an ALG Defense ACT. Even though this trigger meets military specifications for weight, drop-safeness and hammer energy, it still manages to be smooth and consistent in pull. Sticking with the interchangeability theme, LWRCI ships the SMG with a pair of 25-round magazines that are cross-compatible with H&K's UMP 45 mags. Diminished-capacity magazines are available for locations where capacity is regulated, although LWRCI does not offer a version legal in California or other states with pistol-related restrictions. 


My first attempt to test the SMG 45 did not go well. While preparing for the range, I noticed that the manual mentioned a pair of 230-grain FMJ loads that LWRCI uses for testing. However, I did not realize that the pistol is designed for this bullet weight. As a result, Black Hills Ammunition's 135-grain Honey Badger expanding load failed to fully cycle the bolt every time. Winchester's 185-grain FMJ load failed to cycle exactly 50 percent of the time. Only a full-power Federal 230-grain Hydra-Shok load worked without any trouble. 
I contacted LWRCI and found out that my test gun was an early-production model that had been passed around a bit. So, I resolved to try again, this time with a new-production gun. The replacement came with the stipulation from LWRCI that it still needs to be run with heavy loads. So, with Winchester 230-grain and Hornady 220-grain loads at the ready and a new gun in-hand, I headed back out for round two. Things went much better this time, with all rounds functioning perfectly. I also ran some of the lighter 185-grain FMJ ammo through the replacement pistol and it worked 100 percent of the time.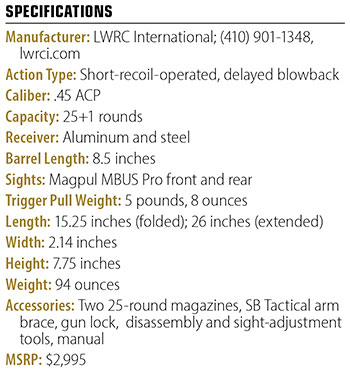 I know from my regular work that pistols in this size class tend to shoot well, so accuracy testing was done from 50 yards with a bag-supported rest. The SMG shot respectably well and is certainly a capable defensive arm at this distance. The heavy bolt and stiff buffer spring helped keep the pistol on target and made follow-through a simple process. After accuracy-testing all three of the heavy loads, I moved up and worked through a series of drills on targets spaced between 10 and 25 yards. The only problem encountered in this testing was that I accidentally removed the charging handle while trying to retract it quickly—twice. Either the SMG 45's charging handle is a hair too easy to remove, or I am perpetually uncoordinated, or both. 
All close-in work was done with backup sights, reminding me that my 51-year-old eyes cannot tolerate the MBUS Pro's thin front-sight post on short-sight-radius firearms. Fortunately, there are numerous aftermarket posts available from companies like Blitzkrieg Components that remedy this problem, or the sights can be easily changed for something more suitable for the individual shooter.
I alternated between unsuppressed firing and shooting with a SilencerCo Osprey 45 attached. Function was flawless either way, and the suppressed setup combined with the .45 ACP's subsonic velocities makes for a quiet and pleasant-shooting package. The LWRCI's bolt locks back on empty magazines and can be manually locked back the same way one would do with an AR platform. I noticed that the left-side bolt release has to be pressed in hard and all the way to the receiver wall in order to release the bolt. Conversely, the right-side bolt stop hangs out quite far from the receiver when the bolt is locked back, requiring only a slight push to let the bolt fly into battery.


Aside from a high retail price tag, I cannot find much to complain about on the SMG 45. It's a bit on the heavy side for so small a package, but that is common with sub-gun-size .45 ACPs. Even so, the SMG 45 is quite manageable, handles well and would be a convenient pistol for backpacking, vehicle use or as a formidable bedside pistol with a red-dot optic, sling and powerful weaponlight attached.