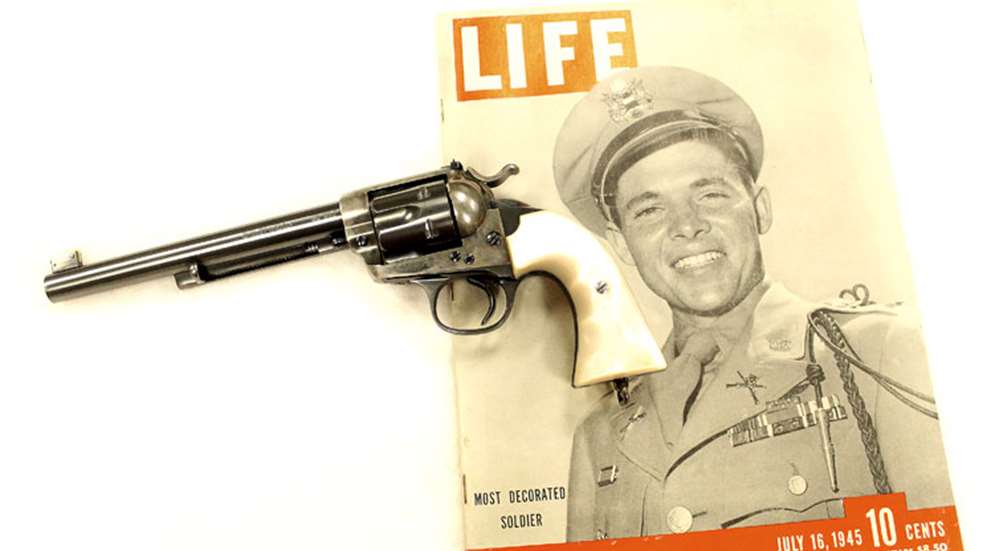 For anyone who grew up in the post-World War II era, his was a household name, one synonymous with "hero," and "soldier."
Audie Murphy was known as "the most decorated combat soldier of World War II."A quintessential soldier, a master of the tools and tactics of ground warfare, he literally wrote the book on military valor—an autobiography entitled, "To Hell and Back."
He starred in the movie adaptation, too.
This week, the Buffalo Bill Center of the West, located in Cody, WY, announced that Murphy's .45 caliber Colt Model 1905 Bisley flattop target revolver—a gift from western film legend Gary Cooper—is on display to the public in its Cody Firearms Museum. The single-action revolver features mother-of-pearl grips that Cooper had molded to perfectly fit Murphy's hand. Dr. Jim and Marilyn Phillips of Bakersfield, CA, have loaned the firearm to the Center for a period of one year.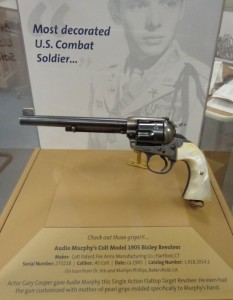 In 1942, Murphy lied about his age to join the infantry at 17, after the Marines and paratroopers denied his application due to his small stature. Rising to the rank of First Lieutenant, he fought in nine major campaigns throughout Europe. His gallantry is even more impressive given that victory in Europe was achieved before his 21st birthday.
On January 26, 1945, at the edge of a forest in France, Murphy's company was pinned down, outnumbered and facing annihilation by a column of German tanks supported by infantry. Ordering his men to retreat into the forest, Murphy commandeered the .50 caliber machine gun on a burning tank destroyer. While directing American artillery over his field telephone, Lt. Murphy swept the German tanks with deadly fire. Shells bursting and bullets ricocheting all around him, and the tank destroyer threatening to explode at any moment, Audie Murphy continued to fire until the enemy force broke and ran.
For his incredible acts of bravery and valor, Audie Murphy received the Medal of Honor. The accompanying citation reported 50 German soldiers killed or wounded and stated, "Lieutenant Murphy's indomitable courage and his refusal to give an inch of ground saved his company from possible encirclement and destruction and enabled it to hold the woods, which had been the enemy's objective."
After the war, Murphy became a Hollywood star, albeit reluctantly, appearing in more than 40 films and receiving critical acclaim for his role in the 1951 movie version of Stephen Crane's Civil War novel "The Red Badge of Courage."
Murphy was known to suffer from Post-Traumatic Stress Disorder (PTSD), known then as "combat fatigue," sharing his struggles and bringing early awareness to the issue. His advocacy for increased government research and funding for veterans with PTSD was honored by the 1973 dedication of the Audie L. Murphy Memorial VA Hospital in San Antonio, TX.
Murphy was 45 when he died in a private plane crash near Roanoke, VA. On June 7, 1971, he was buried at Arlington, where his grave remains one of the most-visited at the National Cemetery.