I have a lot of hobbies. I don't mean to; it just seems to happen. In fact, I try to resist new diversions because, while they can be engrossing, they can also be nerve-wracking, frustrating and expensive as you begin to invest in the gear necessary for participation. That is particularly true of shooting sports. What gear is essential? Which brand is best? What don't I need, at least immediately? What will I eventually have to upgrade?
Shooting-sports enthusiasts have a well-deserved reputation for being helpful in such matters. They dearly love to see their ranks swell and are eager to share their enthusiasm with newbies. The problem is, each has his or her own opinion. Oh, their help is certainly appreciated, but conflicting opinions are confusing and we're talking about a pretty sizable investment, so surety is important.
If only a champion competitor in a particular shooting sport were running a gun company—he or she would know how to build an ideal, task-specific gun perfect for that endeavor. Take 3-gun, for example. Why, I'll bet a champion shooter helming a major AR manufacturer could build a great AR-type rifle that would be just perfect for the fast-paced world of 3-gun. 
Huh? What's that? Tommy Thacker? ArmaLite? Seriously?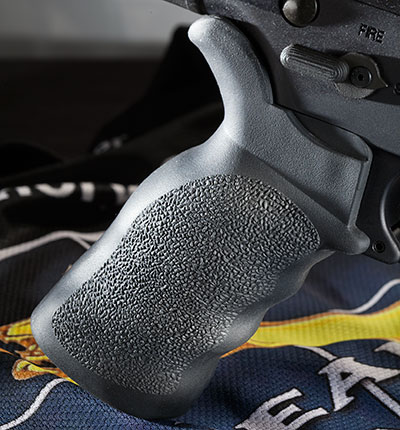 A Competitor's Vision
OK, for those of you who don't follow the machinations of the industry, Tommy Thacker, the 2012 3-Gun Nation National Champion, is now helming ArmaLite, the company that originally gave us the AR-15 rifle, courtesy of Eugene Stoner. Thacker, former director of product management for FNH USA, was named president of Geneseo, IL-based ArmaLite early last year. 
Perhaps not surprisingly, one of Thacker's first moves was to design a rifle perfect for 3-gun right out of the box. The result is the ArmaLite M-15 3-Gun Rifle.
The gun is a straight-up problem-solver. Want to get started in 3-Gun? Buy it. Are you a seasoned competitor looking to step up in class? Buy it. Want a gun that can adapt to you? Buy it. Want a gun that can handle virtually any of the varied and unpredictable courses of fire encountered in 3-gun matches? Buy it. (And if you're someone who couldn't care less about 3-gun, but who wants a versatile, excellent modern sporting rifle, you may want to buy it, too.)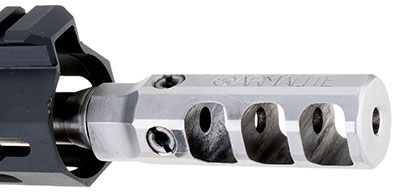 The M-15 3-Gun Rifle incorporates a whole host of enhancements and tweaks that distinguish it from the typical AR-platform gun. It features an 18-inch, stainless steel barrel fitted with a tunable muzzle brake; an adjustable gas block; a MIL-STD 1913 top rail; a 15-inch, light-contour, freefloat KeyMod handguard; a "Raptor" ambidextrous charging handle; a MIL-STD 1913 front sight base at the 12-o'clock position on the handguard; an MBA-1 lightweight, fully adjustable stock; and a Timney 3-pound trigger. 
The thing to bear in mind about all the enhancements, though, is they are not a random collection of upgrades. Each was selected specifically to facilitate success in 3-gun.  As Walt Hass, vice president of product management for ArmaLite, says, "From the beginning, our goal with this rifle has been to provide shooters with a competitively priced package that is fully decked out for its intended purpose."
Thacker explains "There's no reason to go out and purchase new accessories or pay someone to gunsmith your new rifle. This is the gun that our Pro Team shoots right out of the box—not many companies can make that claim."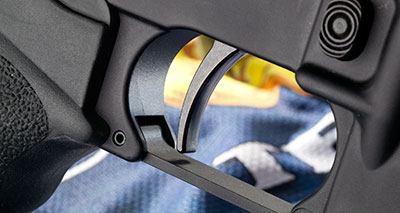 Excellence That Fits All
That, of course is exactly what I want to hear when investing in gear for a new sport. However, the risk of such an approach is that it may be too narrowly specific. Do I need exactly the same features as world-class competitors? Do I need the same ones as the local schlub who finishes out of the money every weekend, for that matter? What about my uniqueness as a shooter? Can't a gun be so precisely tailored to one type of shooter that it's ill-suited to another?
If there is genius in this ArmaLite design, it is in the fact the company foresaw just such a possibility. Yes, the gun incorporates the very best enhancements that are almost universally desired, but it also allows a tremendous amount of end-user fine-tuning to get the rifle just right for every shooter.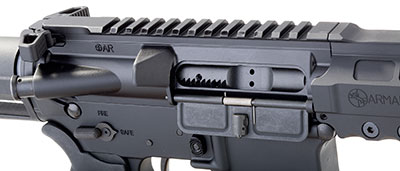 "The most common upgrades competitive shooters apply to their rifles are triggers and muzzle brakes," says Hass. "We've eliminated that need; our tunable muzzle brake is a leap forward in technology, and the standard 3-pound Timney trigger is the benchmark of performance among precision rifles." 
As Thacker points out, "No one has produced a rifle that allows the user to completely tune the rifle to their individual specs. The adjustability of the stock, gas block and comp, along with a versatile rail design and a standard Timney trigger, make it the perfect choice for any shooter."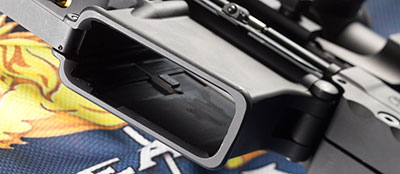 The tunable muzzle brake is ArmaLite's own. It incorporates an expansion chamber, three ports and three baffles. The ports—located at the 3-, 9-, and 12-o'clock positions—have replaceable plugs that can be drilled out to create apertures of different sizes to direct propellant gases to counteract barrel movement. Follow the company's instructions to drill appropriately sized apertures in the ports positioned in the direction of barrel movement. For example, if the gun moves strongly up and slightly to the right, drill a large aperture at the 12-o'clock position, a medium or small aperture at the 3-o'clock position (when looking down the gun from the shooter's perspective) and leave a solid plug (no aperture) at 9 o'clock. Additional plugs are available if you subsequently need to retune the brake.
The low-profile gas block is likewise tunable. There are two setscrews in the gas block: a locking screw at the front and an adjustment screw on the side. The handguard is indexed so that both screws can be accessed with a hex wrench without removing the handguard. Simply back off the locking screw, turn the adjustment screw as needed, then retighten the locking screw. The gun is shipped with the adjustment screw backed off five turns or "wide open." This allows for the fastest operating action and greatest reliability, even in adverse conditions. Choking down the screw allows the user to tune the gun to a particular load, finding the optimal position that minimizes recoil while maintaining reliability. Choking down also tunes the gun to work with a suppressor, should you chose to add one at some point.
Versatility
Just as there are variations among shooters, there are variations in courses of fire in 3-gun competition.  While out-of-the-box race-readiness and end-user tunability were design goals for the M-15 3-Gun Rifle, versatility was clearly an equally strong consideration. A 3-gunner never knows what he's going to run into, so this gun is ready for anything. 
"Versatility is the name of the game in 3-gun competitions," says Hass. "Your rifle needs to perform at the same level of excellence whether the targets are right in your face or 500 yards across a canyon. The 18-inch barrel provides that balance of velocity and overall size, and the 1:8-inch twist performs with a wide range of ammunition." 
Trigger Time
I slapped the new Leupold VX-6 on our test gun to maximize both performance and "oohs" and "ahhs" at the range.
The gun is light and remarkably well balanced, feeling even lighter than its 6.9 pounds. The 18-inch barrel seems as fast-handling as a 16-incher, but swings smoother, with good control and not enough momentum to generate overswing. Skinny and fat work well together on this rifle. The slim handguard is very easy to grasp and control, while the oversize Ergo Grip is hand-filling and very comfortable. With its finger grooves and considerable palm swell, hand placement is fast and sure every time.
The MBA-1 stock felt like it was made for me because, well, it was—once I finished adjusting it. The stock adjusts for both length-of-pull and comb height. All the adjustments are made via knobs that are hand-loosened/tightened; no tools re-quired. The gun mounted smoothly to the shoulder and the comb made for a secure, comfortable cheek weld.


The controls were excellent, operating smoothly but distinctly. A particular favorite was the ambidextrous, wide-winged "Raptor" charging handle, which was easily grasped despite the presence of the relatively sizable scope. 
That single-stage, 3-pound Timney trigger? Well, if it were any sweeter, the gun would have to ship with a vial of insulin.
Accuracy from the bench was good but, more importantly, it was an easy gun to shoot from the myriad positions into which 3-gunners may have to contort themselves. I kept the gun set-up as it came from the factory and fired a mix of bullet weights and styles. Functioning was flawless.

Choose your support hand position wisely. I've seen some shooters wrap their fingers across the front of a handguard, but I wouldn't do that with a ported gun having a long handguard. Wrapping your hand around the handguard with your thumb forward and atop the rail section worked well. A still better hold may be to position the thumb behind the smoothly beveled rear of the rail section. That's how Thacker does it. 
I not only like this gun as a gun, but as product concept. If you've got the scratch, it radically simplifies the process of entering a new sport. The wisdom that usually is hard-earned from experience has already been incorporated into the improvements. It's ready to roll, right out of the box, yet it allows for plenty on tuning to individual needs. And even the price is reasonable, all things considered. You don't need to make any upgrades. It's so versatile, you don't need another rifle set up differently for different courses. And, as you advance from novice to expert (or national champion), you're not going to grow beyond it. 
I wouldn't mind if a lot more things were designed like the ArmaLite M-15 3-Gun Rifle.