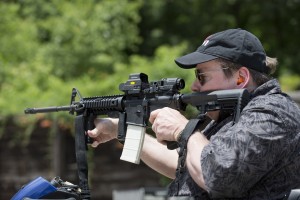 The event in question was presented byLaura Burgess Marketing, a public relations, marketing communications group for law enforcement, tactical, military, shooting sports, boating and recreational fishing markets, to celebrate the formation of the company's new planning and management division with "Make Big Noise." The three-day event was held on June 23-25 and was hosted by G4S ITI at its 900-acre facility in Shacklefords, VA. Exhibiting manufacturers included IWI US, MG Industries, LaserLyte, Liberty Ammunition and Chamber-View, to name but a few.
While gunwriters can never fire too many guns, expend enough rounds downrange or see enough sneak peaks of the latest and greatest gear, I found myself equally impressed by our host. Besides being relatively nearby for gunscribes like myself who live on the east coast, attending a course at G4S ITI is much more convenient than the a hassle of making airline reservations in order to visit more popular institutions like Gunsite or Thunder Ranch. Plus, unlike such celebrated academies, G4S ITI offers more than various forms of firearms training. The company's been in the security-training business since 1989, and its curriculum includes a wide array of Instinctive and Evasive Driver Training, which is designed for drivers to become more instinctive and reactionary in the processes associated with crash avoidance.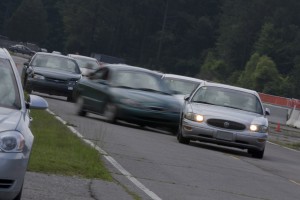 The driving facility is comprised of two course, each approximately 1 mile in length, and possessing features commonly found throughout the world. Its curves are designed to offers students experience with street-radius turns, highway speed and open road turns—all of which come into play while getting familiar with driving within inches of other vehicles, learning how to drive safely at speeds beyond your comfort level and learning how to apply evasive-driving techniques such as backing, ramming and PIT maneuvers.
If you're looking for a way to supplement your firearms training, this is it.