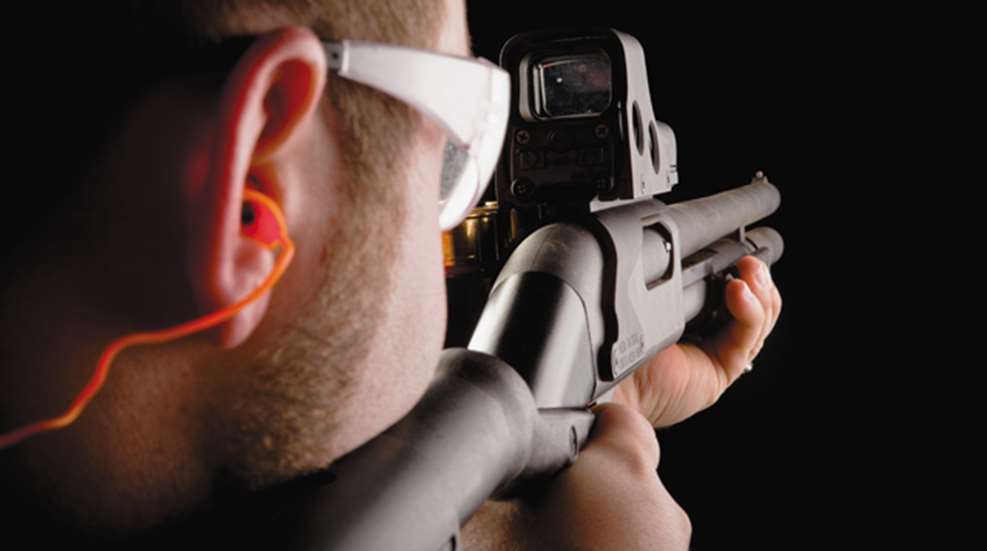 Able to fire birdshot, buckshot and slugs interchangeably—alternating within the magazine tube even—there simply isn't any job the shotgun can't perform. That's why optics on shotguns have always been a tricky proposition.
Historically, harnessing the advantages of an optic robs the shotgun of some of that versatility. For example, put a good fixed- or variable-power hunting scope on a shotgun for deer hunting, and you lose the ability to wingshoot with it.
However, in recent years, advancements in fixed-power optics, red-dot sights and even hologram-projected reticles have changed the way many shooters view optics on smoothbores.
Take the Open divisions of practical shooting, where a competitor's kit is stacked with any and every conceivable modification or accessory that can deliver an advantage. Ultimately, to gain in this game means the loss of unwanted time—blowing through the course of fire faster, yet still maintaining the accuracy needed to successfully neutralize targets.
Conversely, in the tactical community, optics have been slower to catch on. Even though much gear, technique development and advancement used by law enforcement and the military is spawned under the clock of competition, most defensive shotguns remain strictly iron sighted. However, many civilians using shotguns for home defense have begun to embrace shotgun optics.
Those who have never tried the new breed of tactical optics suitable for defensive shotgun work might be shocked at the speed and consistency of target acquisition. They're lightning quick for close work, suitable for slug shooting to much greater distance than most skeptics would believe and they're surprisingly easy to use on aerial targets.
Today's field of optics suitable for tactical and/or practical shotguns is dominated by reflex sights, including red dots, open-style sights and holographic optics. More recently, the conventional tube sight has been redesigned as well in the form of the Leupold Prismatic. Knowing the strengths of each can help shooters get the most out of these mighty-mite sights.
For nearly 10 years, the firearm industry watched as reflex sights turned from a curious anomaly to an absolute staple of our warriors' gear, with several makes and models used to good effect in Iraq and Afghanistan. That proven technology is now beginning to filter down to the defensive shotgunner.
Aimpoint's Comp M4 has served with distinction in the Global War on Terror. A couple of years ago, that technology was miniaturized into the revolutionary Micro series. A 1X red dot with unlimited eye relief, the Micro features a 4-MOA reticle and runs seemingly forever on one 3-volt lithium battery.
The Micro weighs a scant 3 ounces and measures only 1.4 inches high, which keeps it low to the receiver and out of the way. It also comes set up to mount directly to a Picatinny rail. The Micro is small, but the open-style reflex sights made famous by Docter Optics are even smaller. From IPSC competition to atop Trijicon ACOGs in combat, open reflex sights have made a big impact. In practical shooting, they dominate the field.
New into the field last year was Leupold, with its pint-sized DeltaPoint. It features a wider shape to the lens housing than most of its contemporaries, which Leupold claims delivers up to 56 percent more usable field of view. Motion-activated, the DeltaPoint also continuously samples light conditions and adjusts optimal-reticle intensity.
Tiny doesn't work for everyone. After all, a defensive shotgun has to be the end-all, indestructible, now-or-nothing piece of gear. If you share that sentiment, then Leupold offers the Prismatic. I originally got one of these a couple of years ago to run on an M4-style carbine, to which it is extremely well-suited. However, I'm finding it equally impressive on shotguns as well.
Weighing 12 ounces and measuring 4.5 inches long, the Prismatic might as well be a sniper scope compared to the DeltaPoint. But it's got its own payoff. It features the thickest main tube the company has ever built and the Prismatic accepts a removable illumination module that delivers a red reticle. Better yet, within the 1x14 mm scope lies an etched-glass reticle as well. If a battery dies, the etched reticle is always there.
Amazingly, the EOTech holographic system has been around since 1996, with the first military/LE Holographic Weapon Sight produced in 2001. Yet somehow, this product still feels cutting edge. It works by projecting a holographic image back to the shooter. This system actually enables the unit to function even if the display window is broken.
These are but a sample of the myriad of options available in optics today. Whether for 3-gun, duty or home defense, the use of 1X optics on shotguns is a growing trend. Bolt one on your shotgun, burn through some shells and you'll see why.