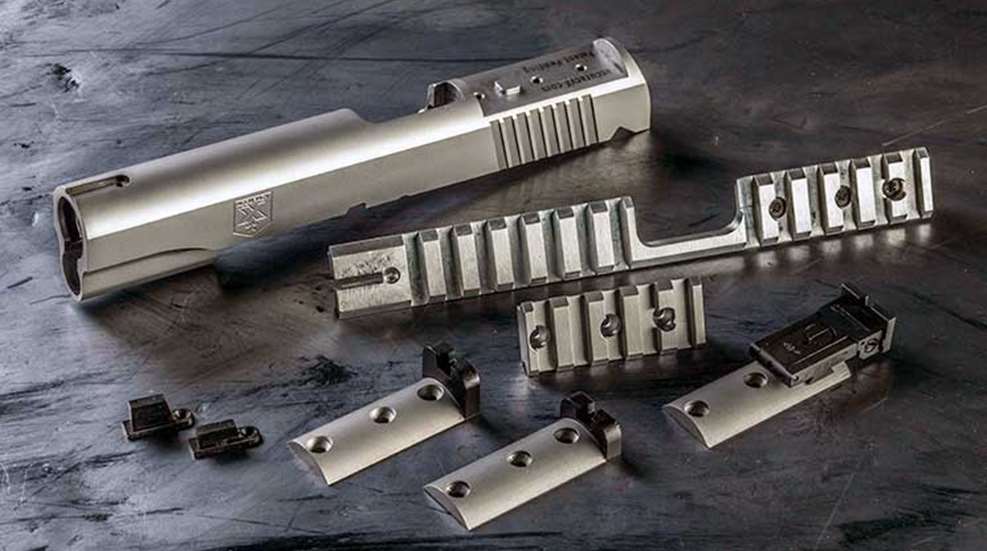 Accuracy X
announced the launch of its innovative
Multi-Sight System
designed for the 1911 platform, which allows 1911 pistol owners to equip their guns with a wide range of sighting options, including popular micro red-dot sights.
The system works through the use of the patent-pending modular replacement system that provides a wide range of sighting options for the shooter. The unique slide used in the Multi-Sight System features a rear cutout that is compatible with a number of accessory plates, allowing users to outfit their pistols with whatever equipment necessary for its purpose.
Several of the aftermarket options include Picatinny rail segments that allow for rail-compatible optics to be quickly and easily attached to the slide without requiring custom machining. Accuracy X offers a short-length Picatinny module that provides a rail segment at the rear of the ejection port. A longer rail segment runs the full length of the slide and hooks into specially designed cutouts at the front and rear in order to ensure an accurate and repeatable zero. The longer segment also features a cutout to ensure reliable and consistent ejection.
In addition to its Picatinny-rail attachments, the company also offers several fixed-sight modules. The standard fixed sight preserves the original sight picture of the 1911 platform and features a rounded cover plate that maintains the traditional lines of the pistol. Additional accessories include an adjustable rear target sight designed for precision shooting. The company also offers easily replaceable front and rear suppressor sights designed to provide a sight picture over the profile of an attached suppressor.
The core of the Multi-Sight System is its unique index and recoil lug that ensures zero movement for each sight module, ensuring that the sight picture for each attachment will not drift, even if it is attached and removed multiple times.
Accuracy X offers two 1911 slides for the Multi-Sight System: the GI Spec Slide and the Gunsmith Fit Slide. The Gunsmith Fit slide sells at a suggested price of $395.95, while the GI Spec Slide retails at $439.95. Accessory modules start at a suggested price of $74.95.