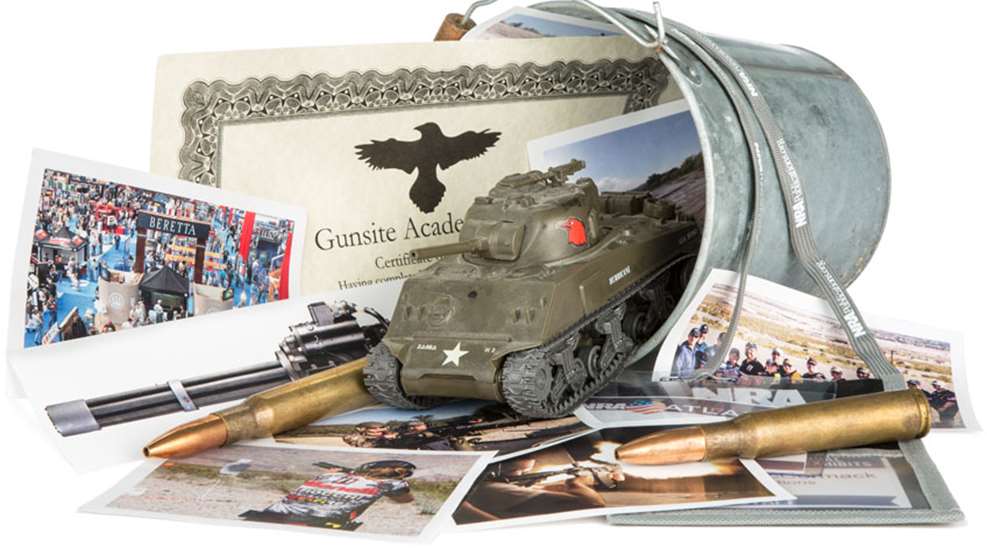 Benjamin Franklin explained it in a letter he penned in 1789. "Our new Constitution is now established, and has an appearance that promises permanency, but in this world nothing can be said to be certain, except death and taxes." Most of us survive tax day's hyperventilation, but there are some things every shooter should consider doing before the Grim Reaper's unavoidable entry, stage right. Here's our short list.

1. Aegis Academy Aerial Shooting Experience

You may need to down some Dramamine before you mount up for the Aegis Academy Aerial Shooting Experience. There are other companies out there that will take you aloft for trigger time from altitude, but contributor Dave Bahde recommended this one heartily. After the aerial familiarization session, he wrote, "Once loaded up, the ride of my life began. The chopper lifted, flew sideways across the parking lot, turned 90 degrees on a dime, tilted forward and flew off. Passes were made with banking turns, flying low to the ground giving a feel for shooting on the move. Unlike the live-fire exercise, we were moving fast, pulling up as you approached the fire tower."

2. Training at Gunsite Academy

If you believe the Grim Reaper is making a big mistake bringing a sickle to your final gunfight, then Gunsite Academy needs to be on your bucket list. There you'll learn from the pros how to run a handgun—if you prefer he gets to bad-breath distance before you execute the failure drill—wield a shotgun or drop him at 1,000 meters. It's a pick-your-poison nirvana for firearm enthusiasts before Valhalla, with an institutional knowledge of armed self-defense going back to 1976. 

3. Drive Tanks

Everything's bigger in the Lone Star state, including the guns, at least when you visit Drive Tanks. Get behind the wheel of a Sherman, Russian T-34, German Leopard 1A4 and more, touch off rounds, squash cars, unleash an M60 and move the goalposts for your next friend who claims he once had, "the most fun possible with your clothes on."

4. Full-Auto at Machine Guns Vegas

The next time a trip to Sin City is on your schedule, ditch the annoying din of the slots for the pleasant report of an M4, AK-47, Uzi, H&K MP5, Kriss Vector, Browning M1919 and others by putting Machine Guns Vegas on your itinerary. Las Vegas' "most popular shooting range" even offers special packages like SEAL Team 6, Femme Fatale, The SAS Experience and a special, themed bachelor party.

5. NSSF Shooting Sports Fantasy Camp

The National Shooting Sports Foundation has somehow created the ninth wonder of the world with its Shooting Sports Fantasy Camp. Its last session included pros Chris Cheng, Dianna Muller, Ryan Muller, B.J. Norris, Randi Rogers, Tommy Thacker and Robert Vogel. Participants rotate between instructors, learning their respective approaches and practicing them on the firing line. It's the kind of one-on-one individualized instruction you expect from a high-end school, but attendees get a chance to pick and choose what works for them, and put it into practice the final afternoon of competition.

6. NRA Annual Meetings and Exhibits

Sure, your range has an annual gathering of firearm enthusiasts. It's a blast you look forward to all year long, but before your fat lady sings, turn things up exponentially by attending the NRA Annual Meetings and Exhibits at least once. It's an all-encompassing experience, with new product introductions, events, concerts,  pro shooters with tips and manufacturers explaining their wares.