Remember when a concealed-carry 9 mm pistol meant a single stack with anywhere from a 6- to 7-round-capacity magazine? Today, manufacturers have doubled down on subcompact 9 mm pistols, offering super-sized magazine capacity without the bulky girth. The latest generation of micro nines also feature minimal controls for sheer simplicity, usability and safety.

Most manufacturers offer a manual-safety variant in addition to ones that are optics-capable. A red-dot sight on a concealed-carry pistol is not a novelty anymore. What I really like is that manufacturers are starting to working in custom, aftermarket features into the design with items like flat-faced triggers. This isn't because they are cool, but because they make trigger press easier. OK, they are pretty cool, too. 
What impresses me most is the ease-of-use. Many times, a subcompact pistol is difficult to operate with slides that take effort to rack and some are hard to shoot accurately due to the small grip and ergonomics. Miniature guns take serious training, and while I am all for more training, the new breed of micro nines feel a lot and shoot a lot like a full-size pistol without the unneeded bulk. Gone are micro sights, with recent guns having full-size sights so aiming is easier. Here are, in my humble opinion, some the best concealed carry, micro nines I've come across. 
FN 509 Compact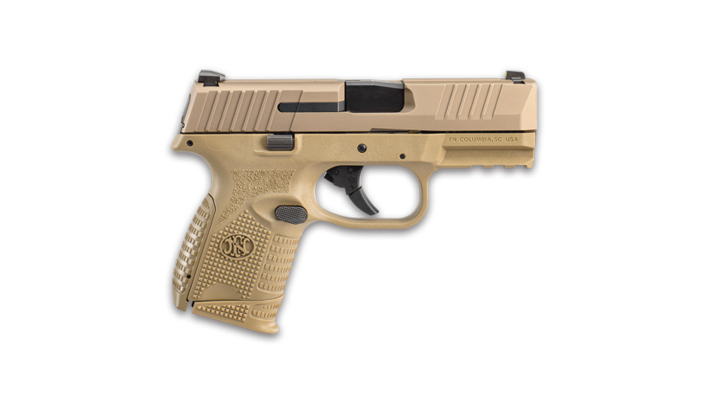 In hand the 9mm striker-fired 509 Compact (MSRP: $799) feels a lot like the full- and mid-size 509 models. The 509 Compact features a 3.7-inch barrel, low-profile carry sights and slide cut for a red dot sight. Magazine capacity ranges from a flush-fit 10- and a 12-round magazine with a finger extension. 
Glock G26 Gen5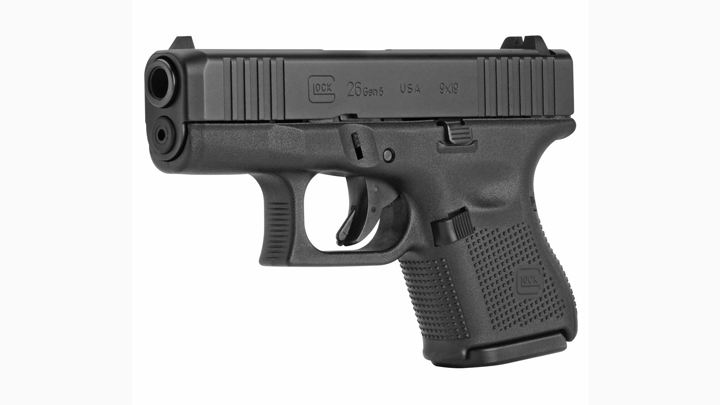 The original striker-fire, high-capacity 9 mm, the G26 (MSRP: $749), blazed the trail for micro nines starting in 1995. The latest variant is in Fifth Generation configuration which means it's equipped with a polygonal rifled Marksman Barrel, ambidextrous slide stop, and front serrations. The flush-fit magazine payload is 10 rounds. I like the trigger on this Gen5 and the absence of the finger grooves. The flat front grip strap with the texture make this sub-compact easy to control. The grip modular prevent slide bite for shooters with large hands.
Ruger Max-9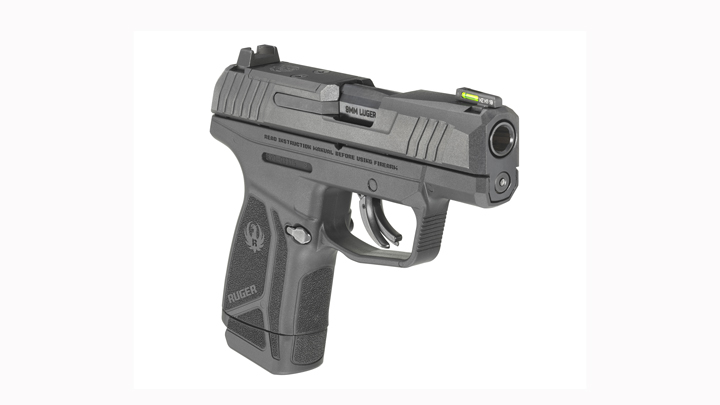 The top side of the Max-9  (MSRP: $499) features Tritium fiber optic front sight that you can't lose in the dark. These sights are large and put the user in charge. The 10-round magazine offers a flush fit. The extended magazine offers 12+1 capacity. What's impressive about the Max-9 is Ruger's engineers fit the double stack magazine in a grip that feels like a single stack. This micro pistol also comes optic ready with a removal plate to mount a reflex red dot sight that co-witnesses with the iron sights. Two variants are available one with a manual thumb safety and one without the thumb safety. 
Smith and Wesson M&P Shield Plus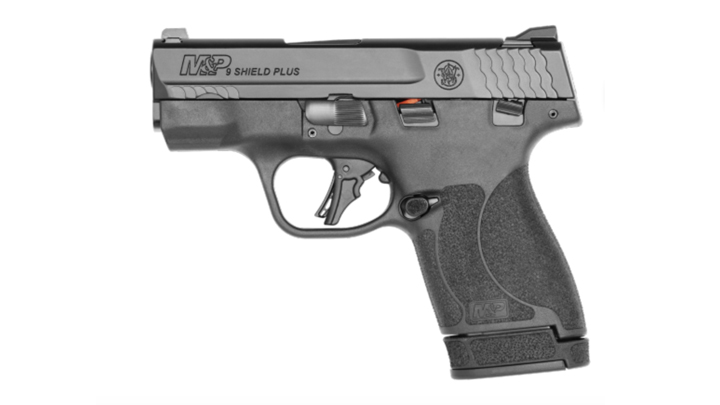 I've always appreciated the grip angle, shape and texture of the Shield model. The new 9 mm M&P Shield Plus (MSRP: $553) micro-compact carries a larger 10+1 round capacity with a flush-fit magazine and 13+1 with extended magazines. The flat trigger reminds me of an aftermarket trigger for a number of reasons: short reset, minimal creep and consistent break. The trigger is different from the pivoting trigger of older Shield model. This trigger uses a safety built into the center of the trigger, a la Glock. The trigger pull alone sold me.  
SIG P365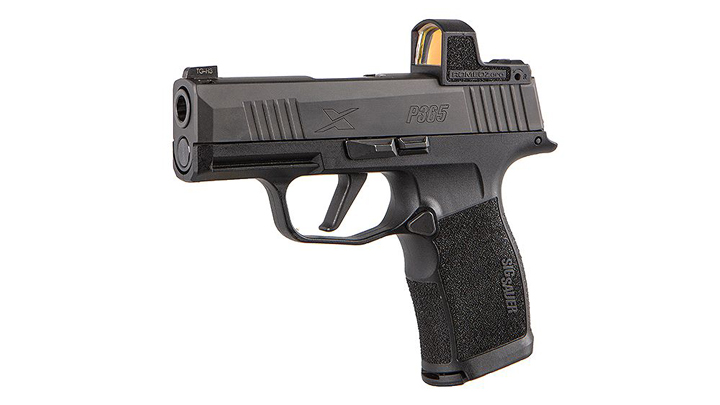 The P365 (MSRP: $599) was like a defibrillator to micro nines. Simple with minimal controls, an ergonomic grip, larger sights and a trigger that made shooting this sub-compact easy. The flush-fit magazine holds 10 rounds. The P365 is slim and makes it disappear from view when conceal carrying. I like the rounded edges of the grip and the under cut trigger guard. Forward and aft slide serrations offer plenty a grip. The P365 has spawned a variety of variants like the P365X RomeoZero (MSRP: $799) factory fitted with Romeo Zero red dot sight and a flat trigger. The P365 SAS (MSRP: $599) with the anti-snag outer treatment and a FT Bullseye sight milled into the slide. The slide serrations are nice and deep too for a good grasp.
Springfield Armory Hellcat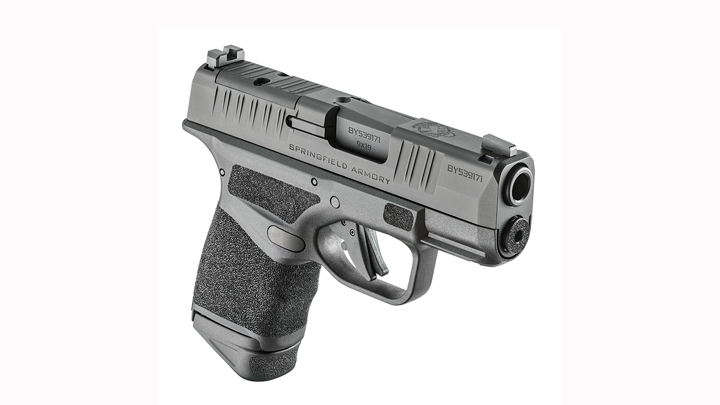 The Hellcat (MSRP: $569) debuted with claws out with a 11-round magazine which made all the 10-round guns seem lacking. It also comes with 13-round extended magazine that makes the pistol feel like it is full size. There is—naturally—an optic-ready model Hellcat OSP (MSRP: $599) with iron sights that co-witness with a red dot like a Shield RMSc. I like the large tritium/luminescent ring front sight. In hand the Hellcat has a boxy, square edge feel and sits low in my hand. Recoil is soft with the Hellcat. I like the textured spots on either side of the frame at the outer edge of the trigger guard. These spots are good reminders where your trigger should rest prior to taking a shot and where the thumb of your support hand should reside with a two hand grasp.