Sometimes hostile encounters don't escalate to deadly force, but you still need an effective, non-ballistic way to neutralize a threat. One great way to deal with these sorts of attacks is by deploying pepper spray. If you've ever been sprayed – I'm talking to you, military veterans and police officers – you know how, shall we say, unpleasant the experience can be. Eyes burn, mucus runs down your face, and you can't wash it off fast enough. And anything you were thinking about doing instead suddenly goes away.
While there is an honest debate on the merits of pepper spray vs. pepper gel, that's for a separate article. For now, let's look at five excellent choices should you choose to carry pepper spray as a method of incapacitating your attacker.
There are a few criteria that we considered. First, it has to be easily carried. Second, it must be quickly and easily deployable. Third, it has to have a spray distance far enough to reach an assailant outside of arms' reach. With all those in place, let's look at some options.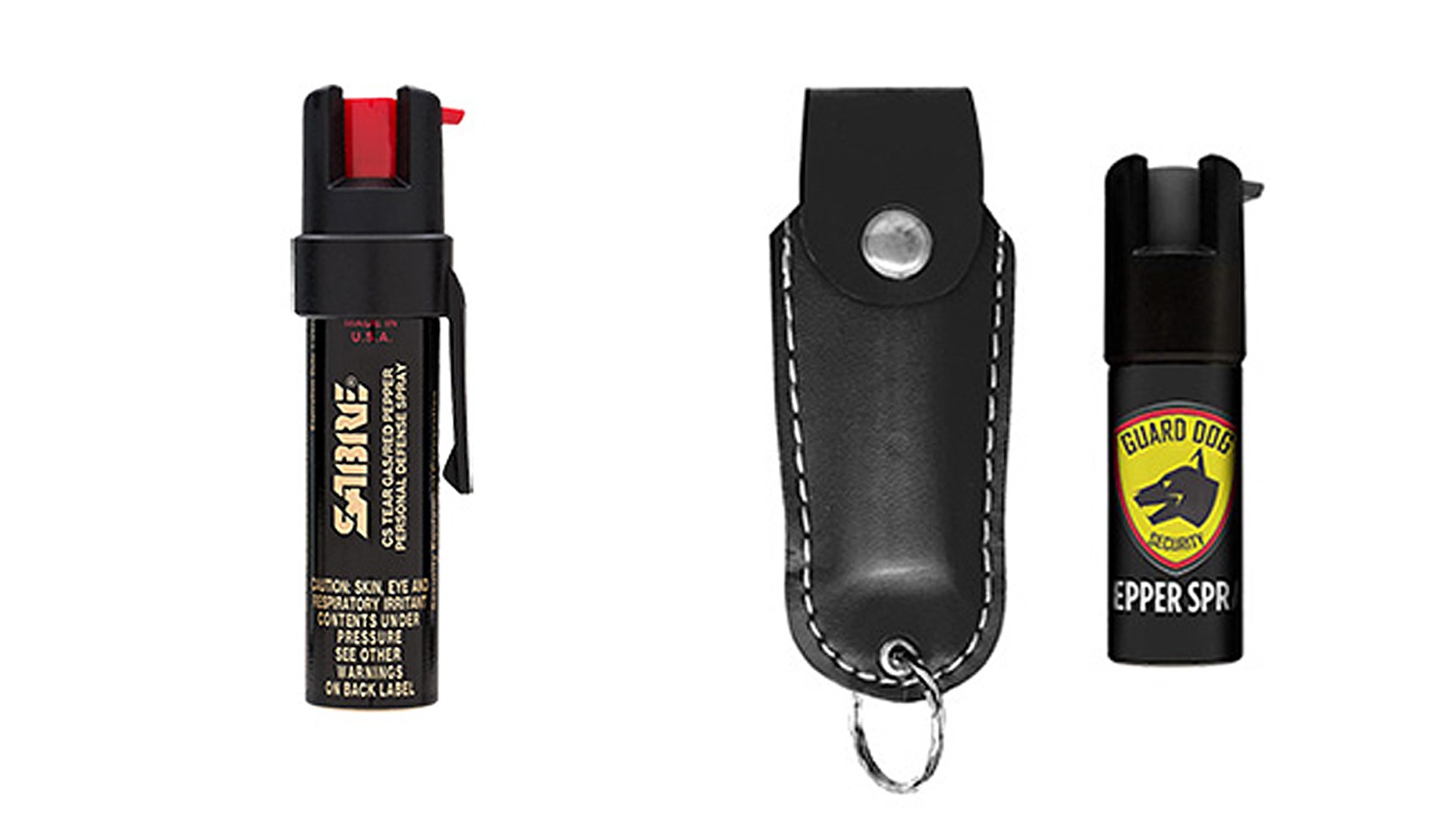 SABRE Advanced Compact Pepper Spray with Clip
Let's start with what might be the most popular pepper spray on the market because police departments use it all across the country. The SABRE Advanced Compact Pepper Spray with Clip boasts a spray radius over 10 feet, far outside arms' reach. In addition, the CS military tear gas includes a UV marking dye so the police can later identify who you sprayed to help them nail the suspect. Carrying is easy, thanks to the generous clip on the outside, and deployment is quick with the large red button on top. Avoid accidental discharge with the lockout mechanism that twists to keep it safe. MSRP is $7.99.
Guard Dog Security Pepper Spray Keychain with Case
Not only does the Guard Dog Security Pepper Spray Keychain with Case guard against human threats, but it's also a great way to fend off a charging dog that will likely start whimpering when sprayed in the face from distances up to 16 feet, according to the company. Carry it around on your keychain or attach it to a bag in the included case that comes in various colors. Keep the trigger locked up before deployment to prevent that oops spray when it shouldn't. The original canister includes enough spray with UV dye for multiple bursts, but Guard Dog will refill it at no cost if you run out. MSRP is $9.99.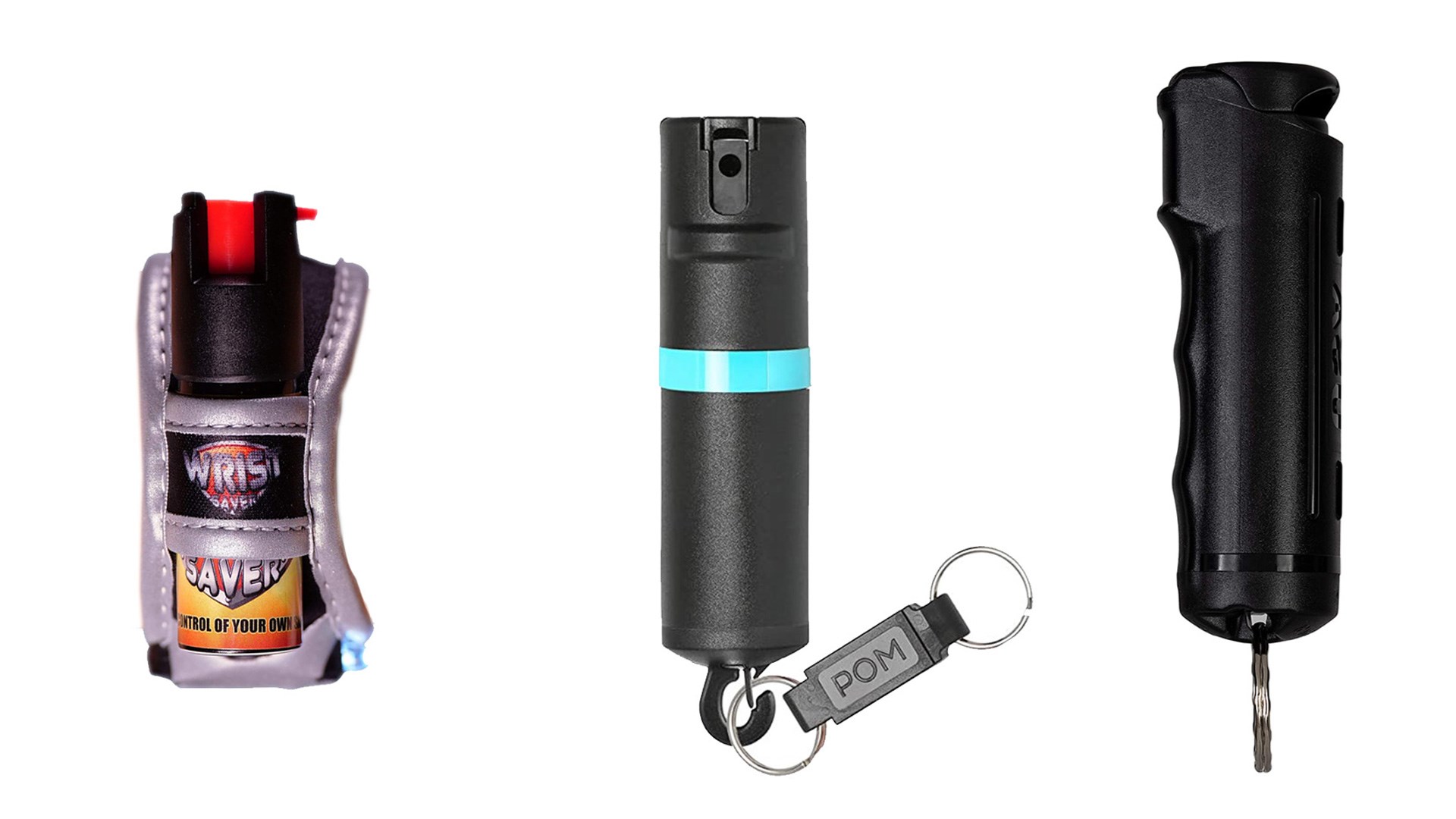 Wrist Saver Pepper Spray for Runners
If you're a runner or spend time outdoors, you'll appreciate the Wrist Saver Pepper Spray for Runners. The 3-ounce canister fits into its included pouch that mounts right on the wrist for quick access and easy deployment. Not only does the Wrist Saver have spray, but it also comes with an LED light and reflective seams to help in an emergency. In addition, if you use up all the spray, Wrist Saver will refill it for $1. The neoprene wristband is available in two sizes: small for wrists up to 6.5 inches and large for wrists over 6.5 inches. MSRP starts at $16.95 for the smaller wristband.
POM Pepper Spray Flip Top Keychain
With its sleek design and modern lines, the POM Pepper Spray Flip Top Keychain certainly looks like something different in the pepper spray world. Ironically, POM is one of the oldest pepper spray companies, yet this product is fresh and clean. Carry it the way you want with three different options, from a keychain loop with a quick release tab to a bottom-mounted slide latch to a side clip for pockets or bags. The spray range is touted at 10-12 feet of up to 24 bursts of UV-dye laced OC formula. In addition, POM's patented flip top prevents accidental pocket discharge because the lip must be manually raised to expose the trigger button. MSRP is $12.95.
Police Magnum Pepper Spray Keychain
The half-ounce Police Magnum Pepper Spray Keychain keeps UV-marking OC spray ready instantly. The flip-top cover helps prevent accidental sprays yet gives easy thumb access in time of need. The spray radius is up to 12 feet in good or calm wind conditions via stream deployment. Finger grooves in front aid with grip, which can be especially helpful under stress when your hands are sweaty. The grooves also help ensure the spray is aimed toward the attacker and not back at you or sideways. MSRP is $12.99.
Wrap Up
No matter what brand or model you choose, be sure you know how to carry and deploy it safely. Test it out. Practice on a dummy version, if possible. Like any tool, pepper spray is only effective if you know how to use it correctly and have trained with it.