by
Shooting Illustrated Staff
posted on January 21, 2023
Support NRA Shooting Illustrated
DONATE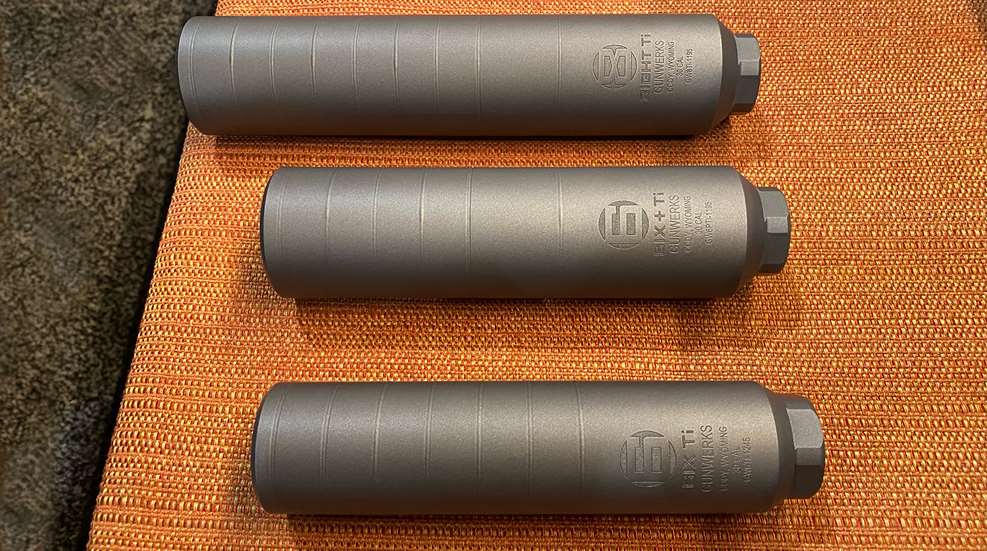 Gemtech introduced 2 new suppressors at SHOT 2023. The Abyss 5.56 and Neutron 7.62 have very similar designs but each focus on different qualities. Both cans are made from Stainless Steel and Titanium and aesthetically look the same. The Abyss 5.56 is a dedicated 5.56 can but is rated up to 6mm ARC. The Neutron 7.62 is rated from 5.7x28mm all the way up to 300 WM. These both have a tubeless design and are fitted with high efficiency baffles. Both end cap designs promise to minimize muzzle flash significantly. The Abyss focuses on reduced back-pressure, while the Neutrons thicker walls improve its durability and longevity. Both suppressors weigh about 14.5 ounces with 1.64 inch diameters. The new ETM adapter mounts to most types of flash hiders for easy installation. Both MSRP at around $800.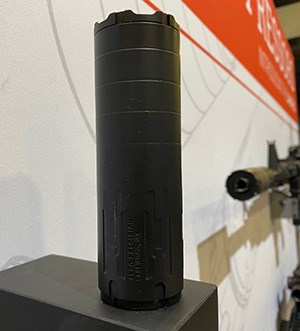 The Lahar series of suppressors are brand new from Aero Precision. The Lahar Suppressor comes in 3 different sizes, a short (K) configuration, a long (L) configuration, and the standard size. The sizes respectively are; 5.1 inches, 7.7 inches and 6.2 inches. All thee come with Inconel blast baffles, are full-auto rated with no barrel length restrictions. The cans are fully welded and are not user serviceable. The Lahar series are built for durability and hard use but come in at an Aero Precision price point. These currently ship only in direct thread but will be available with Aero's "Mantle" QD system by March. MSRP for these suppressors range from $549 for the small to $749 for the larger size.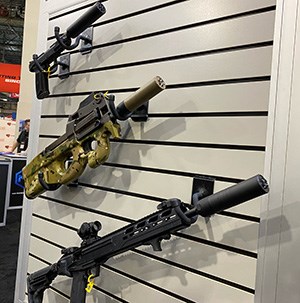 Maxim Defense will be releasing the new 5.7x28mm can by the summer of 2023. Maxim is well known for quality suppressors, and these promise to be no different. These lightweight cans come in at only 9 ounces, due to their titanium core and 7075 aluminum tube construction. At 6.2 inches long, they are a perfect fit for any 5.7 host, from pistol to carbine. Maxim recorded decibel levels of 128db on the Ruger 5.7 carbine, and 132 on the Ruger 5.7 Pistol. This new quiet, short and lightweight 5.7mm can from Maxim will be available in FDE or black.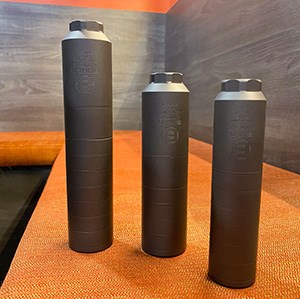 Gunwerks was sick and tired of fighting with carbon-locked hub mounts on suppressors, so the engineers there decided to design their own locking mount. Along with placing a locking taper in front of the threads on the mount, it can accept a 3/8 inch hex wrench for those really tough times. Gunwerks' focus has always been on precision shooting and that focus has carried on to the new titanium suppressor line. Fully laser welded, these cans come in 3 configurations: the 6IX, the 6IX+, and the 8IGHT. The lighter weight of these titanium facsimiles of the previous steel variety, makes them perfect for long days in the field. Instead of an entire end-cap, these cans have a bore-cap. A tiny, replaceable aluminum insert which allows the shooter to configure the bore size for the exact round being fired. This tiny but important detail can optimize sound reduction by allowing less gas to escape out the front of the suppressor. Don't worry about fighting with a carbon-locked bore cap either, Gunwerks put a 3/8 hex cut there too.