by
Shooting Illustrated Staff
posted on September 3, 2021
Support NRA Shooting Illustrated
DONATE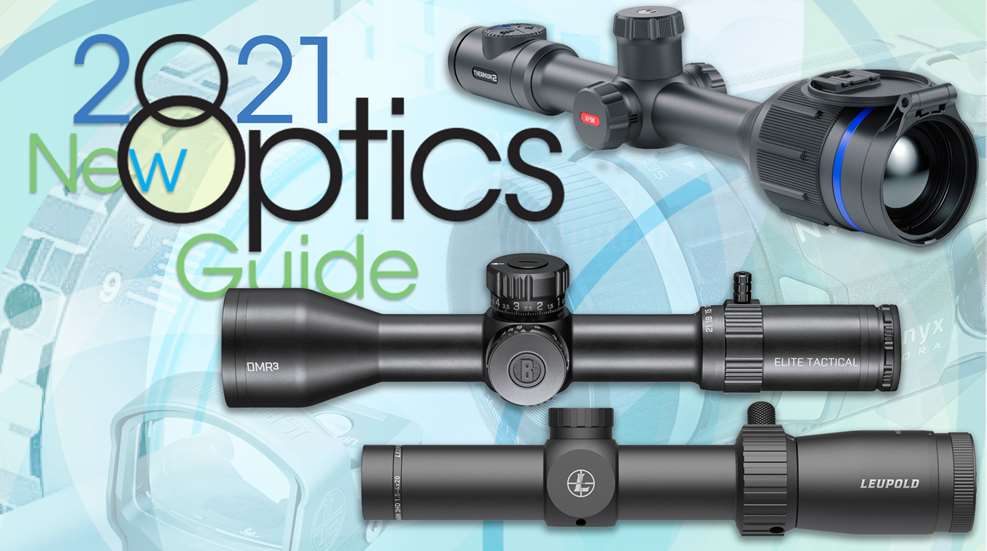 While the hot-as-magma market for guns and ammunition has dominated the news, optics are also selling at a record pace. Fortunately, optics manufacturers have been able to develop and introduce a dizzying array of new products, including line enhancements, feature-rich budget options and technological marvels that were once unaffordable to anyone not named Bezos, but are now approaching price points where many shooters can make use of them. Whatever your needs or budget, we've got info on the latest tactical, long-range, self-defense and concealed-carry optics in our annual guide.
---

Bushnell | Elite Tactical DMR3
With a user-friendly G4P reticle designed by G.A. Precision and a new, low-profile, removable magnification throw lever, the DMR3 is ideal for long-range shooters and those who need a rugged optic for a variety of pursuits.
Magnification: 3.5-21X
Objective Lens Diameter: 50 mm
Reticle: G4P - Precision
Length: 13.2 inches
Weight: 35.5 ounces
MSRP: $1,499.99
(800) 423-3537; bushnell.com
---

EoTech | Vudu 5-25x50 FFP
Designed to maximize top-rail real estate for long-range options, the new Vudu 5-25x50 FFP scope features first-focal-plane ranging, locking turrets, return-to-zero and two reticle options. With its space-saving design, there's plenty of room for night-vision or thermal optics on the top rail.
Magnification: 5-25X
Objective Lens Diameter: 50 mm
Reticle: Horus H59, MD3
Length: 11.2 inches
Weight: 29.5 ounces
MSRP: $2,099
(888) 368-4656; eotechinc.com
---

Hawke | Sidewinder FFP
This feature-laden riflescope includes an exposed, locking elevation-adjustment turret that has a window so you can see how many rotations have been completed. It also has a locking side-parallax adjustment, a magnification throw lever and a locking fast-focus eyepiece.
Magnification: 4-16X
Objective Lens Diameter: 50 mm
Reticle: MOA FFP
Length: 13.3 inches
Weight: 25.6 ounces
MSRP: $799
(877) 429-5347; hawkeoptics.com
---

Hi-Lux | PR5 5-25x56 FFP
The PR5 utilizes an APO objective with ED lens coatings for impressive clarity in all light conditions. The PR5 main tube is 34 mm, allowing for an impressive range of elevation and windage adjustments ideal for long-range shooting.
Magnification: 5-25X
Objective Lens Diameter: 56 mm
Reticle: TRACR Mil Grid
Length: 16 inches
Weight: 40 ounces
MSRP: $999
(310) 257-8142; hi-luxoptics.com
---

Kahles | K525i DLR
This new long-range workhorse from Kahles features Dynamic Long Range (DLR) capabilities, including precise click adjustments, 10 mils of adjustment per rotation, and an SKMR4 first focal plane reticle. The scope also comes with the option for left or right side windage turret and features premium glass for optimal clarity and light transmission.
Magnification: 5-25X
Objective Lens Diameter: 56 mm
Reticle: SKMR4
Length: 14.8 inches
Weight: 35.09 ounces
MSRP: $2,211
(800) 426-3089; kahles.at/us/
---

Leupold | Mark 3HD 1.5-4x20
Just one part of Leupold's Mark 3HD tactical line, the 1.5-4x20 mm features a selector ring for fast adjustment. It also incorporates the Elite Optical System, effectively transmitting maximum brightness in the low light of dawn and dusk while preventing glare in bright conditions. It also features MIL-based adjustments, HD lenses and an exposed elevation-adjustment dial.
Magnification: 1.5-4X
Objective Lens Diameter: 20 mm
Reticle: AR-Ballistic
Length: 9.5 inches
Weight: 12 ounces
MSRP: $499.99
(800) 538-7653; leupold.com
---

Meopta | Optika6 5-30x56
These eagerly anticipated Optika6 scopes with first-focal-plane, MRAD reticles should be arriving as you read this. The 34 mm-tube Optika6 5-30x56 mm model features ED glass to eliminate chromatic aberration at high magnification and rubber-armored target turrets.
Magnification: 5-30X
Objective Lens Diameter: 56 mm
Reticle: FFP Illuminated MRAD
Length: 15.44 inches
Weight: 36.7 ounces
MSRP: $949.99
(800) 828-8928; meoptasportoptics.com
---

Nightforce | ATACR 4-20x50 F1
Offering mid-range magnification, four reticle options and a shorter, lighter footprint than the 5-25X ATACR, Nightforce's newest addition to the ATACR family features a ZeroStop turret, power throw lever, Digillum illumination and ED lenses. Flip-up lens covers and a sunshade are also included.
Magnification: 4-20X
Objective Lens Diameter: 50 mm
Reticle: MOAR F1, TREMOR3, MIL-XT, MIL-C F1
Length: 13.9 inches
Weight: 35.2 ounces
MSRP: $3,000
(208) 476-9814; nightforceoptics.com
---

Pulsar | Thermion2 XP50
Offering 10 reticle options (three scalable, seven fixed), eight color palettes, picture-in-picture, a claimed 2,000-yard detection range and separate zero-profiles for different applications, Pulsar's new Thermion2 XP50 thermal scope packs a lot of tech.
Magnification: 2-16X (digital)
Objective Lens Diameter: 50 mm
Reticle: 10 options
Length: 16.22 inches
Weight: 31.74 ounces
MSRP: $5,499.99
(817) 225-0310; pulsarnv.com
---

SAI Optics | SAI 6 Series
Brought to you by parent company Armament Technology—the same company that makes the vaunted Elcan Spectre—SAI Optics new SAI 6 series is a variable magnification scope with an LED-illuminated, first-focal-plane reticle. Moreover, SAI 6 series accommodates enhancements such as anti-reflection devices, laser filters, polarizers and flip covers.
Magnification: 1-6X
Objective Lens Diameter: 28 mm
Reticle: RAF (Rapid Aiming Feature)
Length: 10.07 inches
Weight: 18 ounces
MSRP: $1,199
(902) 377-3393; armament.com/sai-optics/
---

Schmidt & Bender | 3-21x50 STII-B Exos
Boasting a 34 mm main tube and plenty of magnification for long-range precision shooting, this new riflescope features extremely reliable Zero Tolerance click adjustments in either MOA or mil. The scope utilizes 11 illumination settings with automatic shutoff after six hours.
Magnification: 3-21X
Objective Lens Diameter: 50 mm
Reticle: D7 or LRH-MOA
Length: 13.4 inches
Weight: 32 ounces
MSRP: $3,299
(540) 450-8132; schmidtundbender.de/en/
---

Sightron | 6-24x50 SIII PLR Riflescope
Loaded with features, this riflescope features an internal zero-stop mechanism and second focal plane with 11 illuminated settings. Zact-7 Revcoat Plus multicoating on the lenses delivers superior light transmission, giving shooters the perfect option for covering serious distances at the range.
Magnification: 6-24X
Objective Lens Diameter: 50 mm
Reticle: MH-5 IR
Length: 15.4 inches
Weight: 28.2 ounces
MSRP: $1,325
(919) 562-3000; sightron.com
---

US Optics | FDN-17X
Boasting a 50 mm objective, a wide magnification range with a rapid adjustable 180-degree throw lever, an integrated illumination and parallax knob and a choice of 10 reticle options all in the first focal plane, the FDN-17X makes taking precision shots beyond 1,000 yards easier than you might think.
Magnification: 3.2-17X
Objective Lens Diameter: 50 mm
Reticle: JVCR
Length: 15.02 inches
Weight: 29.6 ounces
MSRP: $2,899
(828 )874-2242; usoptics.com