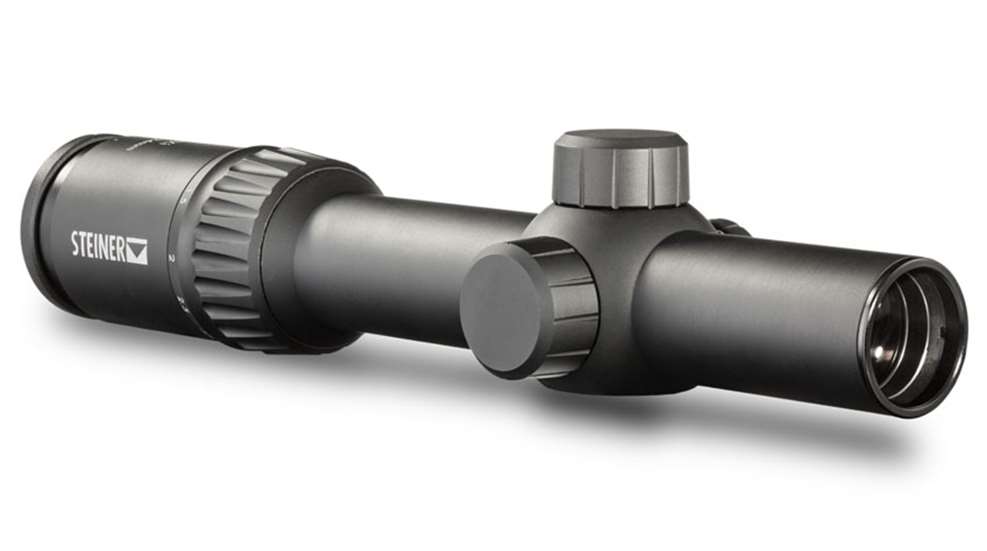 Great optics tend to come in one of two categories: innovative, but expensive or bland, but affordable. The Steiner P4Xi boasts innovative features in a platform that is quite affordable by tactical-optics standards. From its illuminated, ballistic-compensating reticle that's calibrated for both 5.56 NATO and 7.62 NATO to its compact size, this scope is an outstanding choice for home defense and 3-gun competition.
Tactical optics like the Steiner PX4i 1-4x24 riflescope have come a long way in a relatively short time period. A decade ago, for example, the choices for a tactical optic tended to be a red-dot optic—usually without magnification—or a 5-25X precision option that cost more than the average shooter could afford. In recent years, optics manufacturers have filled the gap with a range of riflescopes, and the Steiner P4Xi is an excellent blend of all the desirable features asked for by the modern shooter.
In his review, Shooting Illustrated contributor Brian McCombie noted that the Steiner P4Xi 1-4x24 tactical scope is a great example of the quality and features that can be had in a compact tactical optic. In the P4Xi, the company has a model that doesn't require several thousand dollars at the cash register, either. The P4Xi is a quality second-focal-plane optic that presents very clear images. Turret adjustments are precise and the scope features a supremely functional illuminated reticle, making the P4Xi a fine choice for a range of options, from home defense to competition to hunting and more.
"Lightweight and easy to use, the Steiner P4Xi will be a first-rate choice for patrol rifles and AR platforms. Priced less than $600, you can't ask much more from a quality piece of tactical shooting glass." —Brian McCombie
Winning Features:
• Illuminated, P3TR ballistic reticle
• Quick-focus eyepiece
• Easily adjusted magnification
• Durable construction
Magnification: 1-4X
Objective Lens Diameter: 24 mm
Adjustability: 100 MOA in .5-MOA clicks
Eye Relief: 3.5 inches
Length: 10.3 inches
Weight: 17.3 ounces
MSRP: $579.99