Success is like fine art: Hard to define, but you know it when you see it.
With firearms, one accepted measure is how long they have been around and how many units have been sold. The Remington 870 shotgun comes to mind; introduced in 1950, it's sold more than 12 million units. Same with Glock; it's been around 36 years and sold about a bazillion (which I believe is the official number). These guns can safely be called successful. But what of those guns with a shorter timeline? Can we define or at least predict their success?
One good measure for a lot of firearms is the number of aftermarket gewgaws offered to upgrade and accessorize the gun. Considering the high cost of tooling up and the small profit margins, the small-business owner who pulls the trigger on launching a new aftermarket accessory is betting heavily on the success of that firearm.
Let's look at the CZ Scorpion EVO 3 S1 for example. The number of bolt-on accessories is growing faster than baby Yoda. Well, that's a bad example, considering he is an infant at 50. But anyway, let's just agree the gun's popularity is growing pretty fast.

The CZ Scorpion EVO 3 S1 is sort of, maybe, kinda, based very loosely on the famous Škorpion Czechoslovak machine pistol. At least they almost share the same name, do share the same maker and they are both large, 9 mm "handguns" (the Škorpion vz. 68 was a 9 mm). Judging by the number of aftermarket accessories and parts available from multiple sources for the Scorpion EVO 3 S1, it is clearly wildly successful for a platform that's just a few years old.
The number of add-on accessories and upgrades is pretty impressive, and it's growing every day. Here are a few that I have tried. This is not by any means a complete list of the cool things you can do with your Scorpion pistol, just what I have done to this gun. Each of these items is an easy install that can be done on a kitchen table with a few simple tools. 
---
SB Tactical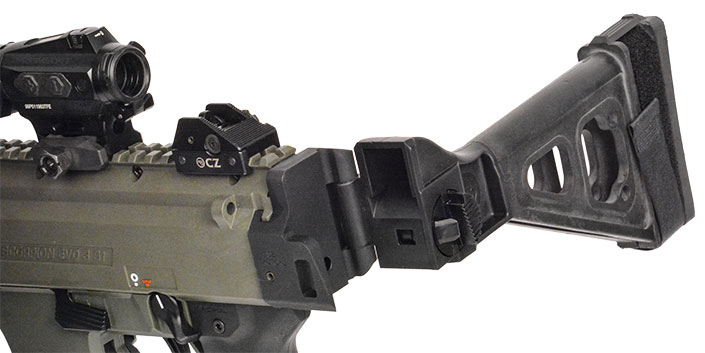 SBTEVO Pistol Stabilizing Brace
In my never-humble opinion, this type of pistol needs an arm brace, which ties the gun together. SB Tactical makes two styles of braces for the Scorpion, folding and telescoping. I could easily live with either, but I put a folding brace on my gun. Why? I just think they look cooler. You will need a small punch (less than 3 mm) to reach through the back plate on the gun and depress the spring-loaded button that holds the back plate in place. Slide the back plate up to remove it.

You may need to gently tap on the bottom with a plastic hammer. Depress the button and slide the new bracket, attached to the brace, into place. Again, use a plastic hammer to gently "urge" it along. The SB Tactical brace comes with two setscrews to help hold it in place, but I could only locate one hole, which is plenty. I lost the second one, anyway. 
---
Magpul
When Magpul makes gear for your gun, you know it's popular. The big daddy of AR accessories has expanded its line over the years to include AKs, Glocks, 1911s, Remington 700s, Remington 870s, Ruger 10/22s and more, but in each case, Magpul only selects platforms that are immensely popular. Its entry into the Scorpion world is proof the CZ gun has done quite well.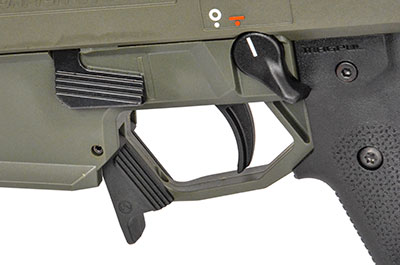 MOE-EVO Enhanced Magazine Release
The Magpul MOE-EVO Enhanced is an ambidextrous upgrade. The best part is the paddle that extends below the release and allows fast magazine extraction with either hand. The release is made from high-strength, injected polymer and is larger than the factory-installed mag release, yet is still low-profile. Installation is simple with a 5⁄32-inch roll-pin punch. Using the punch, knock out the pivot pin. Put the spring in the new release and push it into alignment. Insert the punch to act as a slave pin and tap the roll pin into place from the other side.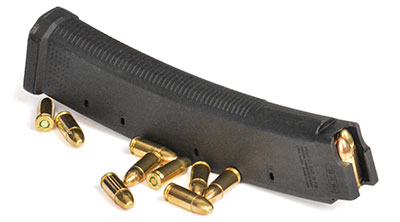 PMag 35 EV9 Magazine
The PMag might well be the most successful aftermarket magazine in history. It's best known for the AR-15 platform, but there are PMags for many of the most popular rifle designs: AR-15, AR-10, AK, precision bolt-action and more. It even offers mags for Glock handguns. Now the Scorpion has two PMags of its very own: the PMag 35 EV9 35-round, 9 mm, double-stack version I used and a brand-new D-50 EV9 drum magazine.

The PMag 35 EV9 has an MSRP less than 20 bucks, so I suggest you buy at least two. The drum does not yet have an MSRP, but will be significantly more expensive judging by Magpul's pricing structure for its AR mags. Shooting fast and often is exactly the concept and the fun of this handgun design.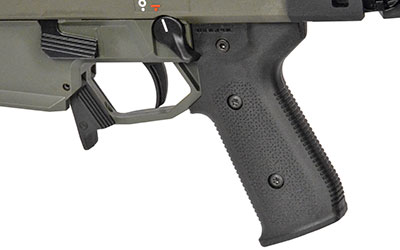 MOE-EVO Grip
The new Magpul EVO grip improves the feel of the gun rather dramatically. It's a bit smaller and uses a straighter angle than the original equipment. For most shooters, the new angle just feels better and seems to mitigate recoil. It's also well-stippled for a positive gripping surface. This is an easy install; a 3 mm Allen wrench and a T15 Torx wrench are all you need. 
---
Manticore Arms
This company has a bunch of bolt-on goodies for the Scorpion EVO pistol. I have a few of them on my gun, but the list is far more extensive. In addition to the stuff listed here, Manticore also offers arm braces, several fore-ends and a bunch of other must-have accessories.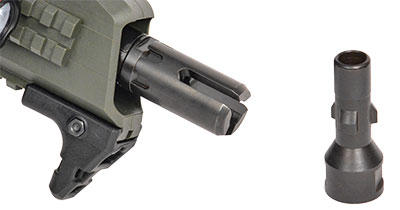 Shadow Flash Hider
Designed exclusively for the Scorpion EVO, this is simple, short and effective. It uses three short, straight prongs and it reduces, slightly, the overall length of the pistol. It fits the ½-28 threads and six detent notches match with the spring-loaded lock lever on the gun to make sure it never moves once it's torqued into place. 
Scorpion EVO Tri-Lug Adapter
If you prefer a Tri-Lug muzzle device, screw this one on the end of the barrel instead of the flash hider. It allows the use of any Tri-Lug attachment, including muzzle brake, flash hider or suppressor.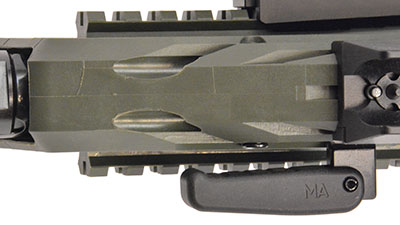 Scorpion EVO Switchback Charging Handle 
The Switchback Charging Handle folds out for use and can be returned to the closed position when not in use. The gun is designed to be charged from either side, and this handle can be installed left or right. Or you can put one on each side, or use one on the primary side and put the OEM handle on the other side so you have complete control with either hand.
Fold it out and pull it back to charge the pistol, then let go. The handle automatically returns to the folded position. It can even be locked into the holdback notch and given a slap to automatically slam forward, charge the handgun and fold the handle. 
When removing the charging handle from the Scorpion, you must depress the detent spring through the lock-pin hole to prevent it from being damaged. I used a small punch. Never, never, never use a big hammer. Manticore Arms also makes a fixed, extended charging handle, which is always ready and less expensive.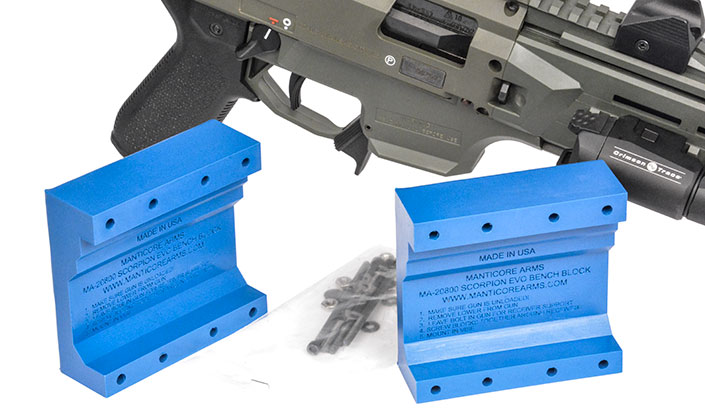 Scorpion EVO Bench Block 
If you are going to be working on your Scorpion EVO and doing things like changing barrels, this bench block is a must have. It's made out of heavy-duty polymer that will not mar the surface of the receiver. The block is shaped to fully support and distribute loads on the Scorpion EVO receiver while you're working on the gun. Clamp it over the receiver and use the four bolts and nuts supplied to tighten it in place. Next, you can clamp it in a vise to hold the gun safely and solidly while you work. 
---
SIG Sauer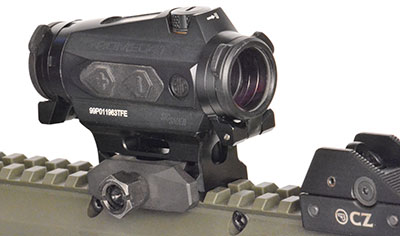 Romeo4T 1x20 mm Red-Dot Sight
The CZ Scorpion EVO comes with a rear peep sight that is windage adjustable and has four different aperture-size options. The front sight is a round post that is elevation adjustable. They are fine sights, or so they tell me. I can't see them without my prescription shooting glasses (if you are not yet 40, they're coming for you, too). Besides, any gun is better with optics. 
This type of pistol will be fired from a wide range of positions: two hands, one hand, sling-supported, with the brace and more. Each will change the distance from the sight to the shooter's eye. So, the only optical sight that makes sense is one that doesn't have eye-relief issues and works equally well at any distance from the shooter's eye. The red dot is the best example of that paradigm, and this SIG Sauer model is one of the best red-dot sights I have used.
By combining battery and solar, the run time for a single battery is in excess of 100,000 hours. The MOTAC (Motion Activated Illumination) powers up or down when sensing motion, which saves on battery life. The sight has red-dot or CirclePlex reticle options, both widely adjustable for intensity. Best of all, I can see clearly now.
---
Crimson Trace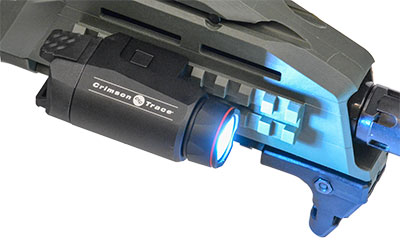 CMR-208 Railmaster Light
I am a big fan of gun-mounted lights on defensive firearms and, when set up with all these accessories, this Scorpion EVO makes an excellent choice for home defense. Therefore, it should have a light. The gun has plenty of rail space, so I mounted a Crimson Trace CMR-208 Railmaster Light on the right side.

This 420-lumen LED light has easy-on and -off by tapping the lever, either top or bottom. It has modes for high, low, strobe and momentary functions. One thing I like in a defensive situation is simplicity, which this light can offer. Tap the lever and it's on, tap again and it's off. If you push and hold the lever it goes into momentary mode and when you release the lever the light goes out. Simple, foolproof and reliable.
So, what other bolt-ons will I add to this Scorpion EVO pistol? Who knows; the list seems limitless. I am thinking I would really like a bayonet or maybe a flare launcher. I haven't found either yet, but I am working Google pretty hard and I have little doubt somebody will offer them sooner or later. 
For now, I just add ammo and enjoy this gun the way it's outfitted. I find it's fast and accurate when running practice drills. It's also a lot of fun on my MGM plate rack. I find I am a lot faster knocking the plates down than with a conventional pistol. 
In my state, we can keep a handgun loaded in a vehicle, but are not allowed to have a loaded long gun. This tricked-out Scorpion EVO is perfect for a "get me home" gun to ride in my truck. Just one problem; that means it's always with me, and when I show up at the range everybody wants to shoot it (with my ammo, of course). For the record, it can eat ammo pretty fast. But, it also creates lots of grins and giggles, so I guess it's a fair trade.