by
posted on March 4, 2021
Support NRA Shooting Illustrated
DONATE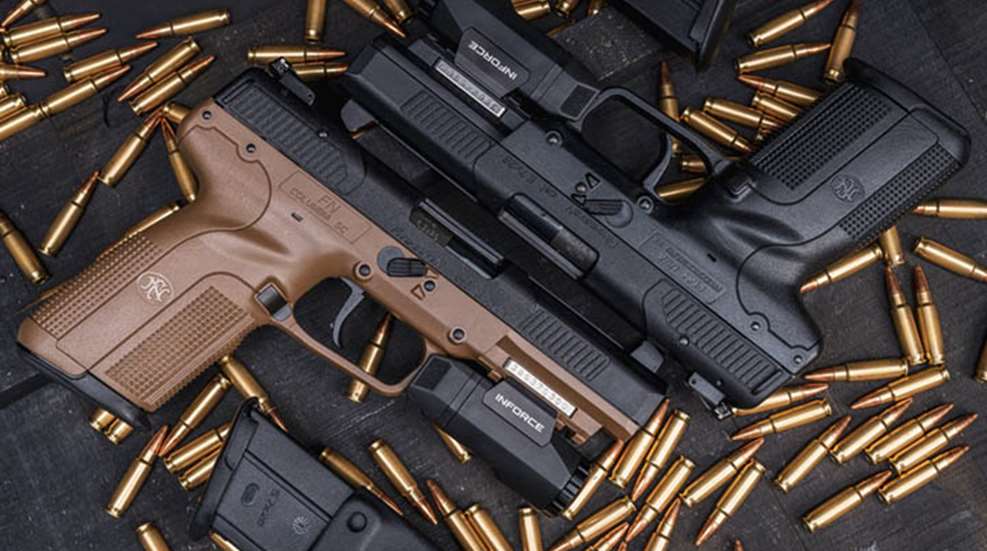 The North Atlantic Treaty Organization (NATO) has officially standardized the 5.7x28 mm caliber, the third cartridge from the engineers at FN to receive the critical designation. The other two from the company, the 5.56 NATO and 7.62 NATO, were accepted and adopted in 1981 and 1957, respectively. Standardization ensures the ammunition is interchangeable—regardless of country of original or manufacturer—and will provide operational efficiency in identically chambered firearms.
FN Herstal engineers designed the 5.7x28 mm cartridge with an all-new case that features a 35-degree shoulder and launches .22-caliber bullets. FN's FN P90 and FN Five-seveN pistol were built specifically to chamber the round. 
"The Five-Point-Seven cartridge came about back in the late '80s when NATO issued a call for a new item, the Personal Defense Weapon," Patrick Sweeney explained in his review of a CMMG Banshee in that chambering for Shooting Illustrated. "That firearm was intended to be something light, handy, powerful, easy to use and accurate at a reasonable distance. Something truck drivers, radio operators and crew members of crew-served weapons could have handy, just in case." 
The cartridge is already in use by nearly 50 nations, as well as several federal and state law enforcement agencies stateside. A variety of other companies now produce firearms in the chambering. 
Founded in 1949 to address the growing number of Communist Bloc nations in Europe, one of NATO's earliest goals was standardization of ammunition between treaty countries. The effort addresses a logistical challenge that arose during World War II, when allied armies often arrived at the front with a potpourri of cartridges in varying calibers and pressures. 
Last month's NATO standardization adds the 5.7x28 mm to the portfolio of standardized NATO small-caliber ammunition and integrates it into the organization's Multi-Caliber Manual of Proof and Inspection (AEP-97). The cartridge joins the the 9 mm NATO, the 5.56 NATO, the 7.62 NATO and the 12.7 NATO, better known by enthusiasts as .50 BMG.