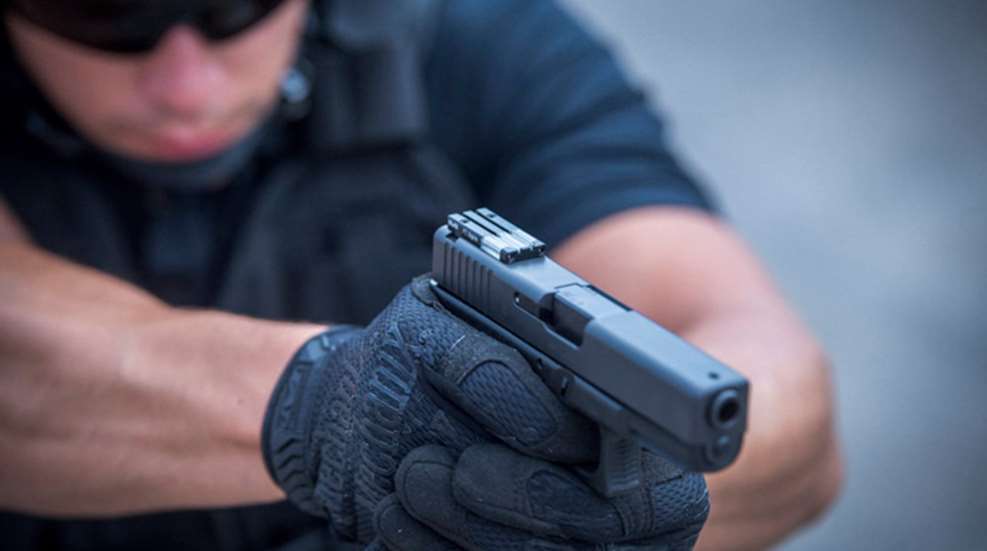 One of the first upgrades a lot of shooters make when they buy a brand-new handgun is the sights. Factory sights can be fine for most folks, but sometimes either they aren't that great or it's just a matter of personal preference to get something a little fancier and brighter. Often these upgrades don't just include something easier to see, but brighter, too.

The advantage of night sights is sight acquisition. Rather than struggling to find three little white dots to align, night sights typically offer bold dots and lines that are hard to miss when putting sights on target. If you can't see night sights, you might want to head to the ophthalmologist.
That said, here are a few of the great selection of night sights that fit on just about any handgun with replaceable sights. 
AmeriGlo Glock Front Tritium Night Sights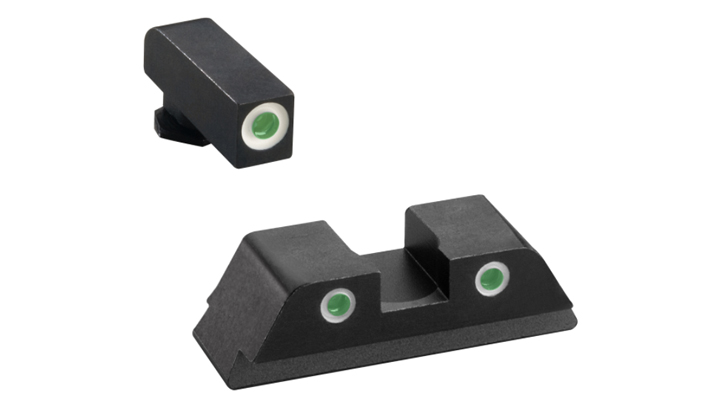 If you prefer a more traditional glow-only night sight setup, the AmeriGlo Glock Front Tritium Night Sights are a great option. These sights are built upon the more traditional three-dot alignment like factory sights but add two Tritium and phosphorescent rings around all three dots, including a larger right around the front dot for quicker sight picture. And thanks to the absence of fiber optics, this sight set costs a bit less. MSRP: $89
Hi Viz Litewave H3 Tritium/Litepipe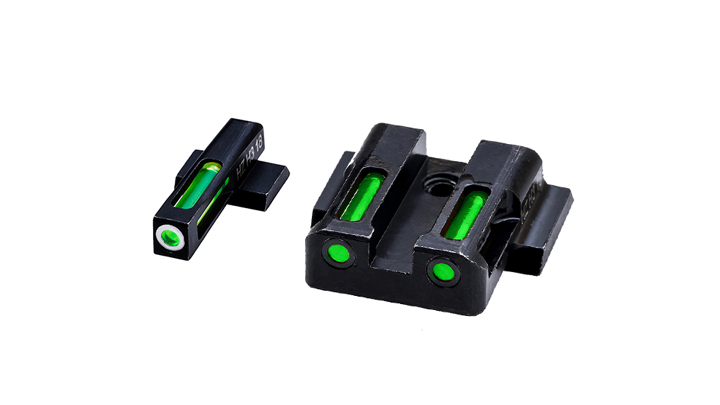 While some sights have glow dots and others use fiber optics, the Hi Viz Litewave H3 Tritium/Litepipe combine the best of both worlds with fiber-optic rear in green or orange and a green fiber-optic front pipe encircled by a ring of day glow tritium for low-light conditions. The sights are adjustable for windage and come with a 12-year warranty against workmanship and a guarantee the tritium continue to shine after a dozen years. MSRP: $135
Meprolight FT Bullseye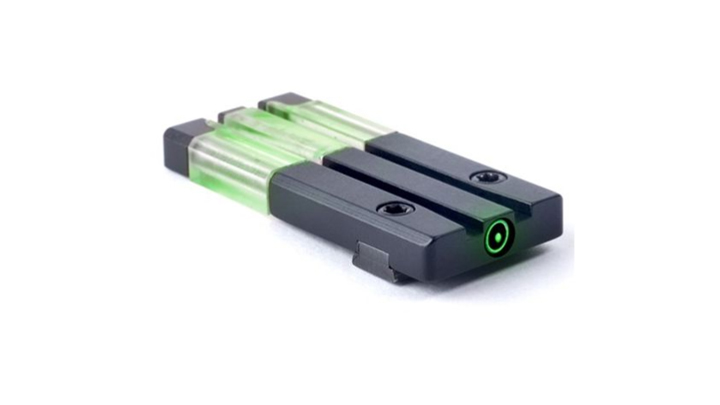 Abandoning the traditional front sight/rear sight alignment entirely, the Meprolight FT Bullseye rear sight is a self-contained, complete sight system in only one part. Using a combination of green fiber optics in a three-across formation and a tritium ring in the middle channel, the FT Bullseye is a "self-illuminated" sight that sits squarely in the rear sight dove tail. To aim, simply line up the green dot with the green ring and fire. MSRP: $145

Night Fision Optics Ready Stealth Series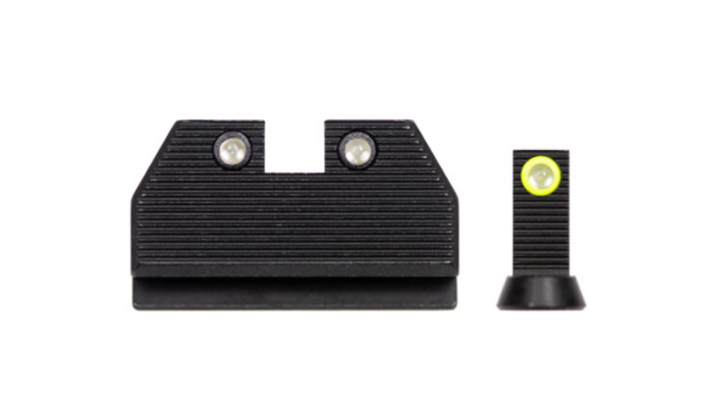 Night Fision recently introduced its Optics Ready Stealth Series sights for the CZ P-10C optics-ready pistol. These sights offer 1/3 co-witness with most leading optics and Tritium to provide the shooter with a premium sight picture in any light condition. The Stealth Series sights are CNC-machined out of high-quality steel and feature a front sight ring diameter of 2.4 mm with a wide notch in the rear sight. The rear sight has a black ring around the Tritium vial while the front ring is available in yellow, orange, and black. The rings are made from ballistic polymer and won't crack, chip, fade, or peel. MSRP: $119 
TruGlo TFX Pro Tritium and Fiber Optic Xtreme Handgun Sights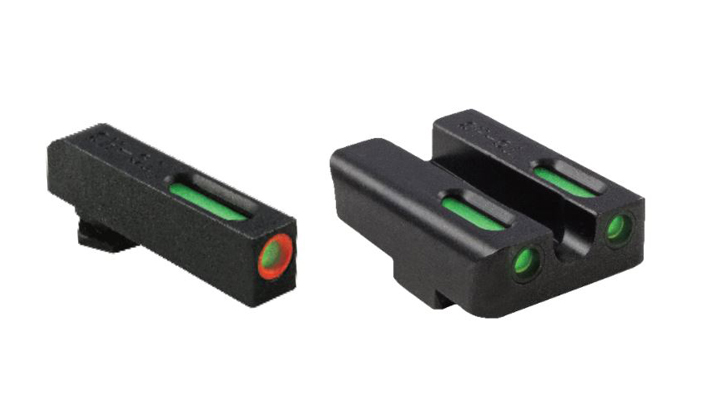 A more traditional night sight setup, the TruGlo TFX Pro Tritium and Fiber Optic Xtreme Handgun Sights feature a green fiber-optic rear sight and a front sight with both green fiber optic and a red ring around the optic end to accentuate the color and improve visibility and target acquisition. Light hits the fiber optics through small slits cut atop the sights rather than entirely exposing the entire filament to potential damage. MSRP: $110
Trijicon HD Night Sight Set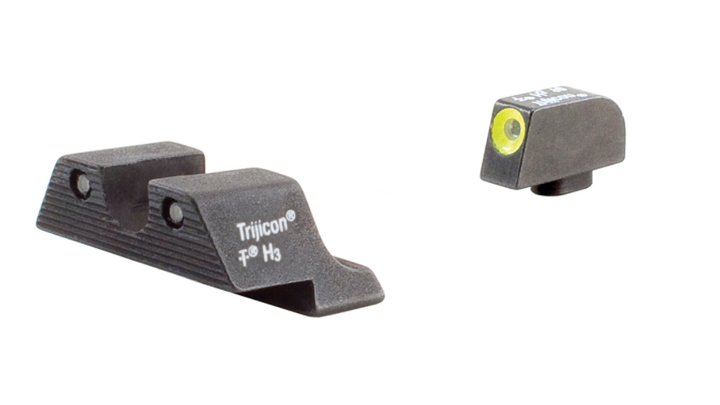 For fans of blacked out rear sights, the Trijicon HD Night Sight Set satisfied that desire while still providing a glowing front sight, thanks to a Tritium-phosphor dot surrounded by an large orange ring for contrast and easy sight pickup. Just nestle the orange dot inside the U-shaped rear cutout and shoot. The rear sight has black dots for subtle daytime sight alignment, but you won't see them at night, relying instead on the large front dot. MSRP: $165
XS Sights DXT2 Big Dot Night Sight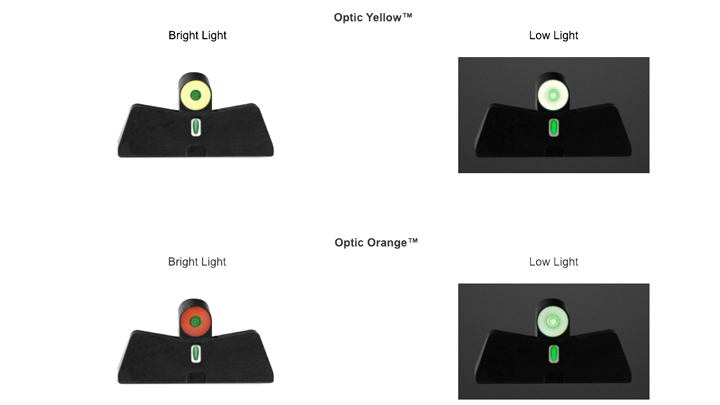 Long-time industry powerhouse XS Sights introduced the DXT2 Big Dot Night Sight for 2020. Different from typical sights, the DXT2 uses a gigantic day glow phosphorescent tritium front sight dot — it's huge — that lines up with a single vertical line on the rear sights rather than the traditional three dot pattern or U rear and single dot front. XS Sights claims this unique approaches allows them to make the front sight dot so large you can't possibly not see it. MSRP: $132