When I saw the press release from
MTM Case-Gard
about the company's new
Tactical Rifle case
, I was intrigued. I've used the company's ammunition boxes and ammo cans for years, with no complaints and plenty of praise for the durability of its products. When I saw the price, I was doubly intrigued.
As a general rule, rifle-transport options come in three flavors: Inexpensive nylon cases with a simple zipper closure, flimsy plastic cases like those often shipped with new rifles or, well, there's no easy way to put it, pricey cases that can withstand direct nuclear attack. Okay, that's probably an overstatement, but you know the cases I'm talking about. They're supremely well built - but have a price tag to match. While we'd all love to have a variety of this last class of cases available, often our budget remands us to the first two. Sure, if you're traveling a lot or shipping rifles frequently, it's a great insurance investment, but for general "get my rifle to the range" duty it's overkill.
Which is why the $72.95 price tag on the Tactical Rifle case caught my eye. That's slightly more than a decent fabric case or a cheap plastic case you can pull apart with your bare hands (i.e. not even remotely TSA-approved for traveling...), but still well within the limits of most budgets. With my previous, positive experience with MTM Case-Gard products in mind, I figured it was worth taking a closer look.
The less-expensive plastic cases often have two, sometimes four, clasps all on one side of the case to close them. This can present problems, especially if the holes for locking are in the handle - the ends can easily be pried apart. Not so on the Tactical Rifle case, though. Four clasps - two on the handle side, one on each short end - make sure that "unapproved entry" into the case is going to require more than just brute force. Multiple areas for locks abound around the case, and it even has tie-down points if you want to secure it in a truck bed or in the back of a four-wheeler. Nice touch! Inside the case is another interesting feature I haven't seen a lot in hard cases: there are four straps you can screw into the bottom lid that thread through slits in the bottom foam to secure two rifles. It's a great compromise between the standard eggshell foam that you hope will keep your rifle from moving in transit and custom-fit, one-size-only-fits-a-couple-rifles plucked-foam option. You can attach the hook-and-loop straps in a variety of locations depending on the overall size of the rifle(s) being transported.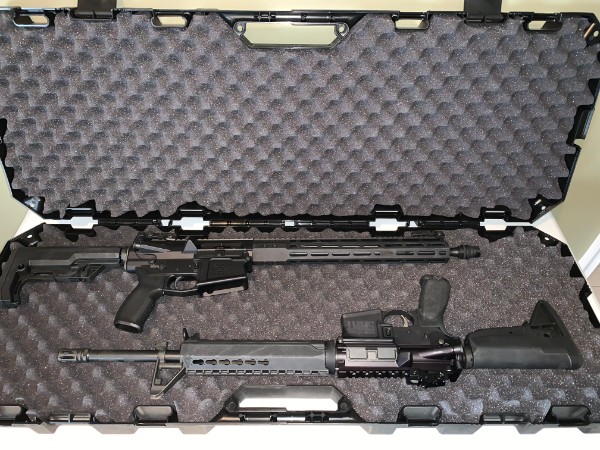 As for the size of rifle the Tactical Rifle case can handle, in the header picture is a scoped, 20-inch-barrel, fixed-stock AR-15 with significant muzzle brake that fits the case perfectly. Getting another rifle in the case with this AR is possible, I guess, but it would have to be an iron-sighted .22 LR - on the small side. However, two 16-inch carbines with iron sights fit perfectly (as above), and I'd wager that adding a red-dot sight to one or both wouldn't change the arrangement much.
Would I ship a $7,500 precision rifle halfway around the world in this case? I haven't tested it enough to give an honest opinion there, yet. I'd want to bang it around the bed of a pickup truck or Jeep through a few fields, pile it under a bunch of other cases at a shooting event and just bang it around a bit before I passed that final verdict. However, would I put a $2K AR for prairie-dog hunting in it to ship to Colorado to hunt with friends? Heck yeah. With the hook-and-loop straps securing the rifle and a sturdy case, I'd be confident it could withstand the rigors of air travel...
MSRP: $72.95. Visit
MTM Case-Gard
for more information.