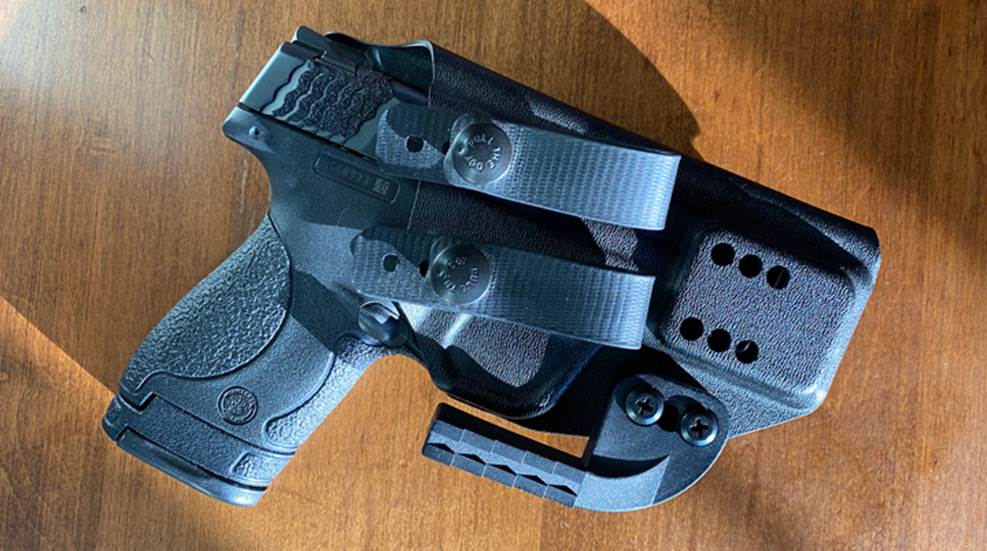 Sometimes, the toughest part of choosing a holster is deciding where to compromise. You like certain features of one holster design but miss others that the holster over there has. So you waste valuable time debating what you're willing to give up, prioritizing your needs and wants before finally landing on a holster that gets you at least most of the features you were looking for. Or you could buy a Dark Star Hitchhiker and not sacrifice anything.
Now, lest that sound like a marketing pitch for Dark Star, here's full disclosure: all the holsters I review are sent to me free of charge from every company. Dark Star is no exception and is not getting preferential treatment. I just think they have a really great product. Let me explain.
The holster begins with a Kydex taco shell with a tall sweat guard on the inside. While some people find sweat guards pokey and uncomfortable—and some certainly are—this one is designed well and was comfortable all day, regardless of standing or sitting.
Retention was solid out of the box and can be adjusted using the same screws that hold the print-reducing Dark Wing attached under the trigger guard cover. Speaking of the wing, I really liked the graduated angle, allowing for easier on/off than a conventional squared off wing or claw.
Clip-wise, you have options. Mine came with a pair of snap closure loops, which did not excite me, but they weren't bad. I'm not a big fan of snaps because I'm always afraid they'll unsnap on their own. These didn't, but I worried all day. If you're not a big fan either, opt for the steel clip when ordering. The steel clip is tuckable, too, if that's your thing.
Ride height is adjustable, with three sets of holes for the snap loops and three different pair of holes for the steel clip. Just unscrew and move up or down.
Touted as an IWB/AIWB, the Hitchhiker works well at either the strongside hip (my carry position of choice) or appendix. At $80 base price for basic black, the Hitchhiker is a bit steep for such a simple holster, but it's solid and well made. Want to jazz it up with other colors? It'll cost you $15 more. By the time you add in tax and shipping, you're pushing the $100 mark. One bit of confusion when ordering is the absence of left-handed options in the dropdown menus, even though there is a note onsite about left-handed configurations. I recommend contacting Dark Star directly if you're a lefty.