by
Shooting Illustrated Staff
posted on January 24, 2020
Support NRA Shooting Illustrated
DONATE
TNW Firearms is an innovative designer and manufacturer of modern and historical firearms, and now they are introducing  the lightest production 9 mm semiautomatic carbine available today, the 9 mm LTE, based on its wildly popular Aero Precision Rifle. The new 9 mm LTE gives shooters a portable, easy-to-handle, takedown, semi-automatic firearm is truly a lightweight backpacking, survival or emergency carbine or pistol.

The 9 mm LTE has specifically engineered parts to reduce weight and is not interchangeable with other cartridges. Like all Aero Survival Rifles and Pistols, the new 9 mm LTE is a no-tools-required, rapid take-down gun that is designed to be the last word in portable firepower. Weighing less than 4 pounds, the 9 mm LTE is perfect as a backcountry or emergency survival firearm for outdoor enthusiasts, hunters, ranchers, pilots or anyone who needs a compact, rugged and reliable semi-automatic rifle. The 9 mm LTE will be available as an Aero Survival Rifle, which weighs just 3.9 pounds and also as a pistol which weighs 4.1 pounds with a TNW handguard and an SB Tactical Brace. Like other products in the TNW line, the Aero Survival Rifles and Pistols all use easily available Glock-style magazines.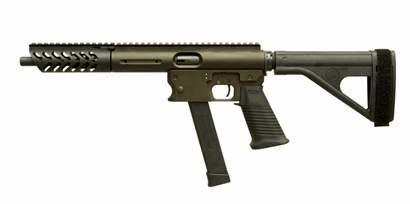 The manual of arms and appearance of the Aero Survival Rifles and Pistols is similar to an AR-pattern firearm, but are original designs created to be more compact than a similar AR-style gun. Both the upper and lower receiver of these guns is machined from 6061-T6 aluminum, and they are both blowback operated for simplicity and reliability.
The MSRP for both is $799. More information is available at tnwfirearms.com.