Designed by shooters, for shooters. That's an ad tagline, but it's applicable in the case of the MagFix, the brainchild of Paul Carlson, CEO, chief cook and bottle-washer for Safety Solutions Academy, a firearm-training facility in northeast Ohio. Smith & Wesson's popular Shield pistol is one of the "go-to" handguns for concealed carry, and as a trainer, Carlson has put a lot of rounds downrange through the platform.

There's a reason Carlson developed the MagFix, and we'll let him explain why: "I spent a lot of time out on the range teaching as the Shield increased in popularity for concealed carry. I saw students consistently experience frustration with the sleeve and base pad in the 8-round mags. The sleeves were regularly out of place, pinching hands, or trapping the empty mag in the gun, so I took the easy way out and told students to ditch the sleeve. That is when we started breaking ejectors. I was embarrassed that I advised students to take action that made an annoying problem worse. That embarrassment was the motivation for finding an actual solution to the issue. That solution is the MagFix."

Put simply, if you're the kind of shooter that might run one box of 50 rounds through your Shield in a given year, the MagFix probably isn't for you (but, again, it might be). For someone that trains with their concealed-carry firearm on a regular basis, though, it's an absolute, well, life-saver is hyperbole, but it will certainly save your ring finger from undue pinching. If you've ever used a larger mag than intended in your pistol, particularly one with a floating "sleeve," you've felt this pain. Maybe you're speeding up your splits; maybe you're running a Failure Drill; basically, any time you're running your pistol fast you're going to be feeling the joint between the extended magazine and the sleeve. I had a Ruger SR9c years ago, and hated using full-size magazines in it for just that reason.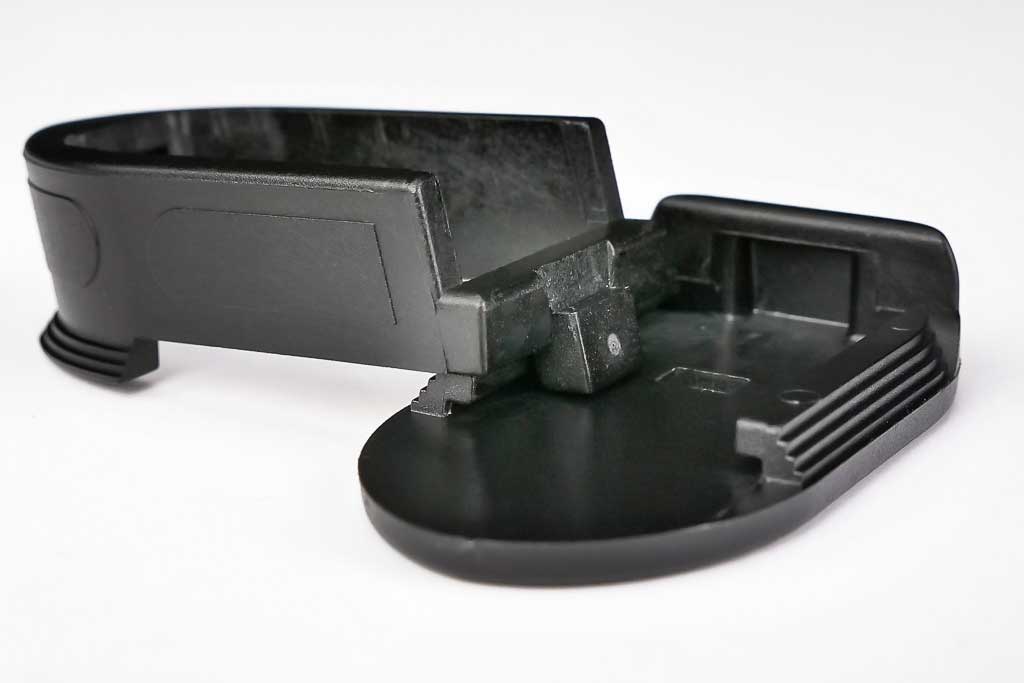 Carlson knew he could improve on Smith & Wesson's two-piece design, and initially came up with an aluminum model called the Plan B. It was certainly handsome and rugged, but cost-prohibitive. Working with injection-molding, however, brought the price down, accelerated production and led to the MagFix as it currently stands. Rather than a plastic sleeve that free-floats on the magazine, held in place only by the floorplate capturing it against the bottom of the Shield frame, the MagFix locks into place securely as a monolithic floorplate. There's even a gentle flair to the bottom of the MagFix to help strip recalcitrant magazines from your pistol, a welcome addition for faster reloading.

If you shoot a fair amount, you'll appreciate the MagFix and how it turns a little thing into big comfort. At an MSRP of $24.95 for the 8-round magazine ($14.95 for the flush-fit variant and $34.95 for both floorplates), it's priced similarly to other replacement floorplates, and while some might balk at paying nearly the price of a new mag for a replacement floorplate, give it a try before you complain. The lack of pinched fingers might have you reaching for your wallet to order a second one.