After many years of youthful machismo (and being broke), I think I can finally admit that the old shotty-in-the-corner-of-the-bedroom trick is probably not ideal. For one, my dog could knock over my beloved Mossberg with one swish of his beaver-like tail, and two, anyone, including my friends' kids, could get their mitts on it in the time it takes to yell "Scram." While I insist on keeping a shotgun ready to spring into action in the deepest of night, I've come to realize that the 99 percent of the time (or 100 percent to date) I'm not using it for self-defense, it should be stored safe from dust and unauthorized access.
Of course, with enough creativity and handiness anyone can build the perfect hidden-yet-accessible shotgun rack for the bedroom, but plenty of us don't have such skills. What follows are three general types of bedside-shotgun-storage solutions: The first list contains common items that you may already have, the next contains custom ideas that you can build or have built by a carpenter and the third contains commercially available products. Pick one based on your needs and budget, or come up with one of your own.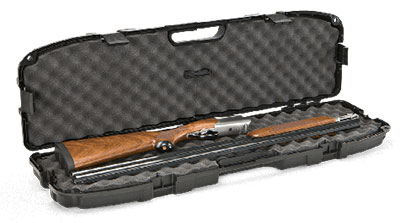 1. Common-Item Solutions
With a little resourcefulness you can likely use something you already have to store your shotgun in a safe but handy style near your bed. The following list is not meant to be exhaustive, but rather to spur your creativity.
Trigger Lock: The old shotgun-in-the-corner routine may work for you if the gun is made safe from curious hands by a trigger lock that you can strip off in seconds. Many types are available—including some combo-style devices that fit around the entire receiver—but even cheap cable-style locks will do.
Bed drawers: As an Amazon search reveals, many commercially made bed frames contain built-in drawers, and many are not expensive. Use the drawer to house your shotgun. You can even line it with egg crate foam from a gun case if you want to get fancy. If the drawer isn't long enough, consider strategically drilling a large hole in the far side of the drawer to allow the shotgun's barrel to slide through it so it'll fit. Then consider attaching a simple lock on the drawer if you're worried about unauthorized access. A bedside drawer is fast, discreet and keeps the dust bunnies at bay.
Gun case: A low-cost option is a hard-sided gun case under your bed if that's all you have. Attach a cable to its handle and then to the bed frame to keep the whole case from getting stolen, then simply keep a combo lock on the case to keep unwanted hands from your shotty. You'll have to pull the case from under the bed to access the gun, but the maneuver shouldn't take more than a few seconds.
Tool hangers: Any run to Home Depot's vast garage organization section will reveal myriad hooks and hangers that can be used to hang a shotgun on a nearby wall or from your bed. (A company called Wheeler makes its Lockdown Bedside Defender for $29; its ends slide under the mattress to support your shotgun as it rests on padded hooks.) If you combine this hanger method with some creative concealment and a trigger lock, it'll also be discreet and safe—not just fast.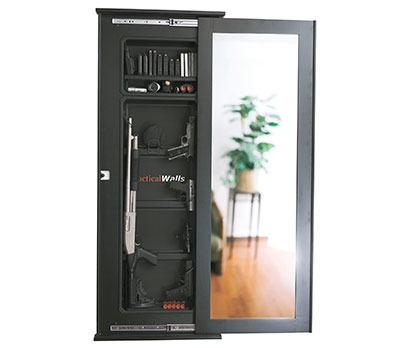 2. Custom Builds
With enough creativity and handiness—or money to a professional carpenter—the sky's the limit on what you can make to hold your shotgun in a safe-yet-ready-for-action fashion. Here are a few of the interesting custom builds I've seen.
Picture Frame: The common build is a rectangle picture frame hung over the bed that lifts up to reveal your loaded shotgun. Any decent carpenter can build one to your exact specs. If he's good he'll line it with felt and install a hidden latch so only you can open it.
Coffee Table: I've seen these made with full-length drawers on the end or a top that hinges up like an old school desk to reveal a shotgun underneath.
False Wall/Sliding Wall Panel: Between the studs in your bedroom is enough room for a shotgun. Have a carpenter make such a recessed cubby, then conceal it with a full-length mirror, a bookshelf or a poster.
Bedside/Closet Bench: My carpenter made a bench for my closet, and I modified it by hinging the top that opens to reveal my Mossberg. It's quick to access, and no one suspects it is there.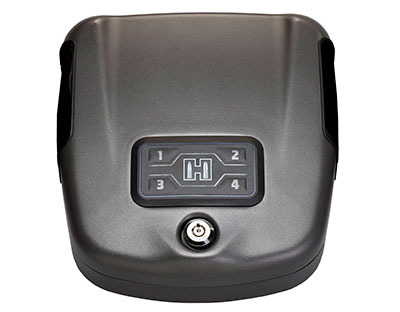 3. Commercial Products
Yet another internet search reveals scores of commercially made vaults, locks and gun boxes—some vertical, most horizontal styles—that are meant for the bedroom. They offer advantages of speed and security, but their downside is that they can be expensive. If you have the cash, they work beautifully.
Hornady Rapid Safe Shotgun Wall Lock: It mounts to the wall (or bedframe) while its locking mechanism clamps around the shotgun's action so it can't be removed or fired without one of several included remote-access options. One wave over the safe with the bracelet, sticker or fob causes the lock to spring open, allowing you to grab the shotgun and begin barking fire quicker than a whip of a black cat's tail. It costs around $250.
Fast Box Model 47: There are many units like the Fast Box 47, and nearly all of them will work. This particular one is a 47-pound sturdy metal vault box with a quick four-key code lock that has a key override. It bolts to the floor under your bed and keeps your shotgun handy. MSRP is $299.
Barska Quick Access Biometric Rifle Safe: This 54-inch tall, two-gun vertical safe (it's more like a lockable cabinet) is meant to be placed on a wall, but it would be perfect for a nearby closet. Find it on Amazon for around $1,000.
Gun Casket Fast Opening Shotgun Safe: This 11-pound, 50-inch long product is small and light enough, it could even be mounted vertically on the back of a door, yet its biometric lock makes accessing your shotty a snap. It's available for less than $300.
These are just a few ideas for storing your shotgun. There are many more, and we would like to hear how you secure yours.