by
posted on April 17, 2019
Support NRA Shooting Illustrated
DONATE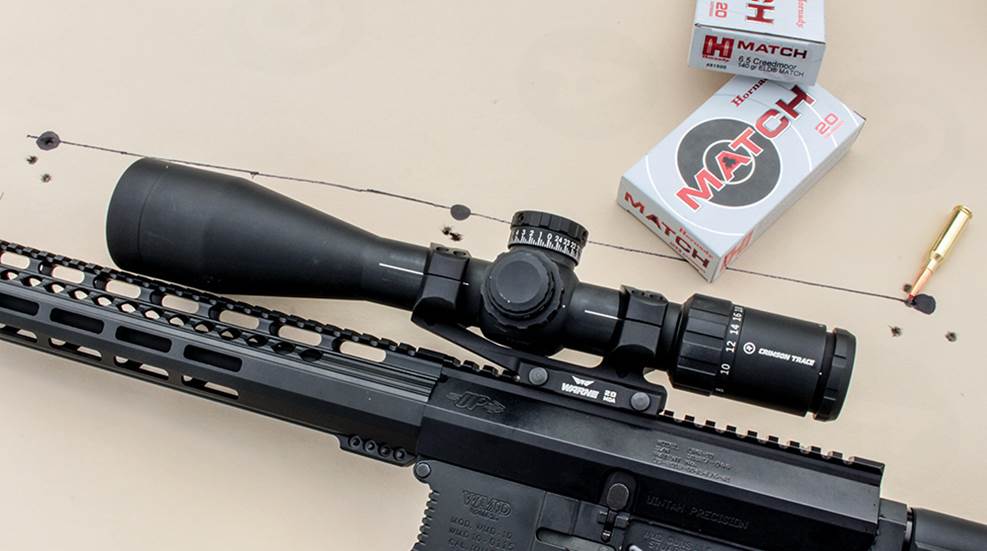 At SHOT Show 2019, the firearm industry saw some of its biggest hitters branch out and take on new product lines, broadening their presence in the marketplace. Famed laser manufacturer Crimson Trace fell into this category, releading an all-encompassing line of optics.

As you might imagine from its heritage, when Crimson Trace jumps into something, the company makes sure it's offering something for everybody. The Crimson Trace line of optics includes low-magnification options built specifically for close-quarters engagement, as well as well-built, high-magnification scopes built for engaging targets at extended range.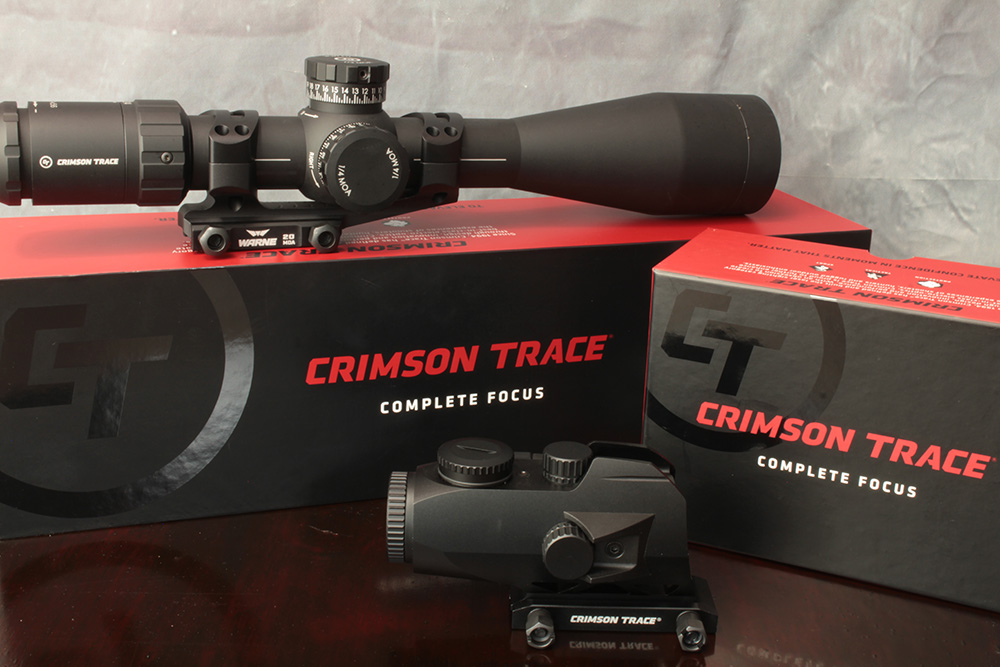 With so many options in the new lineup, I had to decide what I wanted to evaluate. I decided to take the bookends, examining the upper and lower end of the company's lineup, so I settled on spending a day on the range with the CTS-1100 Battlesight ($549) and the CSA-2624 Long Range Scope ($849).

Battle Sight: Reaching Out to 600 Yards With the Crimson Trace CTS-1100

The CTS-1100 is a 3.5X, fixed-power optic designed to engage man-sized targets at varying distances without having to dial any turrets. The design has a hybrid MOA reticle that doubles as a ballistic-drop compensation reticle for many common rounds at many common distances. When I see something like this, the first round that comes to mind is a 55-grain 5.56 NATO being fired out of a 16-inch barrel. We cracked open the instruction manual and did a little bit of math and found out that with a 100-yard zero, the 4.2-MOA difference between the tip and the base of the chevron puts this round on target up to 300 yards.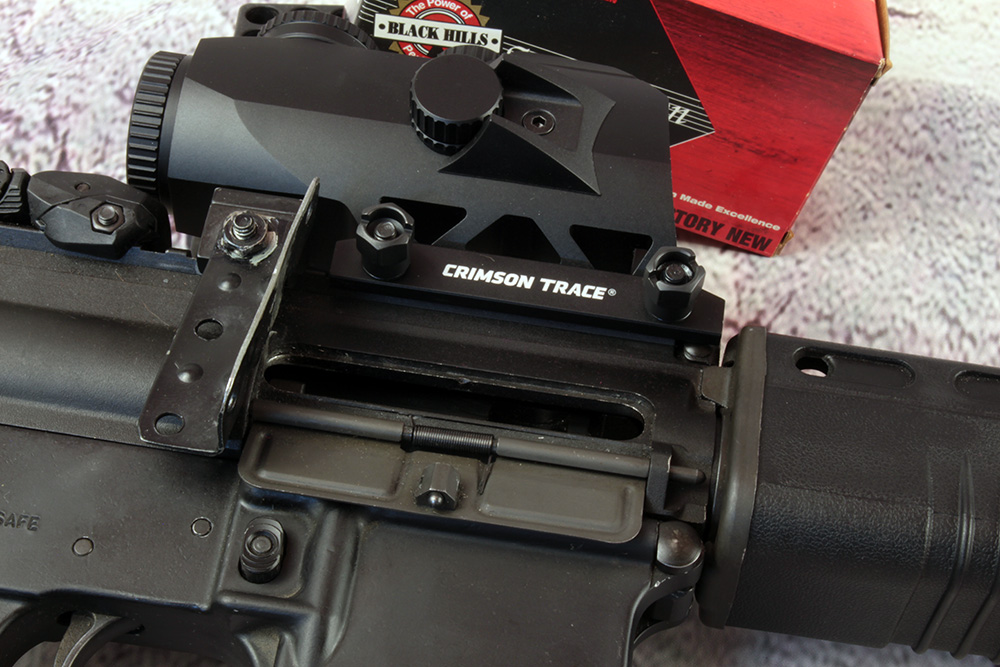 Being able to hit a silhouette target anywhere between 50 and 300 yards without holdover is the exact definition of "Battle Sight" in my book. Using the "Shooter" ballistic app puts the next line on at 400 yards, the one after on at 500 yards and the one after that on at 580 yards. The owner's manual even lists the actual amount of minutes in between each subtension, so you can use this like a standard MIL or MOA reticle to hold over or even measure distance or target size through the glass. Pen and paper is fun, but that's not why I got into gunwriting. Our next logical step was to take a ride to find out if these numbers really add up. Landing at the Mifflin County Sportsmen's Association, I ran out full-sized Champion IPSC Steel silhouettes at distances of 200, 300, 400, 500 and 600 yards.

On the range, I topped off our Wolf A1 16-inch 5.56 NATO AR-15 upper with the CTS-1100 and slapped in a magazine. I quickly zeroed at 100 yards and then "ran the hill" as we call it over there. My first round at the 200-yard target was a hit. I scored it simply by putting the chevron on the neckline of the Target and squeezing one off. Without missing a beat, I moved up to the 300-, 400-, and 500-yard targets, scoring a first-round hit on each simply by using the prescribed subtension in the reticle. Moving up to the 600-yard target, I fired a shot and impacted just right, likely due to the combination of spin drift and a light breeze.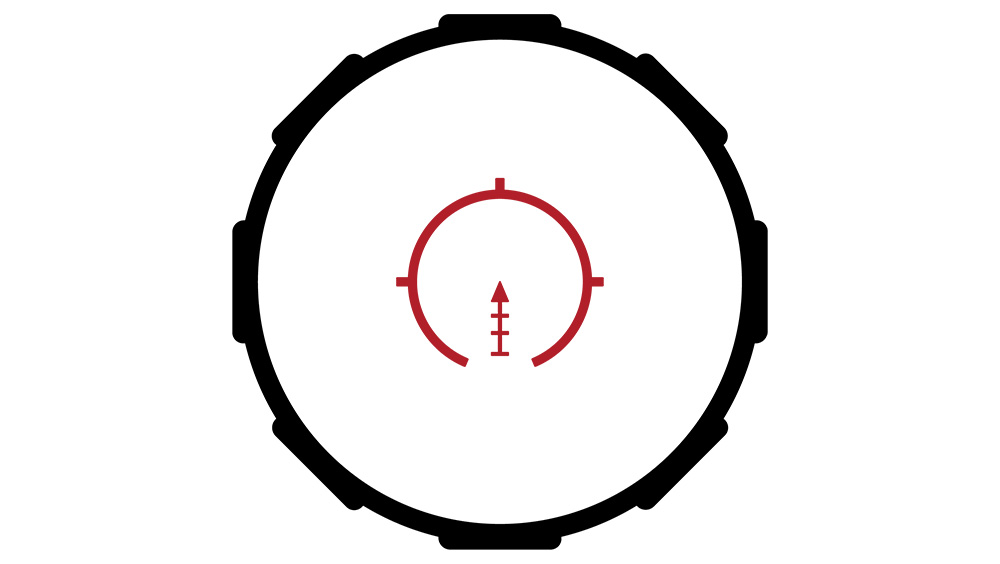 I pushed about a half of a chevron left into the wind and sent one, and it impacted. I fired three more rounds and scored two more hits with the 55-grain Wolf Gold. Obviously reaching the tail end of that bullet weight's capability, I switched in some 69-grain Black Hills rounds that were built with Sierra Matchking projectiles and was able to dominate that silhouette for the rest of the day, especially when the wind wasn't blowing.

Long-Range Riflery: The Crimson Trace CSA-2624 Long Range Scope

We previously mounted the CSA-2624 on our Uintah Precision 6.5 Creedmoor upper receiver. On the range, I decided to conduct the "Tall Target Test" to see how well the scope tracked and then returned to zero. This optic was built for long-range shooting, and for that reason, it needs to be able to endure a lot of turret work. The CSA-2624 is built on a 34mm tube that allows a ton of light through and gives the shooter more than 70 MOA of adjustment to help compensate for shots out to and beyond 1000 yards. As if 70 MOA isn't enough, there is also another 40 MOA built right into the glass. This reticle is also built into the first focal plane, allowing a shooter to use it at any power setting and still be able to make accurate measurements and adjustments.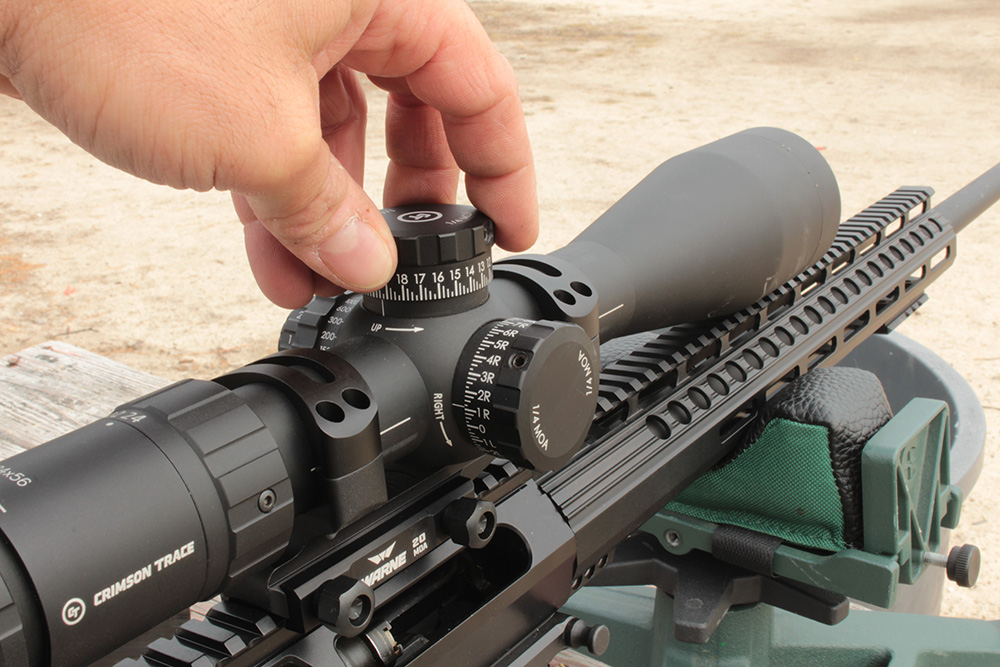 Anyway, the Tall Target Test is easy to perform, and anybody who's serious about long-range shooting should put their scope through this it. Simply hang a sheet of paper and chalk a level, straight line. On this line, put a sub-MOA dot on the bottom, and then put a dot at as many MOA increments as you can. If your scope is built well and zeroed correctly, your first group will hover around that bottom dot. If your next dot is 10 MOA above that first dot, then dialing up that amount should put you right on that next dot. Continue the test until you run out of paper and then dial back down, fire a shot and make sure that it goes into your original group.

I'm happy to announce that the scope did indeed pass that test with flying colors. In addition, I like to crank the windage turret all the way one way and then the other, and then back to zero before I fire that last shot. Sitting at a range that goes out to 1,040 yards with two boxes of Hornady 140-grain match-grade ammunition, I certainly wasn't going to stop here with my testing. I dialed in my elevation for the range's furthest target, pushed 1.5 mils left and scored a first-round hit followed by several more on that full-size IPSC. That's exactly what a scope should do. Just work.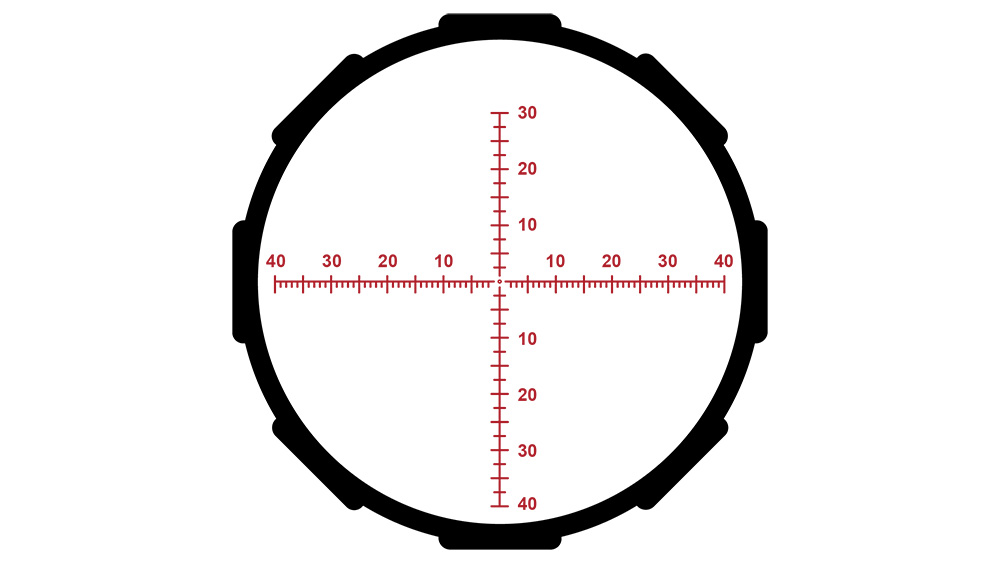 Walking away from the Crimson Trace Optics, I had few complaints. I was exceptionally impressed with the Battlesight and how simple it was to slap on and make first-round hits with factory ammunition all the way out to 600 yards. Although illuminated, I found that in bright daylight it could have used a little more "oomph." As for the 6-24x, the clicks did feel a little soft, but it obviously held zero and tracked 100 percent, so that may not be as important as common folklore suggests.

My time on the range with a couple of Crimson Trace's new optics was productive and eye-opening. If you are looking to top off your favorite modern sporting rifle, hunting rifle or long-range rig with a new piece of glass, they're certainly worth a try.