by
Evan Brune, Associate Editor, Shooting Illustrated
posted on February 3, 2019
Support NRA Shooting Illustrated
DONATE
Today's firearm enthusiasts are blessed with an unprecedented availability of training ammo, and prices for many of today's most-popular cartridges have plummeted. Even .22 LR rounds are plentiful and slowly creeping their way back to pre-drought prices. However, no matter how inexpensive practice rounds get, each shot will still cost something. That's where training devices like the SharpShot USA EZ-Trainer comes in.

Rather than finding time to head to the range or spending money on ammo, laser-training devices like the SharpShot provide training in a compact package that allows shooters to build basic skills in the comfort of their homes with just the up-front investment in the SharpShot unit. Laser-training isn't a new concept. Companies like LaserLyte (purchased by Crimson Trace in 2019) pioneered these helpful training aids, providing generic-size, laser-training pistols combined with reactive targets and skill-building drills.

As smartphones took hold, laser training expanded with a number of apps, like G-Sight, which worked in conjunction with a laser-training pistol or a laser insert sized to fit the chambers of today's most-popular personal-defense guns. However, making the best use of apps like the G-Sight necessitated a certain kind of setup, since the apps rely on a smartphone camera to record hits on a target. Therefore, users have to be within a certain range of a target to use the app, and ideally, the phone must be mounted on a tripod or other stand to remain steady enough for recording reliable hits.

Enter the SharpShot EZ-Trainer, which looks to build on the path paved by prior laser-training aids with an improved, well-rounded training target that provides enhanced accuracy and improved information for shooters looking to build their firearm-handling skills. The self-contained unit is constructed with an internal computer that registers target hits on a standard NRA bullseye target, and users can print their own targets on standard, 8.5 x 11 inch sheets of paper.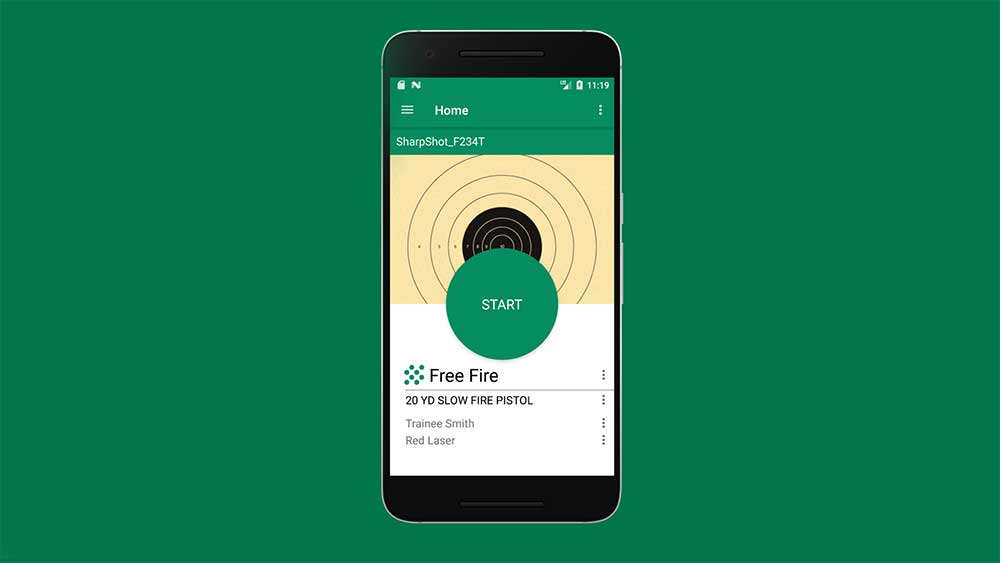 Once the target is plugged in, the SharpShot EZ-Trainer connects to an app, which is free and downloadable on any Apple or Android smartphone, and two blue dots light up in each corner of the target. From storage to use, setup takes less than a minute. Since the target box itself registers hits, your smartphone receives a target image with hits recorded in real time. One of the coolest features of the SharpShot is its ability to work at extended distances, as the Bluetooth connection remains solid up to 100 yards away.

Once a laser target is registered, shots can be recorded in either inches or centimeters and are recorded in the order they're fired. One subtle, but useful, detail users will notice is the ring that appears around hits, which fluctuates in size. The size of the ring correlates with how steady the fired shot was. If you flinched, and the laser beam wobbled on target, the ring grows larger. If you're rock-solid with your grip and trigger press, and the laser beam is steady in one spot, the ring grows smaller. With this, trainees can understand how effective their grip and trigger control is with each fired round.

Inside the app, SharpShot users can save profiles of each training session, giving them the ability to refer back and keep track of skills they need to build. The app also provides a number of shooting scenarios, giving owners the ability to practice shoot/no shoot scenarios as well as draw-time practice, thanks to color and audio output from the device. SharpShot's Bluetooth system also lets owners of multiple EZ-Trainer units connect their devices to practice engaging multiple targets.

I spent some time with the SharpShot EZ-Trainer, and I learned a few things. First, the company is continuing to improve upon and streamline their product, and they stand by the device. The first SharpShot EZ-Trainer I received had issues with receiving laser input, a known issue that was resolved in the company's now-available Second Generation model. Once I received the Gen 2 variant, the issue seemed to be resolved.

However, there are a couple things to note about the SharpShot. First, it really doesn't like bright light. If you're training in a brightly lit room, you may have some trouble with the laser input. The unit tends to like things a little dimmer, so it can more-easily register hits on the target. Second, when you receive the EZ-Trainer, all you're getting is the target itself. You'll have to find a laser-training pistol or a caliber-specific laser-training cartridge for your defensive firearm. The cartridges range in price anywhere from $15 to $90, and laser-training pistols go for quite a bit more, with SIRT trainers or Laser Ammo training pistols going for $300-400.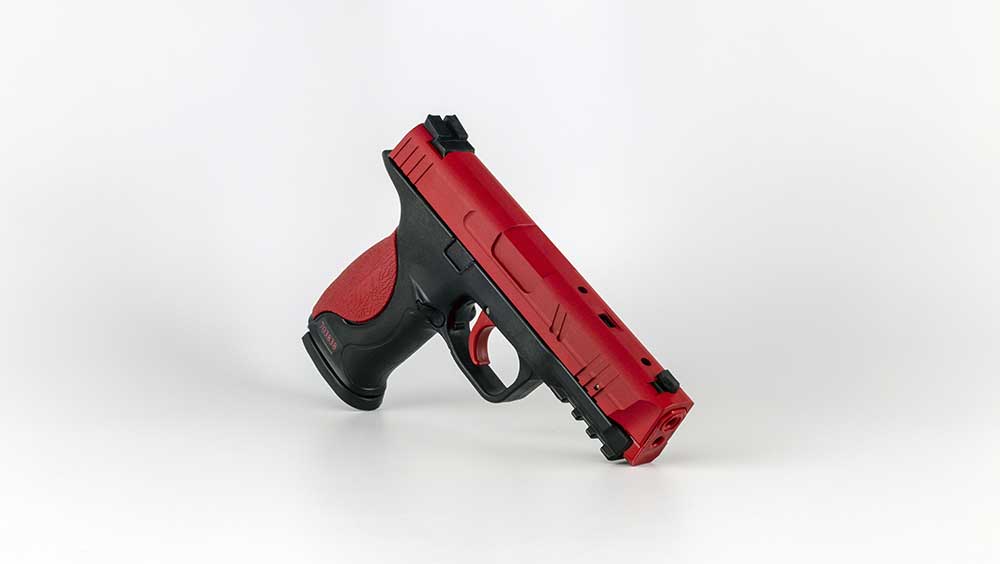 With that in mind, the MSRP on the SharpShot EZ-Trainer is $375, so at a minimum, you'll be spending about $400 for a ready-to-go setup. At first blush, that seems like quite a bit for a training rig, but keep in mind that, in many parts of the country, shooting at a square range requires membership fees that run into the hundreds of dollars per year. On top of that, shooters will spend hundreds, if not thousands, more in ammo, as well as the added cost of cleaning and maintaining a range gun. And that's year after year. With the EZ-Trainer, buying once is crying once, and many of the same skills that help shooters excel at the range and during competition can be built and honed with this device at home.