Support NRA Shooting Illustrated
DONATE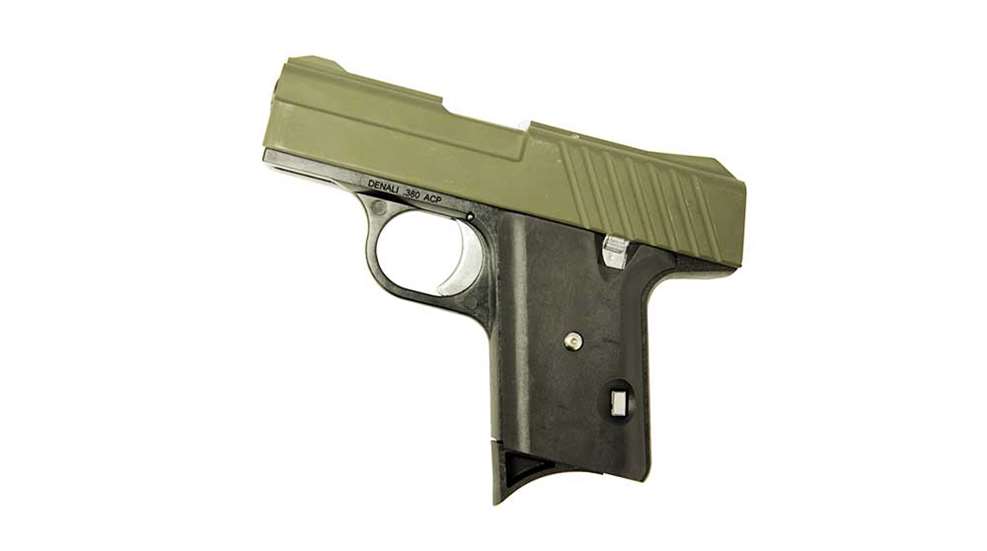 Following on the success of our previous affordable firearm roundup, where we focused on 10 AR-15s found for sale under $500, here's a look at another hot segment of the market: concealed-carry guns.

With a growing number of concealed-carry permit holders in the country, the demand for personal-defense pistols continues to rise, and manufacturers across the world are stepping up to fill orders. However, many of these models are potentially out of reach for many budget-minded consumers, and Shooting Illustrated often receives complaints that some of the guns we cover are far out of reach of the average firearm enthusiast.

Of course, that begs the question: what are the most-affordable guns for sale today aimed at the concealed-carry market? We set out with a goal of finding at least 10 guns that were being sold by multiple retailers under $300, but to our surprise, we found far more than that.

To address some of the criticisms aimed at our previous affordable roundup, we did things a little differently this time. Gone is the manufacturer's suggested retail price, as many of them are significantly different than the market price for many of these guns, and that only serves to foster confusion. We also found models sold by at least three separate retailers online, and the street price is the average of those three sale prices rather than the lowest price found, since some of these prices may reflect one-off fire sales by a single company rather than a general market price.

So, without further ado, here are 17 of the most-affordable handguns available to consumers today, ranging from most to least expensive: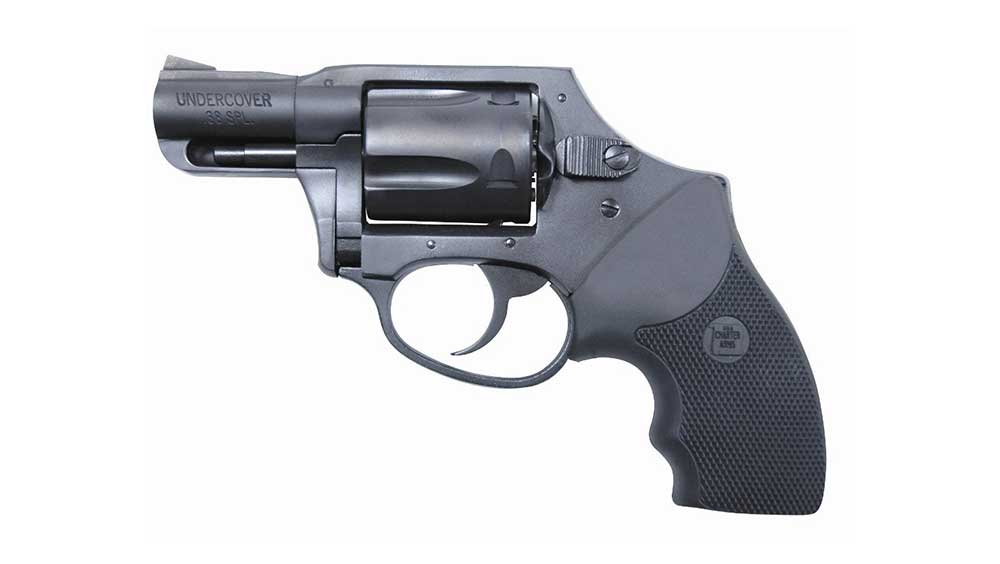 Charter Arms Undercover .38 Spl.
Street Price: $287.89

The "most-expensive" gun on our list is still easily affordable, averaging well under three bills. For that, consumers get a compact, five-shot revolver chambered in the popular .38 Spl. The gun is built entirely from stainless steel and features a two-inch barrel and a total empty weight of 16 ounces. This revolver is ideally suited for daily carry, thanks to a double-action-only mechanism that offers no exposed hammer spur to catch on clothing during a draw. For those who prefer single-action operation, a model with an exposed hammer spur can also be found at an easily affordable price.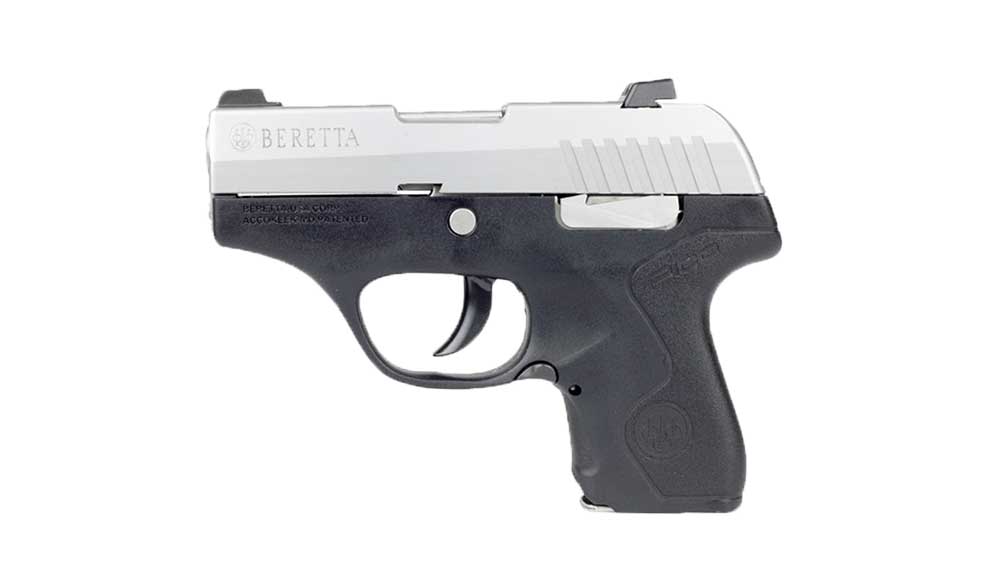 Beretta Pico .380 ACP
Street Price: $278.33

Billed as the "thinnest concealed-carry gun on the market," the Beretta Pico never took off as much as other .380-caliber carry guns on the market, and from the specs, it's hard to see why. It's certainly sized right, measuring only 5.1 inches long, 4 inches high and 0.725 inch wide. Capacity measures up to other popular options, holding six rounds of .380 ACP in a single-stack magazine. Built on a modular chassis and double-action-only operation, the Pico can be disassembled easily and is compatible with different grip options, thanks to a serialized chassis that sits inside the grip frame.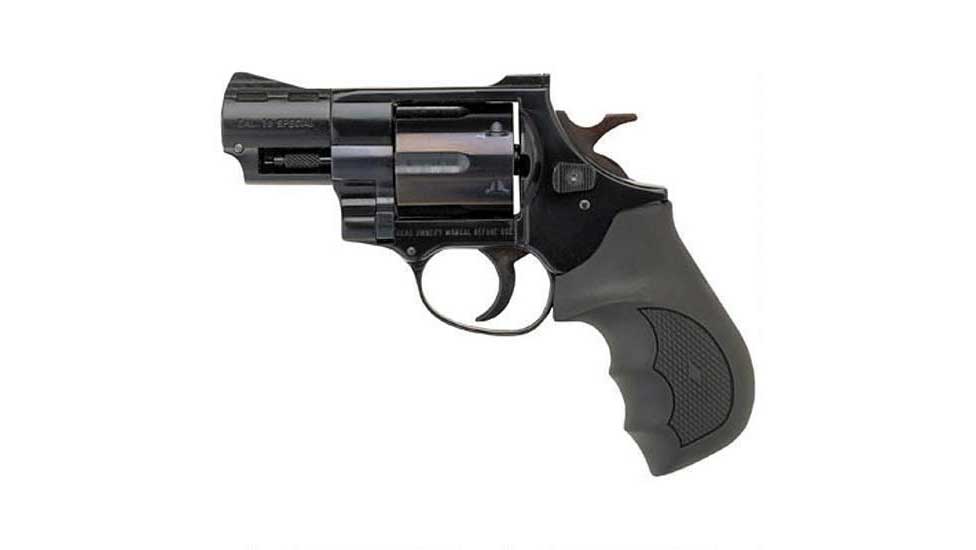 EAA Windicator .38 Spl.
Street Price: $274.91

European American Armory Corp. might be the importer of these affordable revolvers, but the guns themselves are actually produced in Germany by a company called Weihrauch. Built on a solid-steel frame, these six-shot revolvers can be had in .38 Spl. or .357 Mag., but it's the .38 Spl. model that concerns us here, because these wheelguns are easily affordable. An exposed hammer spur allows for single-action or double-action shots, and models are available with either a 2- or 4-inch barrel. Overall length varies from 7 to 8.5 inches, height measures in at 5.5 inches and the cylinder is 1.5 inches wide. Due to the gun's all-steel construction, it is on the heavier side at 30.4 ounces.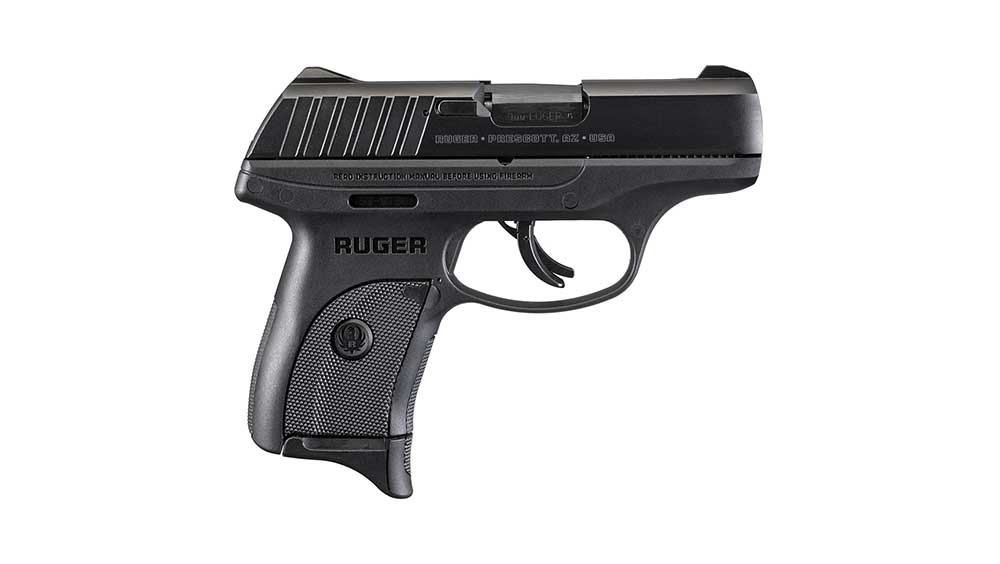 Ruger EC9s
Street Price: $261.33

Ruger makes an early appearance in our budget-friendly list with a slightly larger concealed-carry gun chambered in a more-powerful cartridge than is found in the company's popular LCP II, which can be found a bit further down. Fans of the LC9s might recognize the company's EC9s, and that's because it's essentially the same gun. However, in an effort to make this single-stack self-defense gun more accessible, Ruger streamlined aspects of its production process, making this concealed-carry pistol more affordable than ever before. The EC9s features a striker-fired action and is built on a glass-filled nylon frame with an alloy-steel slide and barrel. Overall length measures in at 6 inches, height is 4.5 inches and the gun measures 0.90 inch wide. Total weight, unloaded, is 17.2 ounces.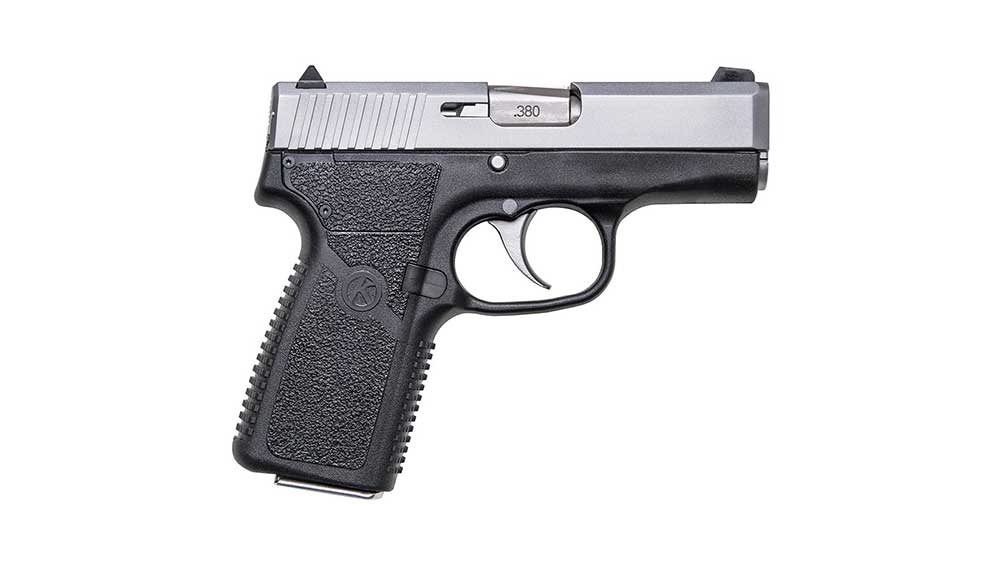 Kahr Arms CT380 .380 ACP
Street Price: $256.78

Many Kahr Arms concealed-carry pistols have been priced at the upper end of the market, making the unique features of this platform unavailable to budget-minded buyers. However, in recent years, the company listened to the market and rolled out several budget-priced models, like the CT380. This is a single-stack design with double-action-only operation and a locked-breech action. One of the stand-out features of the CT380 is its small, thin size, measuring just 5.52 inches long, 4.4 inches high and 0.75 inch wide. Unloaded, the gun weighs just 11.44 ounces.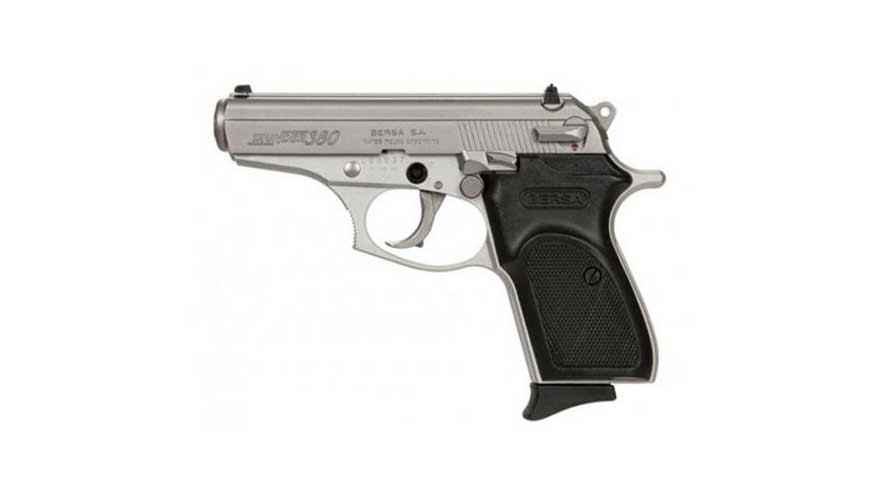 Bersa Thunder .380 ACP
Street Price: $256.06

Built in Argentina, the Thunder 380 is the best-selling imported gun produced by Bersa, and its affordable price is only one reason why it's popular among American shooters. The gun is built on an alloy frame and features styling similar to the famous Walther PPK. The action is also PPK-like, since the gun has a built-in decocker that enables a long, double-action trigger pull for the first shot and short, crisp, single-action pulls for the remaining rounds in the magazine. The Bersa Thunder 380 is a single-stack design with a magazine capacity of seven rounds. Overall length measures 6.6 inches, height is 4.7 inches and width is 1.3 inches. Total weight of the all-metal gun comes in at 20 ounces.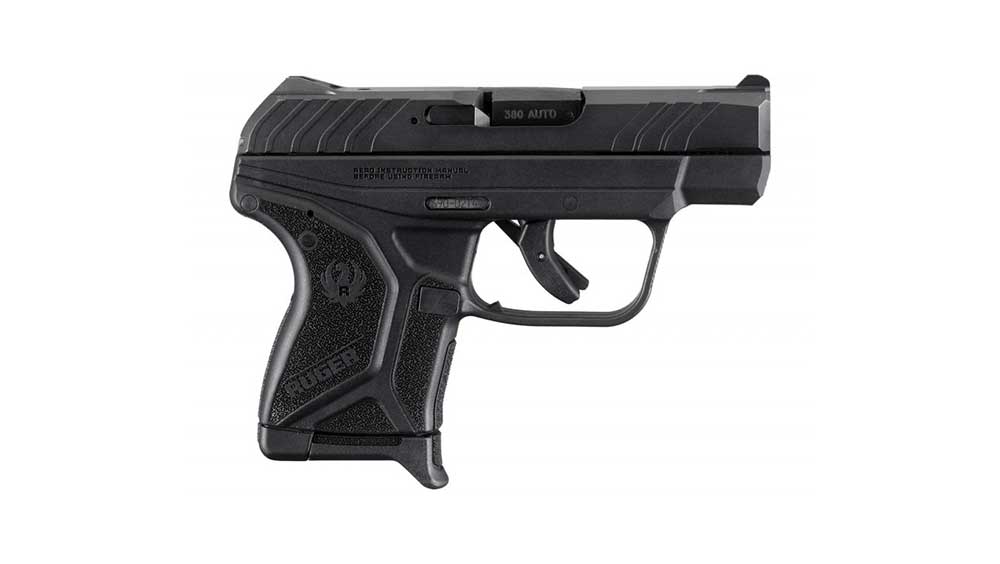 Ruger LCP II .380 ACP
Street Price: $254.61

Ruger's popular LCP pocket pistol received an update in recent years, with enhanced texturing, more-prominent sights and a crisp, single-action trigger that made accurate shots a breeze. Of course, the company's original LCP is still being sold as a budget alternative, but for the price, the added benefits of the LCP II are a must-have. Built on a glass-filled nylon frame, the gun measures 5.17 inches long, 3.71 inches high and 0.91 inch wide. Total weight is 10.6 ounces and magazine capacity is six rounds.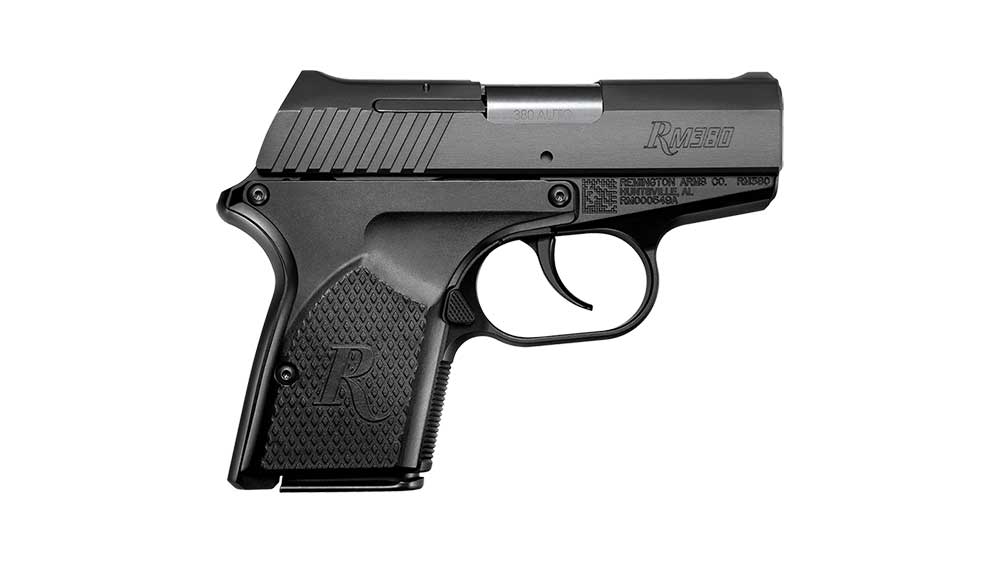 Remington RM380 .380 ACP
Street Price: $241.04

Based on Shooting Illustrated's own 1,000-round test, editors concluded that the RM380 was a pocket pistol with an atrocious trigger pull but was otherwise a reliable, dependable pocket pistol for personal defense. The gun is made entirely from metal, featuring an anodized-aluminum frame paired with a stainless-steel slide. The gun is equipped with a hammer-fired operating system paired with a double-action-only trigger with a pull weight of more than 9 pounds. Size-wise, the gun measures 5.27 inches long, 3.86 inches high and 0.95 inch wide. Magazine capacity is six rounds.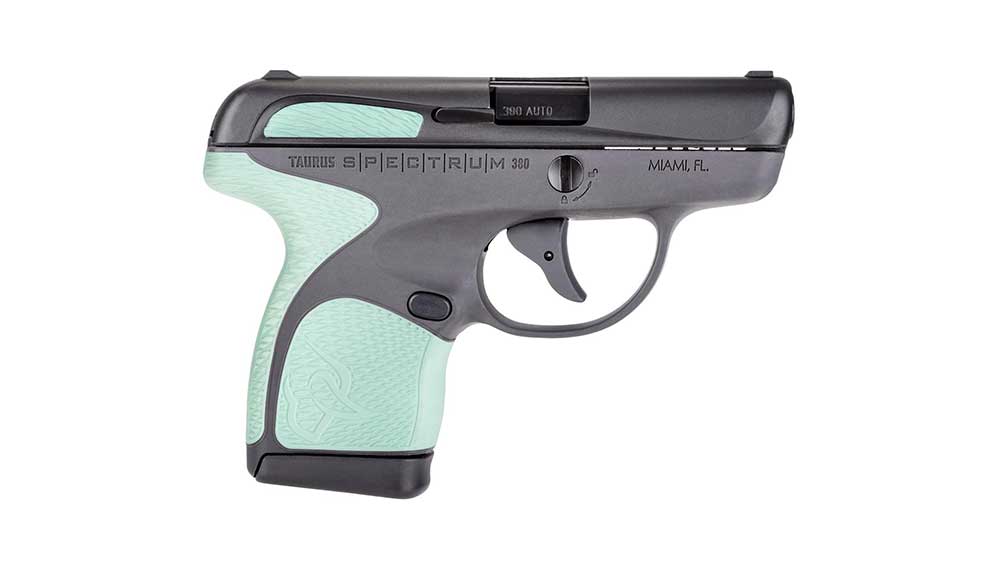 Taurus Spectrum .380 ACP
Street Price: $230.56

One of the latest .380 ACP pocket pistols introduced in recent years is the Taurus Spectrum. This unique platform is equipped with soft, polymer touch pads that provide gripping surface and recoil absorption and, as an added bonus, can be had in a range of different colors for a unique, custom look. The gun itself is built on a polymer frame paired with a steel slide and features a magazine capacity of 7 rounds. The overall size of the gun is 5.4 inches long, 3.82 inches high and 0.89 inch wide. Total weight comes in at 10 ounces.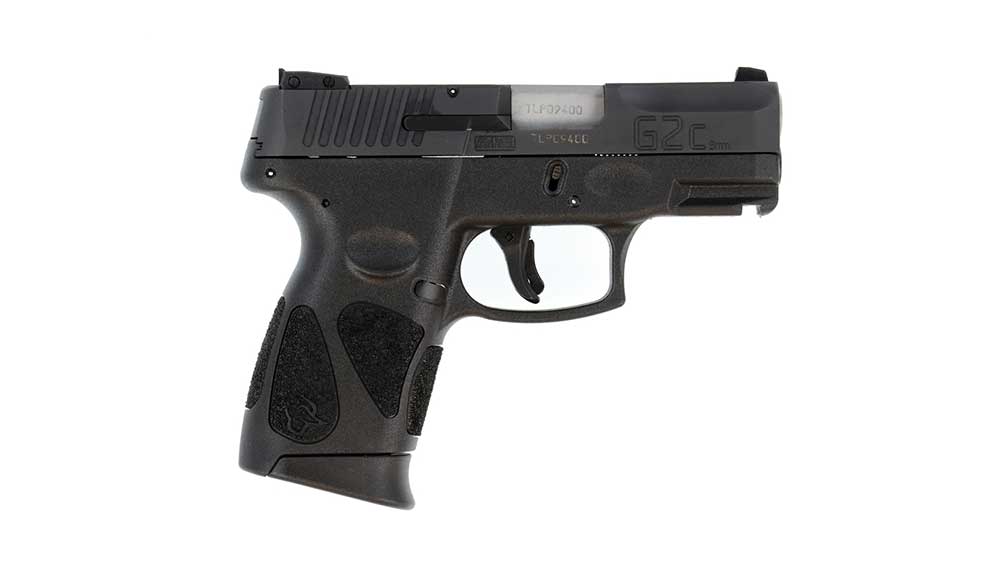 Taurus G2C 9 mm
Street Price: $206.37

Based on the company's popular Millennium G2, the Taurus G2C is a compact, carry-size variant built with a double-stack magazine and a striker-fired operating system. This budget-priced pistol is outfitted with a manual safety and a total capacity of 12 + 1. Barrel length, like the original Millennium G2, measures in at 3.25 inches, and the overall length of the gun is 6.25 inches. Height and width measure in at 5 inches and 1.25 inches, respectively, and the total weight, unloaded, is 21.15 ounces.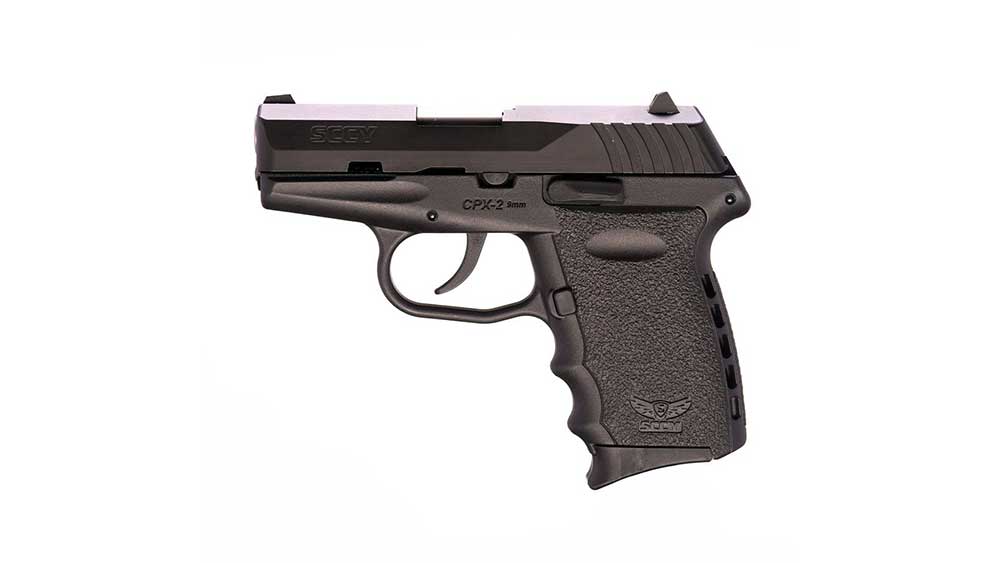 SCCY CPX-2 9 mm
Street Price: $205.33

One of the more well-known budget pistols on the market today is the SCCY CPX-2, which is constructed with an aluminum-alloy receiver set inside of a grip frame molded from Zytel polymer. The gun is built with a double-action-only, hammer-fired operating system complete with a 9-pound trigger pull. This particular gun is one of only a couple double-stack 9 mms to appear on our list, but that doesn't stop it from being easily concealable. The pistol measures 6 inches long, 4.2 inches high and weighs only 15 ounces unloaded.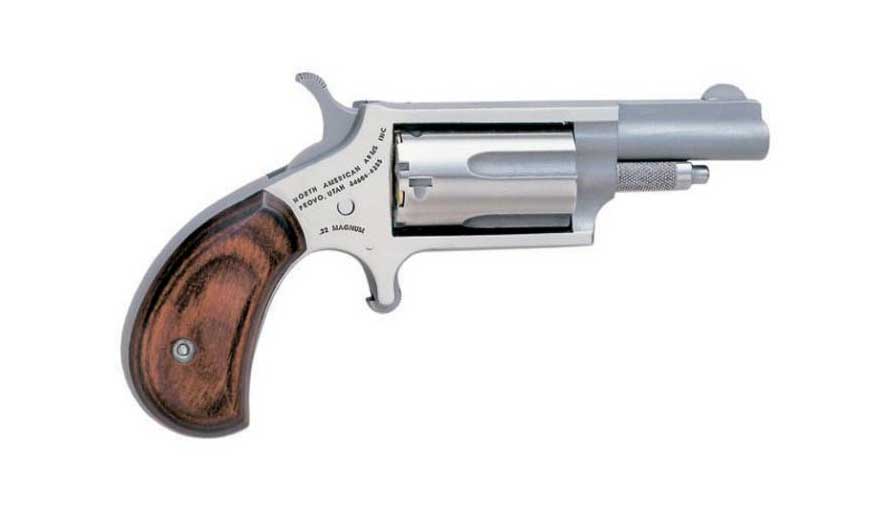 North American Arms Mini Revolver .22 Mag.
Street Price: $205.32

While the North American Arms line of Mini Revolvers aren't necessarily a go-to choice as a primary defensive arm, they can serve admirably in a backup role as SI Contributor Dick Williams wrote of his collection of NAA guns. The .22 Mag. options are also affordable and can pack a punch above that of the more-anemic .22 LR chambering found elsewhere in the company's lineup. One drawback is the cartridge's rimfire ignition, which makes it inherently less reliable than centerfire rounds. The NAA .22 Mag. definitely has size on its side, measuring only 4.63 inches long, 2.81 inches high and weighing 6.2 ounces.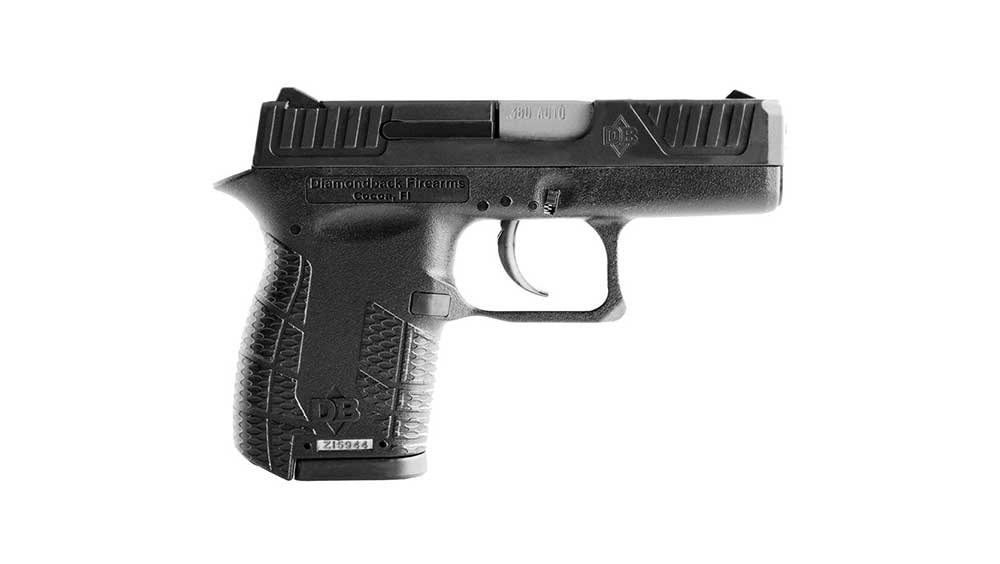 Diamondback DB380 .380 ACP
Street Price: $203.44

Built on a polymer frame, the Diamondback DB380 includes some unique mechanical features that make it stand out, including the company's ZERO-Energy striker system that features a mechanical firing-pin block to protect against unintentional discharges. The internals in the gun are treated with a special coating that resists corrosion, making this pistol durable enough to withstand daily carry use. The DB380 measures 5.26 inches long, 3.75 inches high and weighs only 8.8 ounces unloaded. Magazine capacity is 6 rounds.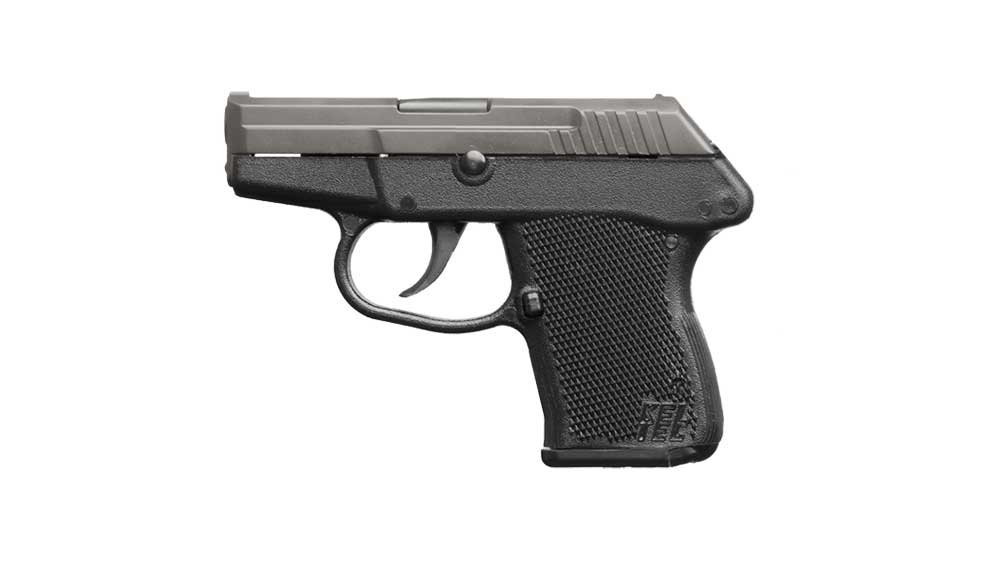 Kel-Tec P32 .32 ACP
Street Price: $202.51

Kel-Tec has always brought unique, interesting concepts to market and one that certainly fills that criteria is its P-32, which is one of the lightest, smallest and indeed most-affordable concealed-carry guns available today. Measuring just 5.1 inches long, 3.5 inches high and 0.75-inch wide, the P32 weighs in at an incredibly low 6.6 ounces unloaded. The single-stack magazine holds seven rounds, and the gun is built with a double-action only operation.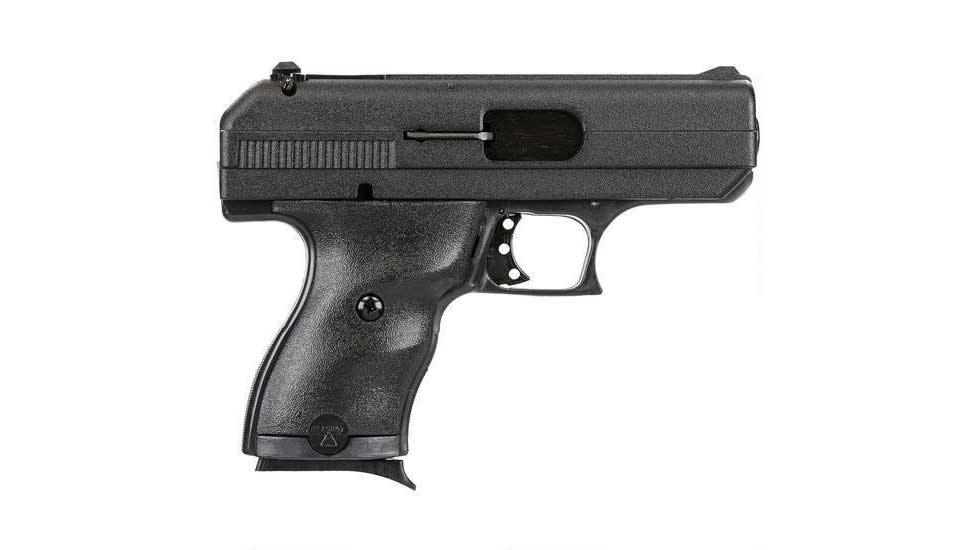 Hi-Point C-9 9 mm
Street Price: $148.58

Say what you will about Hi-Point handguns, but they're built for those who can afford nothing else, and they'll run. Of course, many will look at the clunky, zinc-alloy slide and question whether or not the C-9 can really be considered a viable concealed-carry gun, but a simple survey of available holster fits for the C-9 shows that it can be carried. Built on a polymer frame, the Hi-Point C-9 features a 3.5-inch barrel and measures in at an overall length of 6.75 inches. Overall weight is on the heavier side at 29 ounces, but for less than $150, you aren't going to get everything.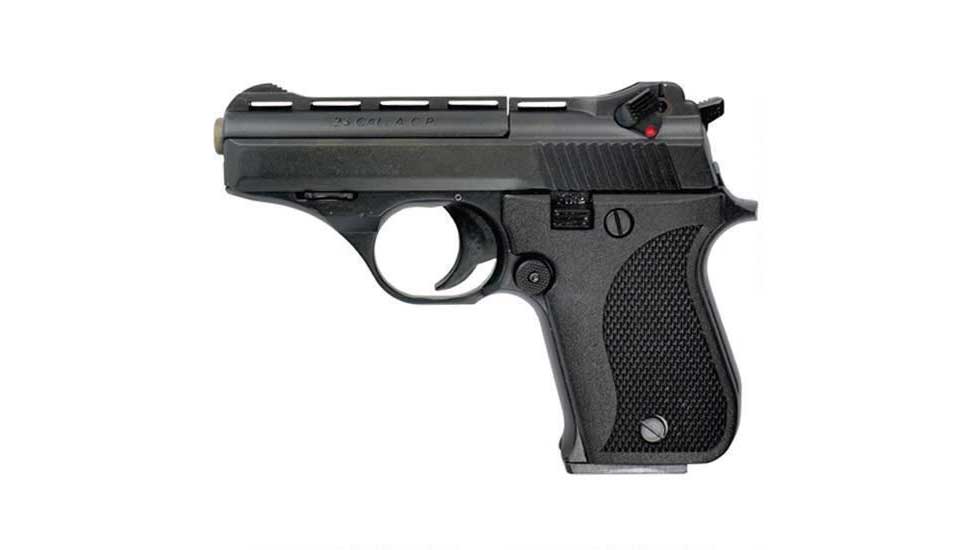 Phoenix Arms HP25A .25 ACP
Street Price: $136.62

Another entry into the category of budget-built defensive guns is the Phoenix Arms HP25A. Technically, this isn't the least-expensive Phoenix Arms on the market. That honor belongs to the company's HP22A, chambered in .22 LR. However, the centerfire .25 ACP is more reliable than the rimfire .22. The small size of the cartridge does mean that it has a magazine capacity of 10 rounds, and barrel length measures 3 inches. Built on an alloy frame, the overall weight of the gun is 20 ounces. All these features, along with its low price, certainly place it in the marketplace of low-priced, concealed-carry guns, but spending a few more bucks will put consumers in a better position.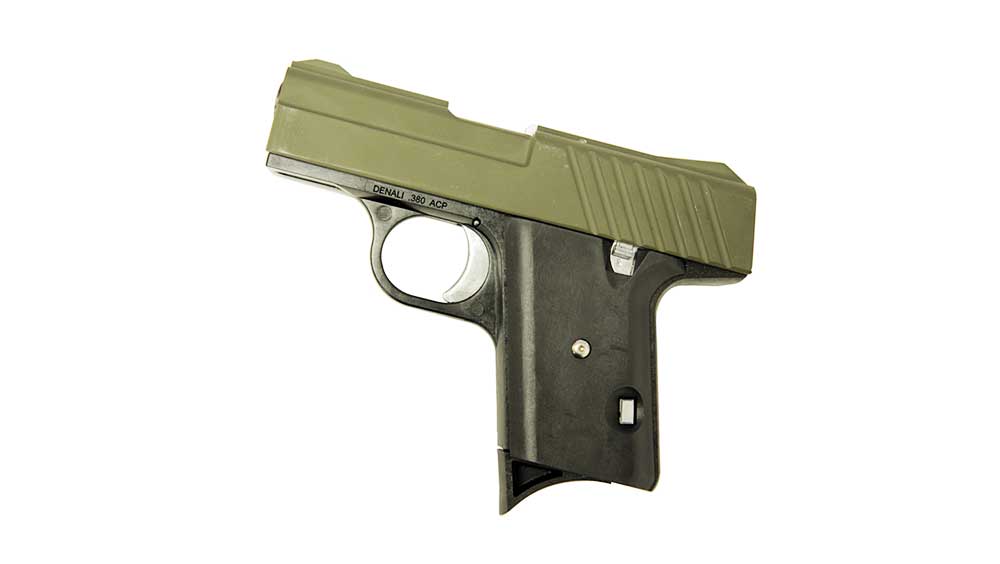 Cobra Denali .380 ACP
Street Price: $127.23

Covered by many as the least-expensive handgun in America, the Denali is undeniably designed for concealed-carry use, thanks to its tiny dimensions and carry-sized cartridge. The gun is equipped with a five-round, single-stack magazine that's locked into place by a unique, push-button magazine release located on the rear edge of the grip rather than near the trigger guard. Barrel length is 2.8 inches, and the gun weighs in at just 17 ounces, thanks to a polymer frame. While the Denali may not be the best choice for a concealed-carry gun, it certainly is affordable, so it makes our list.

Those aggressive deal-seekers among our readers might note that this list isn't entirely comprehensive, and in many ways, it can't be. Between fluctuating market prices, manufacturer-sponsored rebates and distributor deals, there are always different options within this range. However, this list is a summer snapshot of what kinds of handguns will typically fall under our $300 budget ceiling. As with any handgun anyone counts on for personal defense, consumers should always test their firearm for reliability and function before depending on it as a life-saving tool.