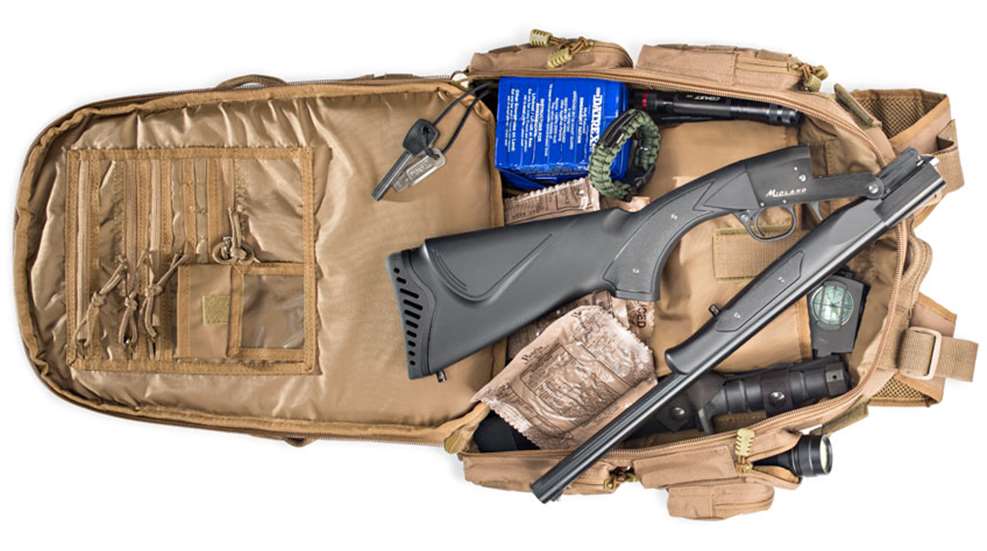 Everyone's got an opinion when it comes to "survival guns," yet few have actually tried to survive with one, and this includes me. Generally, however, I've found that opinions of ideal survival guns are based on the arena in which a person envisions making his or her stand. For example, city and suburban folks, thinking they'll be battling zombies for scraps in the street, tend to choose carbines or even handguns they can conceal. They generally lean tactical. Me? I'd go for a survival shotgun.
I'm a country guy, so my biggest concern is taking game for food. I figure I can kill deer or stop a two-legged foe with about anything, but winged critters, of which there are many, would be extremely difficult to down with a rifle. I also like the fact that shotshells can be more easily reloaded than rifle cartridges. So, my survival gun of choice is a shotgun—fitting, since I'm Shooting Illustrated's Shotguns editor. So, what shotgun would I choose? The following is my theory only.
My survival shotgun is lightweight, packable, capable of being used for wingshooting and contains a bore of 20 gauge or larger. That's because 20- and 12-gauge ammo is ample for big-game hunting and self-defense, yet they are also extremely common not only in my neck of the woods but throughout the world.
My first scattergun of choice is the Valmet Model 412. It's a Finnish-made combination gun featuring a 12-gauge barrel over a 30-'06 Sprg. rifle barrel. It has flip-up sights and a scope mount. I've shot accurately to 300 yards with it, and I've downed birds out of the air as naturally as a shot fired from a Superposed on a skeet field. It handles like a shotgun, has the long-range benefit of a rifle and it's an amazing all-around choice. At more than 8 pounds, it's not incredibly lithe, and that's its only flaw. I like it much better than say, the Springfield M6 Scout or Savage 24 (both .410-bore/.22 LR combo guns) because it's actually shootable and powerful. But the Valmet is cheating a bit, because it's a combo gun. So, if I had to choose a straight-up shotgun, I'll have to go back to the drawing board.
While there is an argument for Mossberg's new Shockwave due to its compactness and concealability, it's simply too difficult to shoot accurately due to its lack of a buttstock. Cool gun, but it's out, especially for shooting birds on the wing.
H&R 1871 makes the Survivor shotgun, a break-action, hammer gun in .410-bore. It can also shoot .45 Colt loads, so you can have a shotgun or a rifle with it, depending on what you load. It's compact at 34 inches, weighs just 7 pounds, has a storage compartment in the stock and comes with a rail to mount a scope. But frankly, both loads are underpowered; a .410 just can't reliably take bigger birds like ducks and geese at any distance, and a .45 colt is marginal at best past 50 yards. So that's why I'd opt for something else.
At the NRA Annual Meetings in Dallas, I saw Henry's concept lever-action shotgun in .410-bore. It wears a modular, AR-style handguard and plenty of rail space for cool stuff. A .410-bore in a five-plus-one lever gun is much more appealing than a single shot. And, of course, you can shoot .45 Colt. But this gun is not in production yet, so it's out. And I like others better, anyway.
Kel-Tec's 13-round KSG wouldn't be a bad option, as its 26-inch overall design makes it easy to pack, but man, that thing swings like a brick. Another real option, albeit rather boring for this debate, is using the gun that's already in your closet. That's right, a Remington 870, Mossberg 500/590 or numerous other reasonably priced, 18- to 24-inch-barreled pumps would do just fine, especially if your main concern is actually shooting the survival shotgun in question. And here's a seldom-mentioned fact: Most all shotguns can be disassembled for storage and/or lashing to a backpack by simply removing the barrel. My Mossberg 500 pump with a full-size stock and 24-inch barrel removed packs down to 35 inches, or the overall length of the lower receiver. (Keep in mind that you can always take the buttstock off if you had to conceal it.) But when it's assembled, it's deadly for anything from birds, bucks or bad guys. If days really got dire, I'd surely be comforted by the full-size Mossy. But, back to survival guns...
All things considered, my top choice for pure survival shotgun is a break-open 20-gauge like the SBL from Hatfield Arms. You can buy this hammer gun from Walmart for about $99. Its hinge pin and a recess in its fore-end are built to allow it to be broken over about 330 degrees so it can fold up much more compactly than other break-opens like H&R's or Stevens single shots. However, its 28-inch barrel is not what I had in mind for tossing into a papoose
Midland Arms has its Backpacker shotgun, reviewed in our March 2018 issue, which offers an 18.5-inch barrel and a quite compact, folded presence. The Backpacker also has the capability to swap barrels, whether between gauges or even adding rimfire or centerfire variants. Lastly, Midland's budget-friendly shotgun also offers storage in the stock, with custom-fit units becoming available from the company.
Since I happen to own an SBL, though, I'll make a few modifications to make it better for survival, like installing sling studs and a sling, and then strapping a pouch on its buttstock that holds several slugs, birdshot, buckshot and No. 4s. I'll even throw in a compass and a field cleaning kit. Completed, I now have a 6-pound survival shotgun (including the extra shells) that I can pack and conceal, use with slugs for big game and even down a dove if times really get tough. What's more, if I drop it as I'm being rescued by the chopper, I'm out a mere Benjamin.