by
Shooting Illustrated Staff
posted on November 3, 2018
Support NRA Shooting Illustrated
DONATE
As the interface between your gun and your body, the holster is a vital component of your carry rig. In many cases, the circumstances of your daily life will determine the method of carry you choose. This, in turn, will determine what type of holster you need, which may end up determining the handgun you carry. Therefore, choosing the method and type of holster may be as, or even more important than, choosing a firearm.
Whether you're new to concealed carry or a seasoned pro, you're likely in need of a new holster, be it for a new gun, a seasonal change in wardrobe, an additional holster for your primary carry pistol or because your old rig isn't cutting it anymore. We assembled the following guide to help you choose the right method of carry and to provide a smattering of the myriad holster options on the market today. There's sure to be something for everyone, no matter your carry method, preferred holster material, firearm or budget.
Inside The Waistband
Inside-the-waistband (IWB) holsters are perhaps the most-popular method of concealed carry thanks to their ability to hold the gun close to the body without exposing any part of the firearm below the beltline. They keep your pistol tight against your body to lessen the burden of added weight, help keep the pistol well concealed beneath a cover garment and provide for an easy draw.
IWB holsters are not perfect, however. A cover garment that prevents printing is necessary if you want to conceal the firearm. Also, because the rig is tight against your body, the holster must provide a barrier between perspiration and your gun. All that sweat can cause metal parts to rust.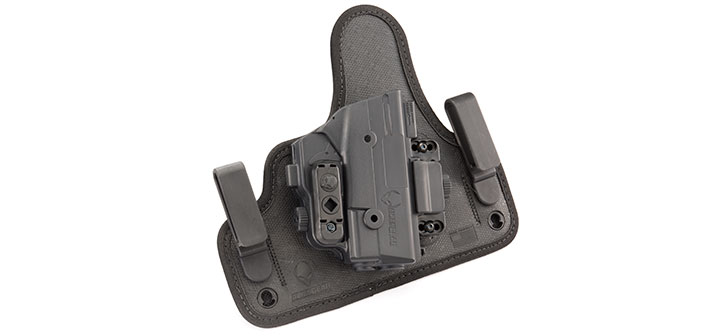 Alien Gear ShapeShift 4.0 IWB Holster
Part of a modular system that can provide multiple methods of carry (IWB, AIWB and OWB), the ShapeShift IWB was designed with convenience and comfort in mind. A neoprene layer provides a comfortable surface against your body and also acts as a sweat barrier. The entire base is flexible, allowing it to conform to the curves of your beltline. Add adjustable ride-height (thanks to IWB clips that can be moved or swapped without the need for tools) and adjustable cant, and you can see why the ShapeShift is an extremely versatile system for carrying almost every popular model of handgun available today. MSRP: $55.88; aliengearholsters.com
---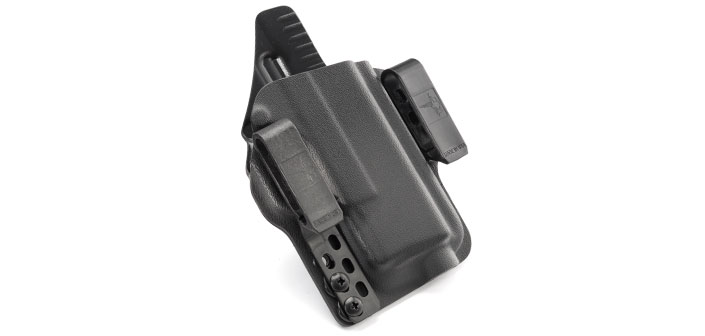 Bravo Concealment DOS Torsion IWB
Versatility is the ultimate virtue of the Torsion holster. Its Kydex shell can be attached to your belt with two clips or with a single clip. The latter method allows for a shirt to be tucked over the pistol, making concealment easier. The shell is also canted 10 degrees inward, which minimizes printing and keeps the gun closer to your body. Adding to its appeal, the holster can be adjusted for ride height, making it possible to use the Torsion as an appendix-carry rig, too. The Torsion is available for the majority of striker-fired handguns on the market. MSRP: $53.99; bravoconcealment.com
---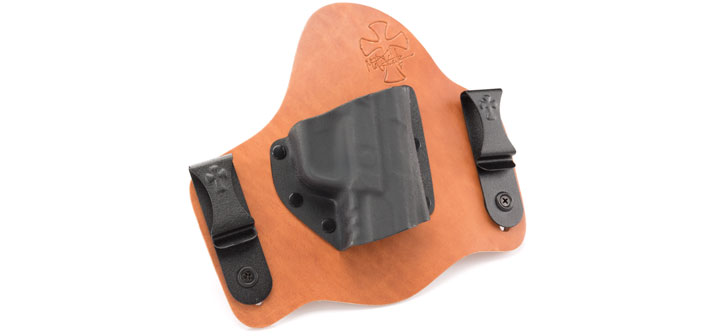 CrossBreed Founder's Series SuperTuck IWB
Designed to commemorate the legacy of CrossBreed's late founder, Mark Craighead, this version of the SuperTuck IWB combines premium leather with a Kydex shell for the ultimate comfort. The leather base is tanned without the use of dyes or lacquers, which aid in providing a quick break-in period and give the holster a rustic look. Dual clips mount the SuperTuck to your belt while leaving space to easily tuck a shirt over the gun for concealment. It is available for an enormous variety of pistols, including those with slide-mounted red-dot optics. MSRP: $89.95; crossbreedholsters.com
---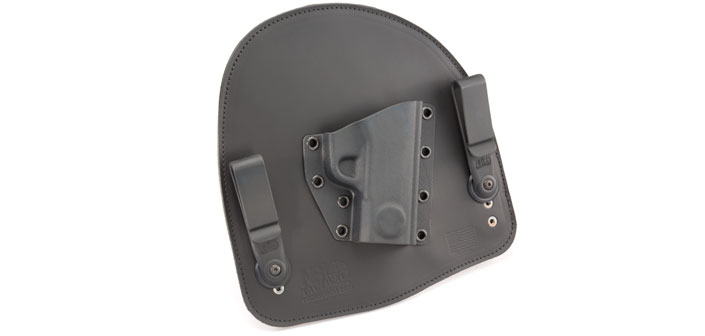 N82 Tactical | Ambassador
A suede backing on the Ambassador's massive leather base ensures the entire pistol is isolated from your trunk. A neoprene core provides flexibility and additional protection. Not only does this setup make for more comfortable carry, since no part of the gun touches your skin or pokes your torso, it also helps prevent rust because the gun doesn't contact your body at all. The pistol is held in a Kydex shell that is molded to your firearm for improved retention. The Ambassador is available for multiple popular semi-automatic handguns. MSRP: $72.95; n82tactical.com
---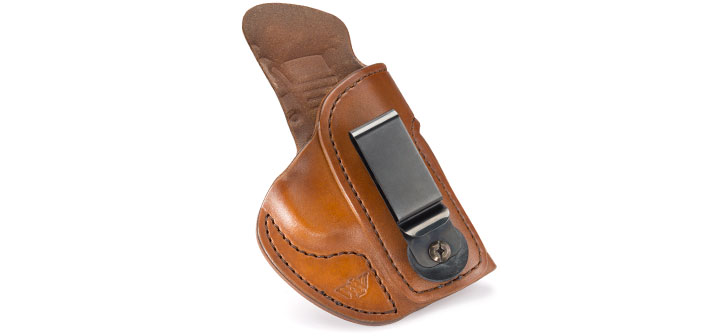 Wright Leather Works Cruiser IWB Clip
Premium leather and five color options make this IWB holster a great choice for those who want comfort and flair, even if they will be the only ones who know because the Cruiser conceals so easily. A single, large clip provides a solid mount to your belt, while making removal of the entire rig easy when needed (and also makes it simple to attach to your belt when you're ready to go out). The Cruiser is available for most semi-automatic handguns, and Wright Leather Works can build a custom model if your preferred pistol is not on the company's list. MSRP: $98; wrightleatherworks.com
---

Outside the Waistband
Outside-the-waistband (OWB) holsters are the most recognized carry rigs, simply because they're the most visible style. This external-carry method is associated with military and law-enforcement use, but armed citizens can also take advantage of its benefits.
These rigs provide quick, easy access to a pistol. Since the bulk of the holster and gun are located away from the body, OWB designs can be built larger and sturdier and can include different levels of retention that add security.
That said, OWB holsters are much harder to conceal effectively than other designs. They can also block access to pockets where you keep your keys or wallet, and they require the use of a sturdy belt.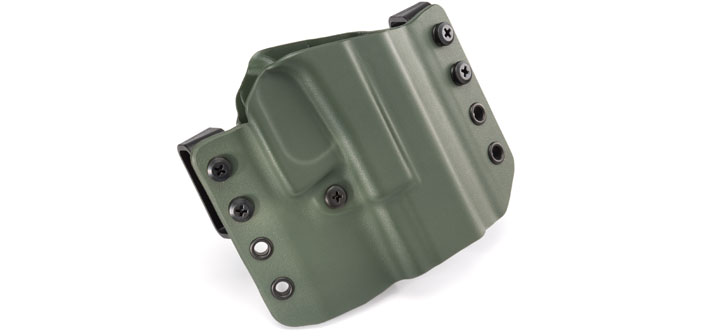 Comp-Tac Victory Gear Warrior Stealth
By and large, OWB holsters tend to be bulkier and harder to conceal. The Warrior Stealth, however, heads in the opposite direction with a design that snugs the holster and gun tight to the body, making it easier for wearers to conceal their carry setup with a cover garment. The holster still provides all the benefits of a traditional OWB system, allowing for a fast draw and easy accessibility. Constructed entirely from Kydex, the Warrior Stealth is adjustable for cant, retention and ride height. An open bottom also adds the opportunity to carry guns with threaded barrels and suppressor-height sights. MSRP: $75; comp-tac.com
---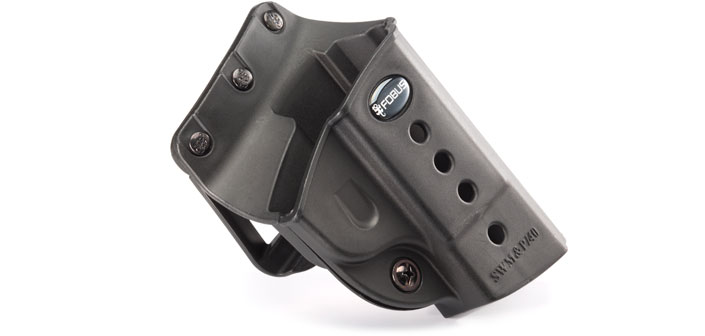 Fobus | Evolution
With a single-piece body made from injection-molded polymer, the Fobus Evolution holster is built to be both durable and affordable. To secure a user's gun, the rig features a passive-retention design that can be adjusted for tension through an adjustment screw located just beneath the trigger guard of the holstered firearm. Securing the holster
to a belt involves threading the belt through the riveted belt-attachment slot located on the back side of the system. A raised sight channel offers added flexibility for the user, accommodating many aftermarket sights. MSRP: $38.99; fobusholster.com
---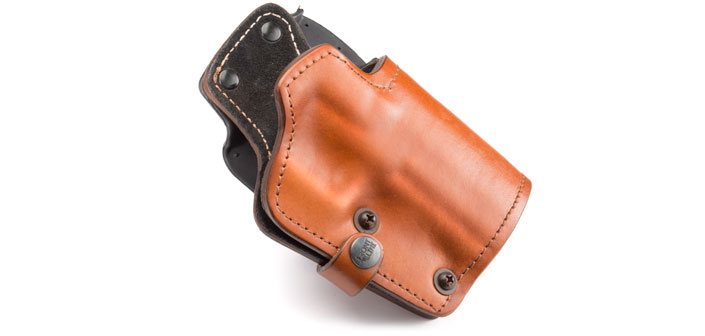 Front Line | Open-Top LKC
Built with a unique blend of Kydex and leather, Front Line's Open-Top LKC is a hybrid design unlike many others on the market. Rather than having a molded-Kydex shell attached to a leather backer, the LKC features multiple layers in its construction, with smooth-side leather bonded to the exterior of a Kydex shell and suede leather bonded to the interior of the holster. This provides consumers with the classic look of a leather holster combined with the retentive rigidity of Kydex. The suede-leather interior protects the gun's finish against abrasion. MSRP: $85.50; frontlineholsters.com
---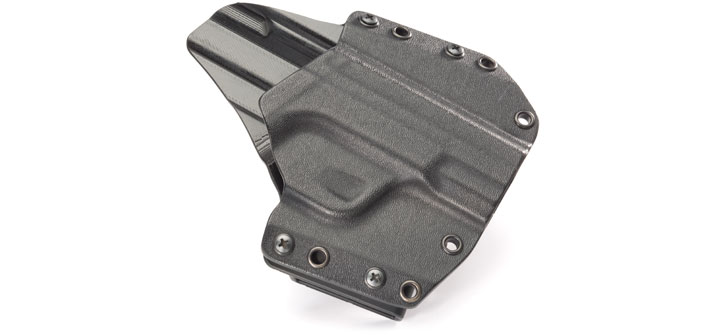 Mission First Tactical | H1911OWB
In keeping with the company's drive to use revolutionary materials in the construction of its products, Mission First Tactical forms its OWB holsters from Boltaron, a form of thermoplastic designed for increased durability. Each holster is form-fitted and finished by hand at the company's facility and features a number of customizable features, including cant and ride-height adjustment. The system ships standard with 1.75-inch belt clips, and the passive-retention design produces an audible click when a holstered gun slides into position. Other clips sold separately make IWB and appendix carry possible. MSRP: $69.99; missionfirsttactical.com
---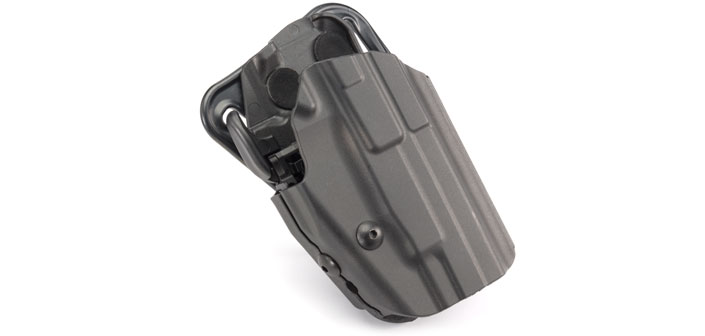 Safariland Model 578 GLS Pro-Fit Holster
With the ability to accommodate more than 225 different firearms, the innovative Pro-Fit holster from Safariland provides a secure option for most popular models on the market. The system incorporates the company's Grip Lock System, which automatically secures the gun in position when holstered. To release, a lever located on the inside edge of the holster mouth is depressed when the wearer obtains a natural firing grip, allowing for a smooth draw. Durability is enhanced through the use of SafariSeven nylon blend in its construction, offering a temperature-resistant, low-maintenance carry rig that won't mar a gun's finish. MSRP: $55; safariland.com
---

Appendix
Appendix carry (AIWB, for appendix-inside-the-waistband)—where the holster is located in the front of the waistline, typically just off the centerline on the strong-hand side—is one of those polarizing issues in the concealed-carry community. Fans point out the speed of the draw, as one need only bring their hands up rather than reaching around back to the traditional IWB carry position. They'll also note the greater ease with which one can cover an AIWB setup, as most cover garments tend to hang loosely over that area.
Detractors point out that a pistol carried AIWB generally muzzles one's, well…femoral artery. Slow reholstering eases that concern. This method can be less comfortable, so a purpose-built AIWB holster is needed.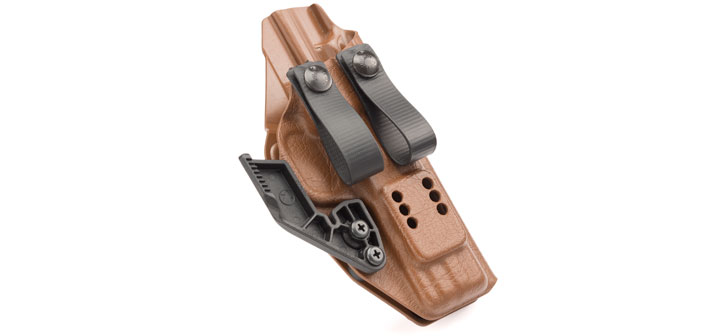 Dark Star Gear | Orion
Dark Star Gear—a favorite of our Handgun Editor, Tamara Keel—offers AIWB concealability for fans of many popular concealed-carry pistols. It's adjustable for ride height and cant, and users can select a Raven Concealment Systems Vanguard Claw to help position the Orion on the waistline. The twin-loop attachment system allows the Orion to straddle a belt loop for greater stability, and to keep it from shifting along the beltline. MSRP: $80; darkstargear.com
---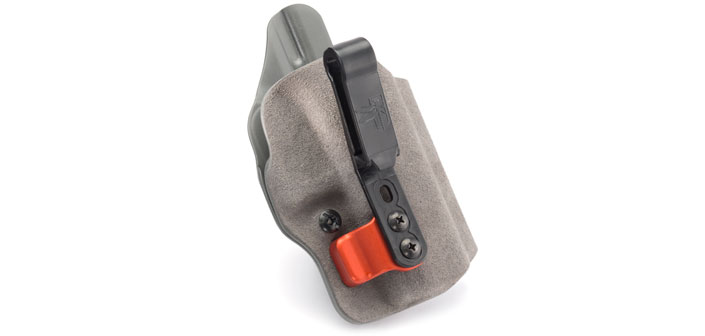 G-Code | Incog Eclipse
Most-notable on G-Code's appendix-carry offering, the Incog Eclipse, is the patent-pending "Super MoJo" adaptor that both presents the belt clip in the proper orientation and allows for variations in cant. Available in a wide variety of finishes and offering a full firing grip for correct pistol presentation, the Incog is available with a "shirt guard" option to protect the firearm from sweat, or left as a "half guard" for pistols with micro red-dot sight systems. MSRP: $80; tacticalholsters.com
---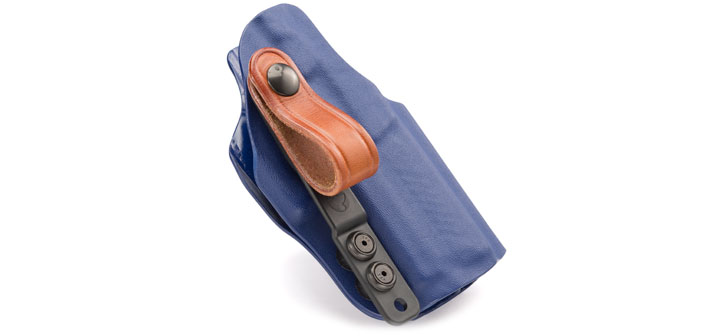 High Noon Holsters Instinct-Medium
One thing that immediately differentiates the High Noon Holsters Instinct from other AIWB offerings is the leather loop for attachment on the belt. Six different colors are available for the Kydex, while the strap can be had in horsehide, cowhide or a laminate. Raven Concealment Systems' tuckable strut and riser system keeps the Instinct firmly anchored, and allows for adjustments in ride height, cant and even belt width. MSRP: $60.95; highnoonholsters.com
---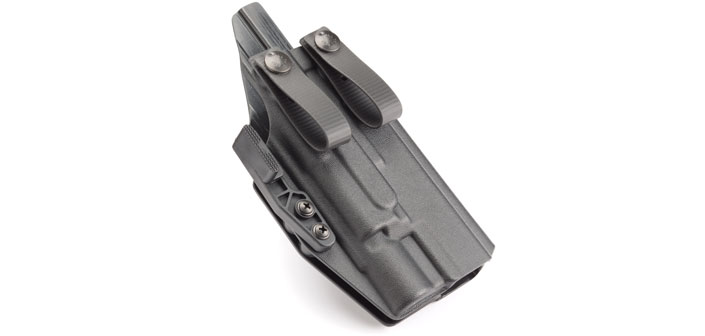 PHLster | Spotlight
New from PHLster is the Spotlight, which (as the name suggests) is built around pistols with weaponlights attached to the front accessory rail. With "anti-printing hardware" (an arm with two different-size pieces to adjust how far it sits off the body), the Spotlight allows the wearer to carry a weaponlight-equipped handgun comfortably all day long. Retention is easily adjusted using a pair of screws to increase or decrease pressure as needed. MSRP: $74.99; phlsterholsters.com
---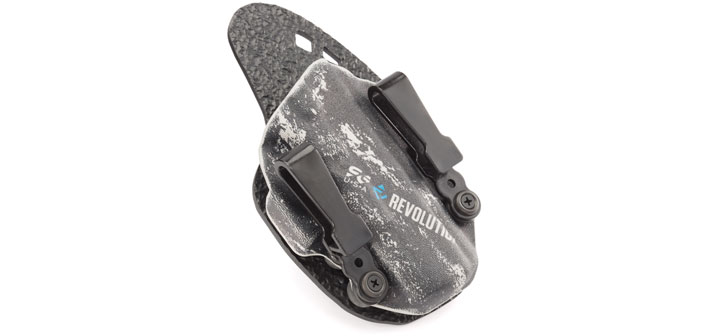 Stealth Gear USA | SG-Revolution
Lightweight and slim, the SG-Revolution appendix-carry holster utilizes a proprietary, vented-polymer material mated to a molded-Kydex shell. With polymer clips that allow it to be hidden under a tucked shirt, as well as a moisture-repelling back surface, the SG-Revolution incorporates numerous features designed to optimize it for appendix-carry use. Additionally, the interior is engineered to decrease drag when the firearm is drawn, facilitating a more-fluid presentation. MSRP: $69; stealthgearusa.com
---

Pocket
On some occasions, concealability is more important than having the fastest, easiest draw or the most-desirable shooting platform. When that is true, you need a pocket holster.
Pocket holsters have come a long way since their inception. Today's offerings can do anything from keeping the pistol in place to breaking up the gun's outline. Physics is still a factor—a small pistol will always be easier to conceal in a pocket than a large one. With contouring magic and slick design, however, it's now possible to discreetly pocket carry something larger than a derringer.
Pocket pistols are more difficult to shoot accurately, and pocket carry precludes certain chamberings. But, no method better conceals a handgun.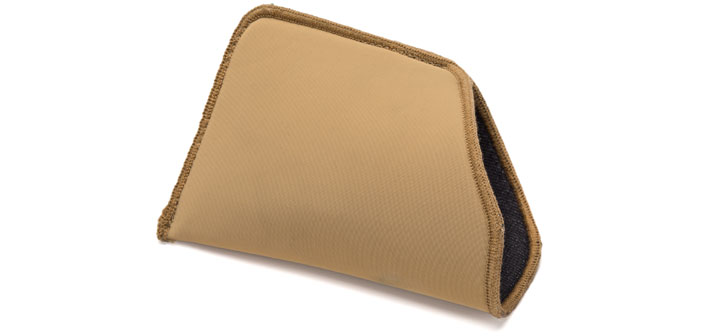 Blackhawk | TecGrip Pocket Holster Ambidextrous
The Coyote Tan TecGrip Pocket Holster is a quality, affordable and low-profile option. Its exterior is made from its namesake TecGrip, providing a strong, tacky surface that can affix the holster in a pocket without the need for bulky and uncomfortable clips. Packed with high-density foam, the holster keeps its wearer comfortable while carrying small-frame, snubnose revolvers, most .380 ACPs, most 3.5-inch subcompacts and small .22- and .25-caliber pistols. Its best feature? It's also hand and machine washable for
your convenience. MSRP: $24.95; blackhawk.com
---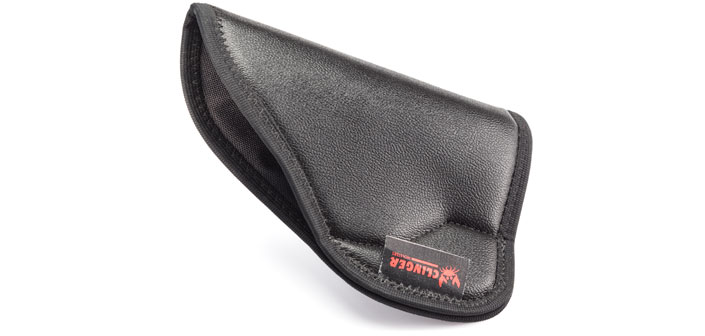 Clinger | Comfort Cling Holster
The Comfort Cling Holster makes for a great multi-use, multi-gun holster in the exact sort of scenario elucidated above. Comfortable and versatile (you can switch hands, switch guns, shove it in your pocket, stick it in your waistband, etc.), the Comfort Cling features a grippy exterior and a slick interior, the combination of which keeps the holster in the correct position despite the wearer's movement and ensures it stays put during the draw. By far the most minimalist on our list, this holster is a great choice for those looking for a lightweight, but dependable option. As an added bonus, the company offers an optional pocket mag carrier made from the same material. MSRP: $19.99; clingerholsters.com
---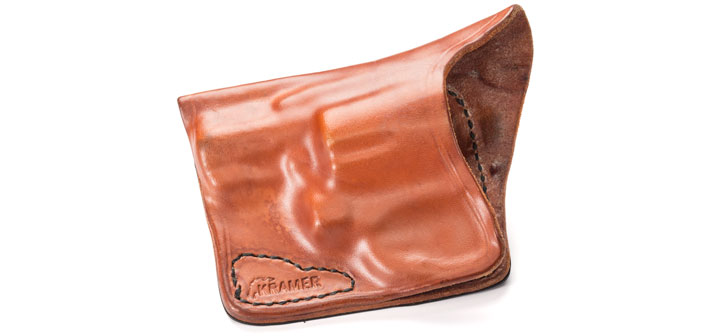 Kramer | Pocket Gun Holster
It seems like an oxymoron to affix the moniker "maximalist" to a pocket holster, but if our last option was "minimalist," this offering is certainly on the other end of the spectrum. The Kramer Pocket Gun Holster is designed with maximum concealment in mind for the serious pocket carrier. Coming in beautiful horsehide black and mahogany (it's almost a shame you have to jam it in your pocket where it can't be seen), the Kramer features a piece of plastic laminate sewn into the holster's exterior, designed to break up the outline of a gun and give it the contour of a wallet. The rigid lip catches the inside of the pocket when drawing, keeping the holster in place. The Kramer can be ordered for pistols with laser sights. MSRP: $99; kramerleather.com
---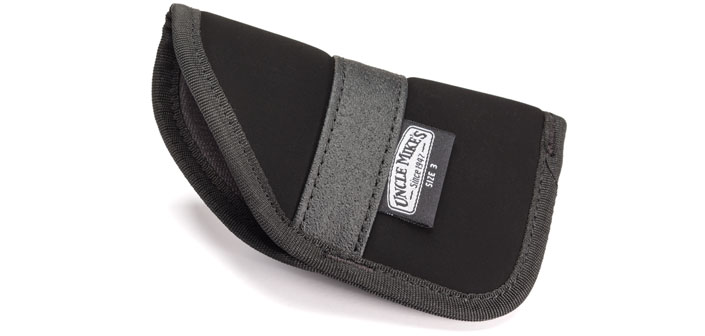 Uncle Mike's Inside the Pocket Holster
The Uncle Mike's Inside the Pocket Holster is a bit of a middle ground in terms of design, falling between the friction and hook-shape holsters covered in this guide. Made with an open-top construction that still prevents any movement of the pistol's controls, the Inside the Pocket Holster features a laminate to mitigate printing and block perspiration, and is affixed with a non-slip band to retain the holster during draw. The Inside the Pocket Holster comes in four distinct sizes that fit the vast majority of widely carried pocket pistols, and is by far the most-affordable option on our list. MSRP: $12.95; unclemikes.com
---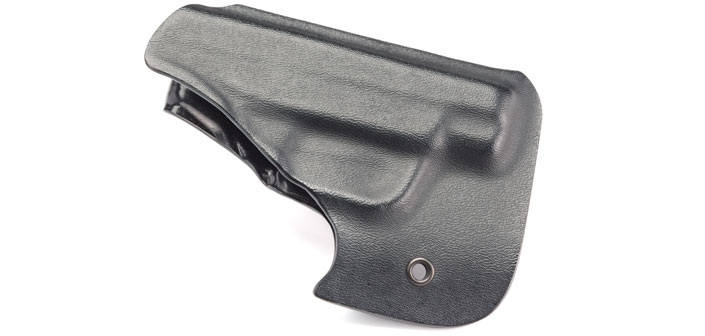 Vedder | Pocket Locker
The Pocket Locker, from Vedder, is a great example of some of the recent innovations in pocket holster technology. Crafted from a single sheet of Kydex, the Pocket Locker features three distinctive methods of carry/draw. For the first option, there is a blunted hook running rearward from the trigger guard, which snags the pocket upon draw and allows the gun to break free. Second, for those fans of off-body carry, the holster comes equipped with an eyelet near the tip of the aforementioned hook, which allows the holster to easily be secured inside a purse or bag. An optional thumb tab retention system is also available where a simple push of a tab allows access to the pistol. MSRP: $39.99; vedderholsters.com
---

Ankle
Worn on the inside of your weak-side ankle and accessed from a kneeling or sitting position, an ankle rig offers a better-than-nothing alternative for deep concealment needs.
In fact, ankle rigs are often easier to draw from than a strong-side belt holster when you are seated, particularly at a table or while driving. An ankle holster requires nothing more than long pants to conceal; no jacket, vest or untucked shirt when such would be inappropriate. And, thanks to guns fabricated from lightweight materials, you can carry some fairly efficacious chamberings on your ankle.
Recognizing when an ankle rig is your best option and knowing how to wear one can make the difference between being armed and being defenseless.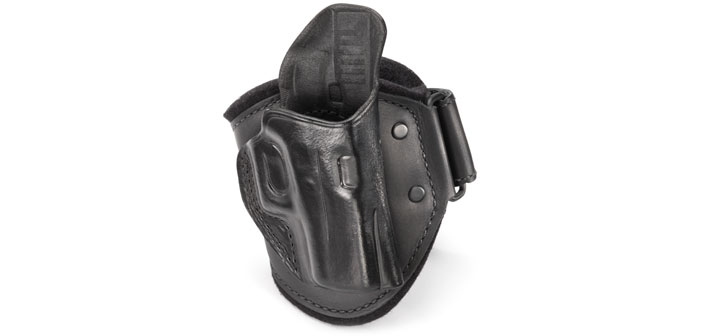 Alessi | Ankle Holster
Alessi's Ankle Holster has long been lauded for its comfort and utility. Made from top-grain russet leather, it's close-molded to retain your pistol via a friction fit. What has distinguished the Alessi, though, is a slim metal rectangle with which you cinch the hook-and-loop tab, securing the holster. It allows you to quickly and comfortably mount the felt-backed holster with just the right amount of tension. Models are available for a variety of popular pistols. MSRP: $165; alessigunholsters.com
---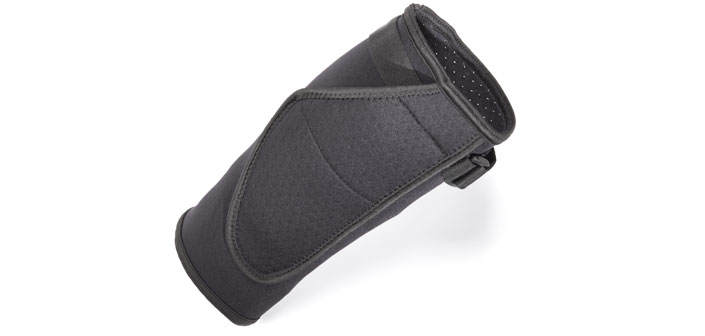 Bugbite Holsters | Bugbite
Thick, lightweight neoprene contributes to the Bugbite's comfort. The holster covers most of the calf and incorporates a zipper for easy on/off. It includes a gun compartment as well as a pocket for a spare magazine. A hook-and-loop tension strap and interior grip dots anchor the Bugbite in place. Five sizes are available to fit most lower legs. MSRP: $44.95; bugbiteholsters.com
---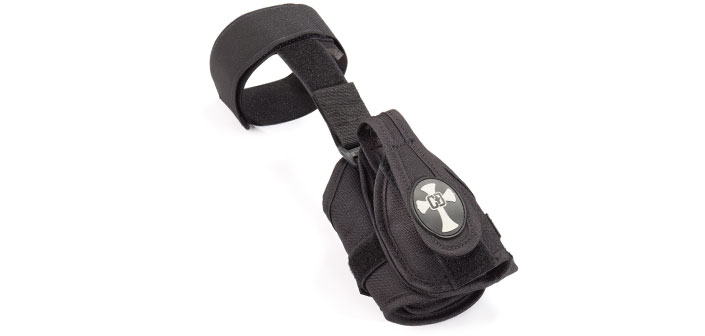 CrossBreed | Ankle Holster
The newly released Ankle Holster from CrossBreed has a padded ankle section for comfort and an adjustable thumb break for security. Proper fit is ensured by a full-calf support strap with height adjustment. The holster is available in micro, small and medium sizes to work with numerous popular pistols. The Ankle Holster is designed to fit up to a 12-inch-circumference ankle and comes with a "Two Week Try It Free Guarantee." MSRP: $34.95; crossbreedholsters.com
---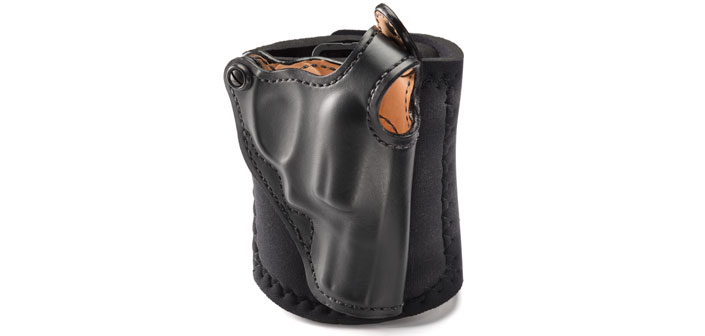 DeSantis | Die Hard Ankle Rig
With a top-grain saddle-leather gun compartment that's been coated with polyurethane, the Die Hard Ankle Rig is meant to live up to its name. Precision molded to fit the particular firearm, retention is further bolstered by a thumb break. The combination of thick neoprene foam and a sheepskin-backed gun compartment contribute to keeping the Die Hard comfortable for extended wear. MSRP: $88.99; desantisholster.com
---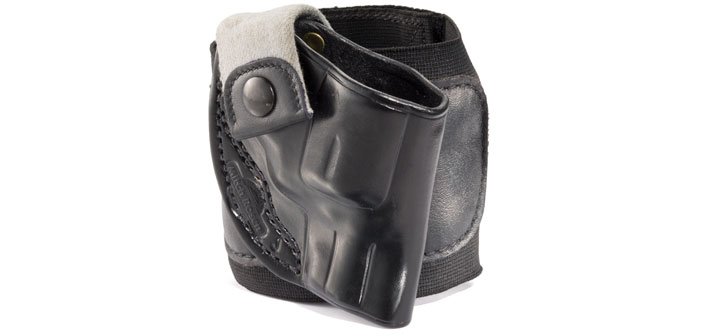 Mitch Rosen | Duncan's Ankle
Made exclusively for Smith & Wesson J-frames, Duncan's Ankle combines premium leathers, thick wool felt, a wide elastic band, hook-and-loop closure and an elastic retention strap to ensure secure, comfortable wear. The retention strap is unique in that you pull through it to draw the revolver; there's no unsnapping. The leather reinforcement of the cowhide holster is made from genuine kangaroo hide. MSRP: $175; mitchrosen.com
---

Shoulder
Shoulder holsters are available in a variety of models that orient a pistol in several ways, offering great versatility and making them ideal for someone who is seated for long periods of time. Perhaps that is why they are popular with law enforcement/military pilots and armored-vehicle personnel, along with members of security details assigned to vehicles. For the same reasons, shoulder holsters benefit those with physical disabilities—especially the wheelchair bound. Drawing from a shoulder holster is easy when seated.
Since a shoulder holster carries the pistol beneath the support-side arm, the design makes it one of the easiest to draw from with your weak hand. That said, the muzzle faces rearward when in the holster, so some ranges ban these rigs.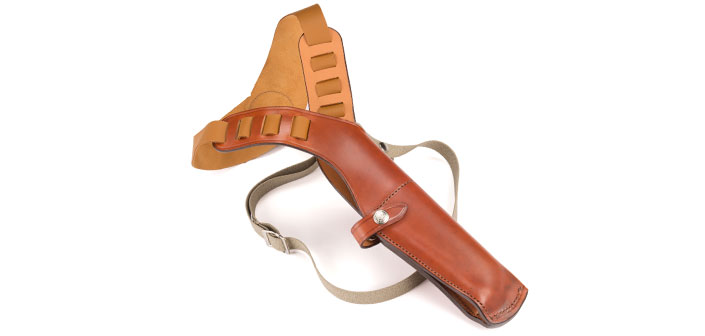 Bianchi | Model X15 Vertical Shoulder Holster
Constructed from full-grain, vegetable-tanned cowhide, the Bianchi X15's X-style harness evenly distributes a handgun's weight on the shoulder, making it easy to comfortably carry pistols and revolvers with barrels ranging from 2 to 8 inches in length. In addition to its thumb break, it features an interior dual spring for an extra element of retention and more peace of mind for those moments when the situation/surroundings become even more dynamic. MSRP: $158.75; safariland.com
---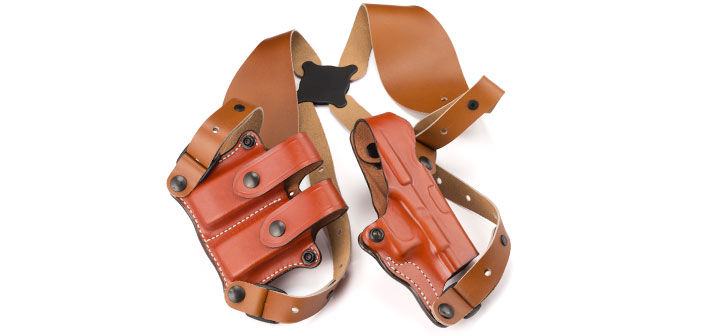 DeSantis | New York Undercover Double Pouch
Available in black or tan unlined leather, the New York Undercover has undergone numerous design revisions since first being produced in the 1970s to offer the best fit and function. Each holster is crafted from top-grain cowhide and meticulously molded to fit your handgun perfectly. The harness will fit up to a 54-inch chest and pivots at all four junction points for added comfort. A thumb break provides welcome retention, and additional accessories are also available. MSRP: $182.99; desantisholster.com
---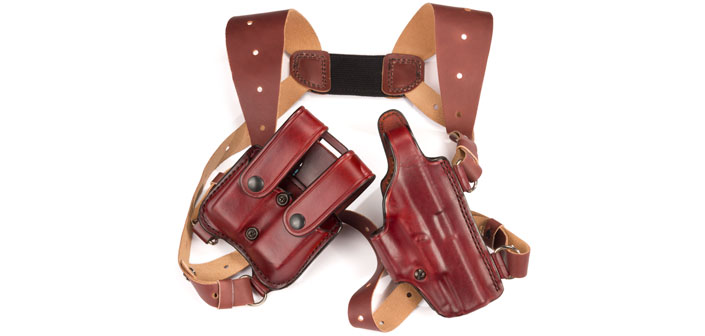 Don Hume | Model H770-AA with Magazine Holder
Attractive and functional, the Model H770-AA Shoulder Rig sports hand-boned detail that, in addition to showcasing each of your pistol's lines and curves, results in an eye-catching rig that conforms perfectly to your handgun. Fit and security is addressed via an adjustable tension screw and a reinforced thumb break. The added versatility of a belt loop on the back of the holster allows the holster to be adapted for strong-side belt carry. Carry rings on the harness permit total range of motion, while its 2-inch, centralized elastic strap aids maneuverability. MSRP: $198.80; donhume.com
---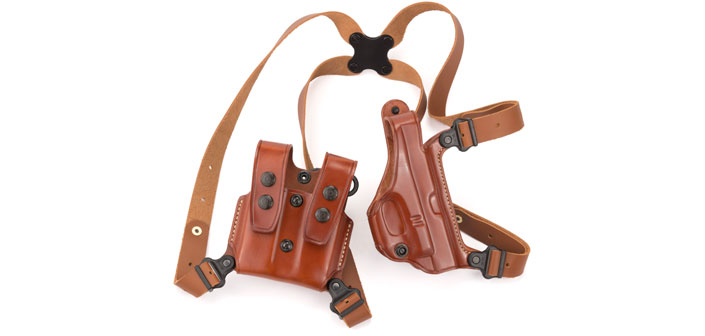 Galco | Miami Classic
Available for a wide array of semi-autos and some revolvers, as well as right- and left-handed models, the Galco Miami Classic is constructed of premium saddle leather for durability. The straps that comprise its spider harness are narrow to provide maximum concealment, and all four parts of the clover-shaped Flexalon swivel independently, which aids fit while promoting comfort and long-term use. Optional accessories/components, such as flashlight/handcuff cases and tie-downs, are sold separately. MSRP: $220; galcogunleather.com
---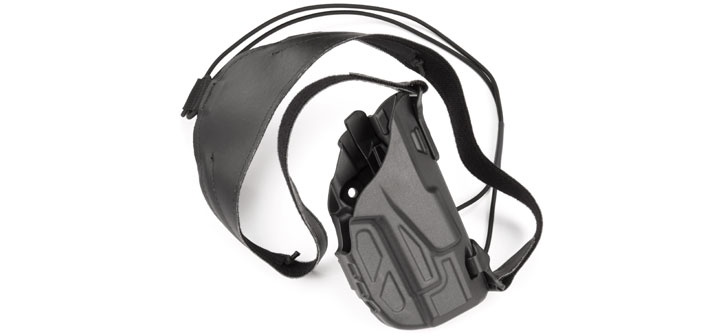 Safariland | Model 7053 7TS ALS Shoulder Holster
Constructed from SafariSeven, a robust material that is extremely resistant to hard use and the elements, the Safariland Model 7053 also includes the company's automatic-locking system (or ALS). Once holstered, the system anchors the pistol in place and it is not released until a button is actuated by the strong-side thumb while simply pulling the pistol straight out. The combination of the Model 7053's lightweight composite material and its minimalist harness design make traditional tie-downs unnecessary, and result in a truly innovative holster. MSRP: $96; safariland.com