by
Shooting Illustrated Staff
posted on October 7, 2018
Support NRA Shooting Illustrated
DONATE
On some occasions, concealability is more important than having the fastest, easiest draw or the most-desirable shooting platform. When that is true, you need a pocket holster.
Pocket holsters have come a long way since their inception. Today's offerings can do anything from keeping the pistol in place to breaking up the gun's outline. Physics is still a factor—a small pistol will always be easier to conceal in a pocket than a large one. With contouring magic and slick design, however, it's now possible to discreetly pocket carry something larger than a derringer.
Pocket pistols are more difficult to shoot accurately, and pocket carry precludes certain chamberings. But, no method better conceals a handgun.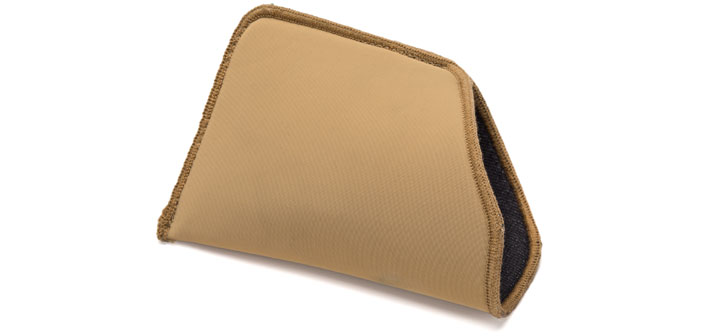 Blackhawk | TecGrip Pocket Holster Ambidextrous
The Coyote Tan TecGrip Pocket Holster is a quality, affordable and low-profile option. Its exterior is made from its namesake TecGrip, providing a strong, tacky surface that can affix the holster in a pocket without the need for bulky and uncomfortable clips. Packed with high-density foam, the holster keeps its wearer comfortable while carrying small-frame, snubnose revolvers, most .380 ACPs, most 3.5-inch subcompacts and small .22- and .25-caliber pistols. Its best feature? It's also hand and machine washable for
your convenience. MSRP: $24.95; blackhawk.com
---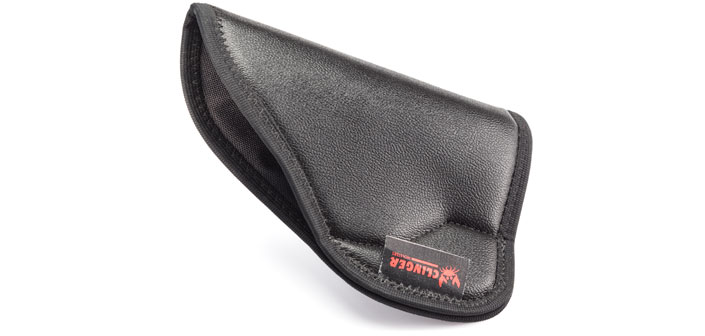 Clinger | Comfort Cling Holster
The Comfort Cling Holster makes for a great multi-use, multi-gun holster in the exact sort of scenario elucidated above. Comfortable and versatile (you can switch hands, switch guns, shove it in your pocket, stick it in your waistband, etc.), the Comfort Cling features a grippy exterior and a slick interior, the combination of which keeps the holster in the correct position despite the wearer's movement and ensures it stays put during the draw. By far the most minimalist on our list, this holster is a great choice for those looking for a lightweight, but dependable option. As an added bonus, the company offers an optional pocket mag carrier made from the same material. MSRP: $19.99; clingerholsters.com
---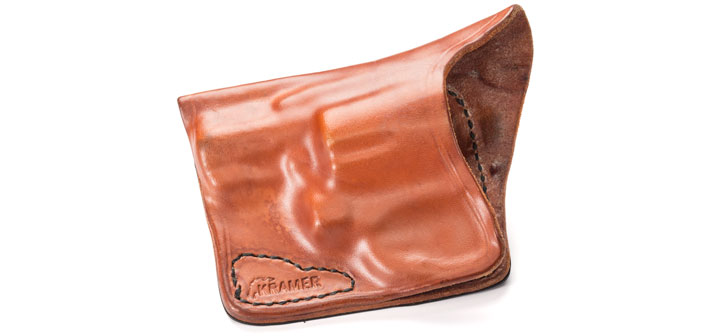 Kramer | Pocket Gun Holster
It seems like an oxymoron to affix the moniker "maximalist" to a pocket holster, but if our last option was "minimalist," this offering is certainly on the other end of the spectrum. The Kramer Pocket Gun Holster is designed with maximum concealment in mind for the serious pocket carrier. Coming in beautiful horsehide black and mahogany (it's almost a shame you have to jam it in your pocket where it can't be seen), the Kramer features a piece of plastic laminate sewn into the holster's exterior, designed to break up the outline of a gun and give it the contour of a wallet. The rigid lip catches the inside of the pocket when drawing, keeping the holster in place. The Kramer can be ordered for pistols with laser sights. MSRP: $99; kramerleather.com
---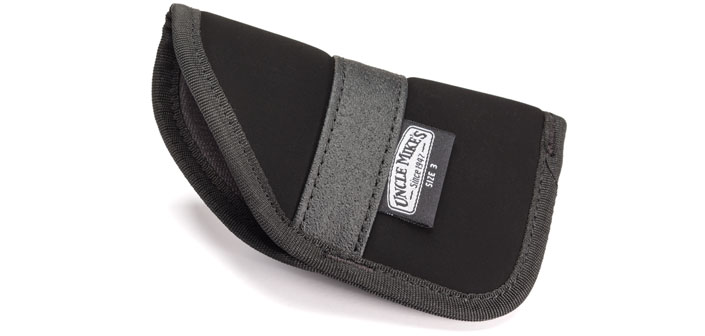 Uncle Mike's Inside the Pocket Holster
The Uncle Mike's Inside the Pocket Holster is a bit of a middle ground in terms of design, falling between the friction and hook-shape holsters covered in this guide. Made with an open-top construction that still prevents any movement of the pistol's controls, the Inside the Pocket Holster features a laminate to mitigate printing and block perspiration, and is affixed with a non-slip band to retain the holster during draw. The Inside the Pocket Holster comes in four distinct sizes that fit the vast majority of widely carried pocket pistols, and is by far the most-affordable option on our list. MSRP: $12.95; unclemikes.com
---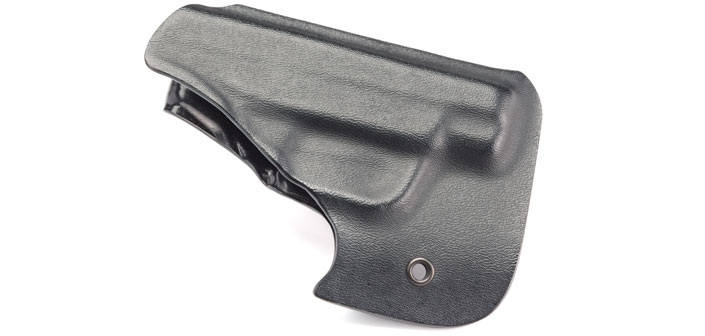 Vedder | Pocket Locker
The Pocket Locker, from Vedder, is a great example of some of the recent innovations in pocket holster technology. Crafted from a single sheet of Kydex, the Pocket Locker features three distinctive methods of carry/draw. For the first option, there is a blunted hook running rearward from the trigger guard, which snags the pocket upon draw and allows the gun to break free. Second, for those fans of off-body carry, the holster comes equipped with an eyelet near the tip of the aforementioned hook, which allows the holster to easily be secured inside a purse or bag. An optional thumb tab retention system is also available where a simple push of a tab allows access to the pistol. MSRP: $39.99; vedderholsters.com