Ever since the advent of the .22 LR cartridge in 1887, it has been a rite of passage for many new shooters to receive a rifle chambered in such for Christmas. Beginning in 1964, that enticingly long, brightly wrapped package under the tree was likely to contain a Ruger 10/22, which eventually became one of the most popular .22 semi-autos in firearm history.
Although the concept of Ruger's first 10/22 rifle began in the 1950s, the final design took its inspiration from the success of the Ruger .44 Magnum Carbine, which was introduced in 1960. An obvious hint can be found in this line from Ruger's 1964 catalog describing the 10/22 as a rimfire rifle "…built to high-power rifle standards…" In fact, anyone comparing the two rifles will notice a not-so-coincidental similarity in design, including their carbine-style barrel bands, basic pistol-grip stock configurations and semi-curved buttplates.


The Ruger 10/22 was the result of a collaboration between Bill Ruger, Harry Sefried and Doug McClenahan. Like everything the meticulous Ruger conceived, the 10/22 was over engineered, yet, due to its well-thought-out mechanics, was eminently affordable. It carried an initial price tag of just $54.50. As Ruger wrote to Jack O'Connor a few months before the 10/22 was introduced, "…from a technological point of view, the new 10/22 is one of the best things we have done."
On March 24, 1964, Ruger sent proofs from its upcoming catalog, announcing the new .22 rifle, to gun writers. At that time, however, only three preproduction prototypes existed. But later that spring, at the 1964 NRA Annual Meeting, attendees got to see and handle the rifle in Ruger's booth, even though it wasn't officially announced in gun magazines until June of that year.
"The New Ruger 10/22 .22 Caliber R.F. Self-Loader," that first advertising headline proclaimed, was "the ultimate in logical design." And indeed it was.
The trigger-housing group could be easily dropped out of the rifle for cleaning, and disassembly was simple enough to require only a screwdriver and a punch. Its barrel screwed in, making subsequent replacements and upgrades simple. The receiver was investment cast of aircraft-grade aluminum, as were the trigger guard and buttplate. Metal parts were either blued or anodized blue-black, and the stock was walnut. Its 18.5-inch barrel was topped with a simple, but effective, fold-down leaf rear sight and a gold-bead front post. Lock time was fast, and combined with twin anchoring points for the six-groove barrel with its 1:16-inch twist rifling, accuracy was exceptional. But perhaps most revolutionary—an apropos word in this case—was the 10/22's 10-shot rotary magazine, a concept that took its inspiration from Ruger's admiration of the rotary magazine in the Savage Arms Model 99.
Needless to say, the Ruger 10/22 proved extremely popular, especially for shooters who already owned a Ruger .44 Magnum Carbine because it served as the perfect companion piece. However, with its easy-to-carry weight of only 5.25 pounds, the rifle also found immediate favor as an economical plinker and a fast-handling small-game rifle. A more sleekly styled Sporter—sans barrel band and with a rubber recoil pad—was introduced in 1966, with a hand-checkered variant coming out a year later. There was also a version with a Monte Carlo comb, plus a full-stocked Mannlicher-style model, which did not have the staying power of other stock configurations.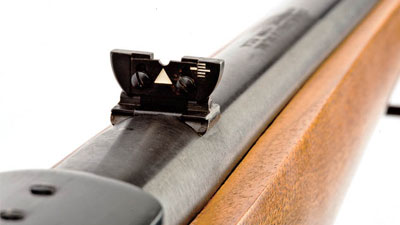 In 1980, with the cost of walnut escalating, Ruger switched to birch stocks. Still later, the stocks were changed to maple. Laminated stocks were introduced in 1986, and a stainless steel barrel was offered in 1992. Recently, the trigger housing was changed from aluminum to polymer.
Today, the Ruger 10/22 exists in seven basic configurations. The Carbine is still made in the style of the original 1960s version, although with an improved, extended magazine release (one of the few distractions—along with a sluggish trigger pull—of the earlier 10/22s), which has become standard on all models. In addition to hardwood stocks, there are options like synthetic stocks, and a stainless steel barrel and receiver. A continuation of the original 10/22, the Sporter model features a checkered American walnut stock along with sling swivels.
The Compact model has an uncheckered hardwood stock, a fiber-optic front sight and a 16-inch barrel. Capitalizing on the 10/22's penchant for accuracy, the Target model sports a crisply tuned trigger and a 20-inch bull barrel without sights, but it's drilled and tapped for a scope. Its laminate stock also contains sling swivels. Finally, the Tactical model is available with a 16-inch, crowned bull barrel or a standard-contour barrel ending in a removable flash suppressor.
Although devoid of iron sights, the Ruger 10/22 Tactical comes with a scope base and is offered with either a black synthetic or Hogue Overmolded stock. The latter version is shipped with an adjustable bipod.
It is the Tactical model that has extended the 10/22's popularity far beyond the target ranges and hunting fields. A number of these rifles have been equipped with suppressors and supplied to various law enforcement organizations as well as the military for use in covert operations. In its camo guise, it is a favorite for commandos and has been issued to such elite units as the Navy SEALs.

More recently, in 2012, Ruger introduced the 10/22 Takedown series of guns, which made the light and easy-to-carry gun even more compact and portable, featuring a quick-detach barrel and forearm that breaks the gun down into two manageable sections.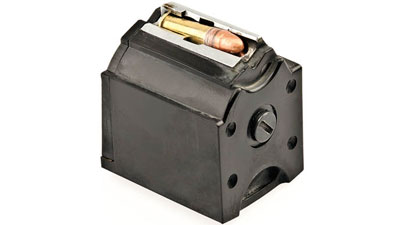 Along the way, a few commemorative Ruger 10/22s have been produced, including the Canadian Centennial commemorative in 1976 and more recently, the company's 2014 50th anniversary commemorative edition, celebrating half a century of the 10/22. What's more, the 10/22 has spawned the SR-22, a .22 rimfire version of Ruger's AR-style SR-556. There's also the Charger—a pistol with a 10/22 action, synthetic stock and bipod that put a new spin on rimfire target and varmint shooting.
Small wonder the 10/22 is now one of the most accessorized and customized rimfire rifles in the aftermarket parts world. Kits abound from firms such as Cabela's, Kidd Innovative Design, Brownells, Power Custom, Tactical Solutions and Volquartsen, to name just a few. Completely tricked-out competition guns are available from firms such as Clark Custom Guns. Along similar lines, I transformed my 10/22 into a rimfire semi-automatic version of the Thompson submachine gun with a drop-in kit from Scottwerx.
To date, more than 6 million Ruger 10/22 rifles, in all variations, have been sold—a number that no doubt would have pleased the late Bill Ruger. Indeed, the 10/22 has taken the traditional Christmas "kid's rifle" to places where no rimfire rifle has gone before.