This month, I was going to write about pocket pistols, but I got totally distracted looking for a quote I needed. While looking for it, I stumbled into an online-forum discussion that had a couple quotes that caused me to completely change my subject. A fellow forum member, who worked in a gun store, related the tale of a police officer acquaintance of his who was shopping for a shotgun so as to have something to "keep in the garage so he'd have a gun nearby while he was mowing the lawn." When the forum member asked him why he didn't just carry a gun while doing yard work, the officer looked at him like he was crazy.
It was at that point in the discussion when a police detective pointed out that at one homicide scene he'd worked, the dead guy was lying there in his underwear in the doorway of his house where he'd been shot. His house had guns stashed all over the place: In drawers, under sofa cushions, long guns propped in corners—it took hours for evidence to find and process all the guns—and there's the deceased, unarmed and dead in his boxer shorts.
Look, I write about the handguns here. The guys who write the long-gun columns? They're the ones who write about the really powerful guns, the ones with some oomph, but the thing about a handgun is that you can have it with you when you need it. You'd get looks trying to navigate the produce aisle at the supermarket with a .308 Win. battle rifle, plus it swings awkwardly all over the place and you might get CLP in the arugula. But a handgun? You can carry those things all over the place in most states with few to no legal hurdles to jump. And the mousegun readily at hand beats the shotgun at home every single time.
Select a comfortable combination of gun and holster, and just carry it. It's the safest approach from a number of angles. One of my other projects involves writing up reports on citizen self-defense encounters with firearms, and the difference in how often the defender was hurt (or not) when they started out the encounter with the firearm on their person—versus having to run and get it—is shocking.
It's safest if there are little ones around. Putting a defense gun up in a high place or "hidden" someplace you think a child won't look is foolishness. Leaving it in a purse is likewise unsafe. A secure lockbox or safe is better, but still means you have to go retrieve the firearm. My friend Kathy Jackson, trainer and author of "The Cornered Cat," raised five boys and kept her pistol in the one place she knew it would be under her control: On her belt.
And from the standpoint of my personal crusade, carrying the gun all the time is safest because it minimizes the dangers inherent in administrative gun-handling. If it is at all possible, put the gun on in the morning and take it off at night and stop touching it so much in between. Constantly taking it in and out of the safe, holstering and unholstering based on whether you think you're going someplace "dangerous" is bad enough; it's worse if you're one of those who compulsively load and unload the gun whenever you do it.
If you have one of those crystal balls that can tell you whether today is going to be the day you're going to need your gun or not, ask it about tomorrow's lottery numbers for me, please.
And if you don't have that crystal ball?
Carry your gun.
---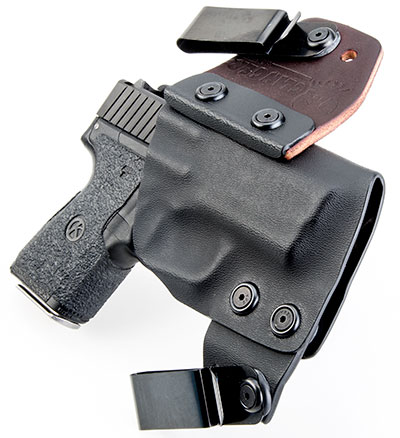 Clinger Holsters No-Print Wonder
Clinger Holster's top-of-the-line No-Print Wonder is an inside-the-waistband holster using a combination of materials to achieve maximum discretion and function. The gun compartment is precision-molded from Kydex and incorporates a full sweat shield. The offset belt clips are alternately mounted on a Cling Tab (to snug the gun close) and a Flex Tab (for movement and comfort). Moreover, the 1.5-inch clips (available in nylon or the recommended steel) allow the No-Print Wonder to work as a tuckable. Ride height, degree of cant and retention pressure are all adjustable. Best of all, the No-Print Wonder carries Clinger's "bumper-to-bumper" lifetime warranty. The holster is available in black or coyote brown.
$69.99; clingerholsters.com
—Daniel T. McElrath