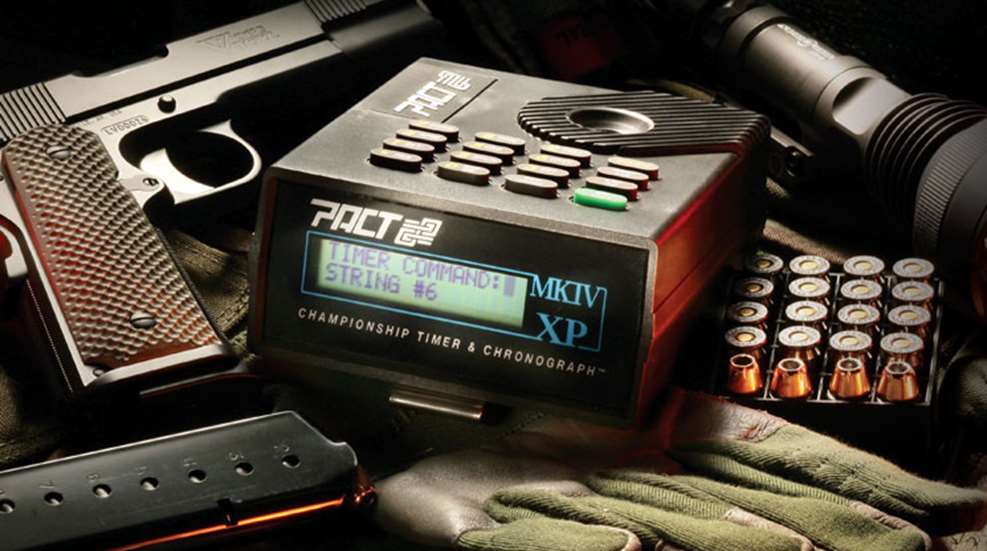 The father of the Modern Technique of the Pistol and Gunsite Academy founder Col. Jeff Cooper espoused the importance of speed in his motto, "DVC—Diligentia, Vis, Celeritas," which is Latin for Accuracy, Power, Speed. We measure accuracy on targets, power with mathematical calculations and speed with time. As it relates to shooting, time measurements are so small a specialized device is necessary.

In 1924 Ed McGivern set a world record by firing six accurate shots from a double-action revolver in four-fifths of a second. An elaborate timing contraption attached to the revolver verified the event. Because of the wires, McGivern's gadget did not lend itself to real-world training, so shooters continued to use stopwatches, sometimes even attempting to read one-tenth second divisions with a magnifying glass. This was impossible to do alone and results were dependent on the reaction time of the man running the watch.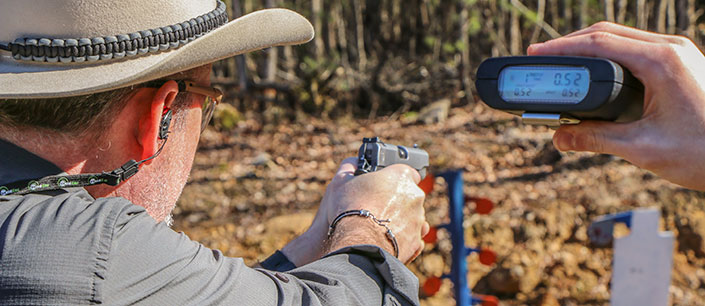 Stop plates became common timing devices in completion. This was a steel target engaged to stop the time at the end of a stage. However, time was still recorded by a stopwatch. In 1981, when shooter and holster maker Bill Rodgers invented a timing device that delivered a start signal and another signal at an adjustable preset time, things began to change. The goal was to deliver all your shots between the two signals or par time. The idea caught on and another shooter named Ron Bailey (Competition Electronics) built a timer from digital clock parts and a microphone. It marked the time of every shot fired. It could also be wired to the stop plate to give a truly accurate reading.

In 1982, Ronin Colman, a shooter who attended the first class ever held at Gunsite, created the PACT Championship Timer. Colman said when he first introduced his timer to competitors at the World Shoot, all they wanted to do was try and break McGivern's record. Since then, shot timers have become so trustworthy and prolific that they're used to decide the outcome of shooting matches worldwide.

In the early '90s when I became a police firearms instructor, the standard timing device was still the stopwatch or turning targets. As a competitive shooter, I realized the versatility offered by a shot timer and picked up a PACT Club Timer for about $100. It changed the way we trained and officers soon began shooting better and faster.


Former Tulsa, OK, police officer and Benelli Shooting Team Captain Dianna Muller always uses a shot timer during practice. As an example, during dry practice a shot timer helps her measure and improve handgun presentation speed and consistency. Using the par time feature, conceived by Rodgers, she sets it to represent her target draw time. This means she hears a beep as her signal to draw and a moment later she hears another beep indicating the par time has been reached. Her goal is to complete the draw between the beeps.

The same process can be used to measure and improve reloading skills. And, its not just limited to handgun training. Muller uses a shot timer to evaluate how fast she can move into various shooting positions with a rifle. A shot timer can also be used while working on malfunction drills. Of course, these drills and more can be conducted with live fire, running at real time. You still start on the signal but the clock records the elapsed time between the signal and the shot. In fact, you can fire multiple shots and learn even more.

This is because modern shot timers record the time of every shot fired. A review function lets you go back in time to see how long it took to fire the first shot and the split time—time between shots—of every shot fired. Split times are the real-time representation of your shot cadence. They show how fast you can recover from recoil, get back on target, and trigger another shot.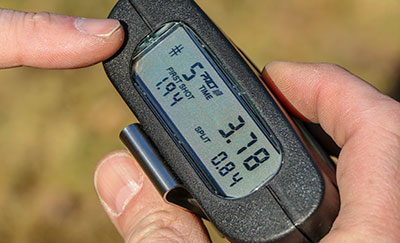 Muller says the key to effectively using a shot timer during training is a journal. She keeps track of her times and on target performance for all the drills she commonly practices. Her log provides an effective way to evaluate progress over an extended period as opposed to just one day on the range. Apparently it's working, as Muller claimed the individual world title at the NRA World Shooting Championship in 2015.

Travis Gibson, another accomplished competition shooter, goes so far as saying, "Practicing without a timer is a waste of time." Gibson calls attention to the fact that knowing the amount of time it takes you to draw, fire multiple shots, reload, and move, lets you plan how to attack a stage of fire. He says it also allows you to make competition-winning decisions as you progress through a stage or match.

But competition is one thing and self-defense is another. In a life-or-death situation, often time matters, but there will be no beep to signal when to draw, start shooting, or reload. So, how can a shot timer help you train to fight?

As Barrett Tillman, a Gunsite graduate and good friend of the late Col. Cooper has said, "You will not rise to the occasion, you will default to your level of training."

Can you draw your handgun from concealment, deliver a lethal shot on a human-size target at a distance of 7 yards, in 1.5 seconds? Can you draw and place two shots in the torso and one in the head in 3 seconds? Can you work to improve on these times and know you are actually progressing? Can you do all of this alone, without the help of a training partner? There's only one way to know for sure and only one tool that will help you do it, and that's a shot timer.
---
Shot Timers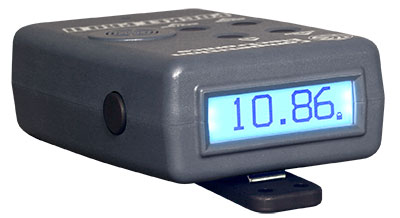 Competition Electronics Pocket Pro
Considered the classic Competition Electronics shot timer, the Pocket Pro allows for review of up to 50 shots, forward or reverse. It has an ergonomic design for right- or left-hand operation, without the buzzer or adjustable sensor being covered. The unit has a large display with .5-inch-tall numbers, will record times up to 199.99 seconds, and will shut down after 10 minutes of inactivity. You can select from an instant or random delay start, MSRP: $129.95 with a two-year warranty.
---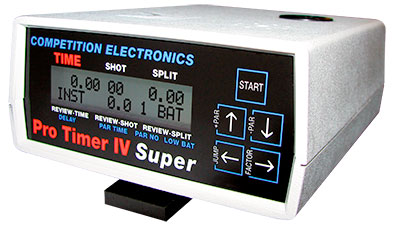 Competition Electronics Pro Timer IV Super
The Pro Timer IV Super is Competition Electronics top-of-the-line timer. The hit-factor scoring and external accessory connections set it apart. It can control turning targets, activate horn and light signals, record hits from steel targets and be started remotely or simultaneously with another Pro Timer IV. It will automatically power down after 10 minutes, while still remembering up to six par times. It has a wireless printer output and shot sensitivity adjustment, with a random or settable start delay. MSRP: $199.95 with a two-year warranty.
---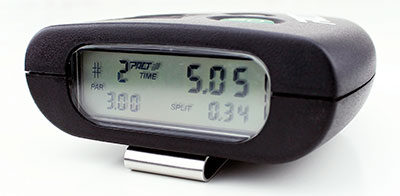 PACT Club Timer III
The PACT Club Timer tells you everything you need to know about your shot string at a glance. The shot number and total time are highlighted, with first shot and last split time displayed, instantly, at the end of a shot string. You can review individual shot times and splits and the unit tells you if it's set to delay or instant go. It's designed to fit your hand and weighs 7.2 ounces. The microphone and buzzer are located on the side away from your hand and it's loud enough for even old gunwriters to hear. All of the waterproof controls are recessed so there's no chance of accidentally activation. MSRP: $129.95 with a lifetime warranty.
---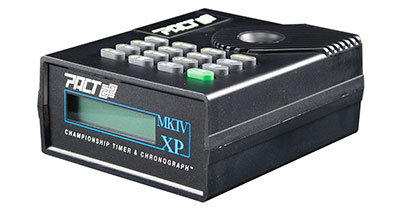 PACT Mark IV XP
The PACT MK IV XP is a combination shot timer and chronograph. To turn it into a chronograph all you need is a set of PACT sky screens which retail for $69.95. Like the Club Timer, the MK IV displays all of the information about a given shot, such as shot number, split time and total time at a glance. The MK IV also incorporates unique training functions, allowing you to do things like set a par time series of beeps after a certain shot number. For example, you could set a par time reload to occur after a set number of shots during a drill. The MK IV's ballistic computer will help you zero your gun, calculate lead, rate of fire and more for dry-fire practice. MSRP: $189.50 with a lifetime warranty.
---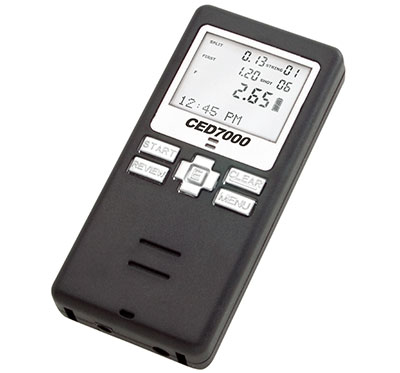 Competition Edge Dynamics (CED) - CED 7000
This compact shot timer measures less than 4x2 inches and weighs only 2.9 ounces. It runs off of an accessible lithium battery and has enough memory to store 10 strings of an unlimited number of shots. There's a custom setting for single or multiple par times, with variable delay intervals as short as .01 second. It also has date and time displays, an alarm clock, and a Spy Mode for monitoring other shooters. An extensive line of accessories area available and the FR model has wireless remote capability for connection to a CED BigBoard or CED Time Keeper for displaying results up to 50 yards away. It comes with a two-year limited warranty. MSRP: $119.95 with a two-year warranty.
---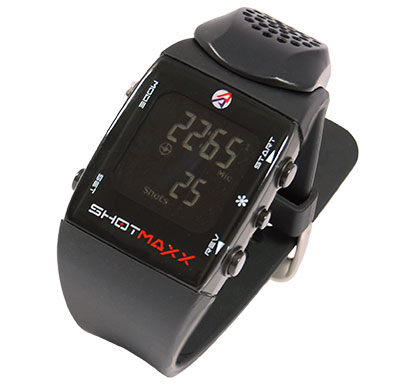 DAA Shotmaxx Timer
You wear this 2.1-ounce timer like a watch. It uses a unique shot-detection algorithm to filter out shots fired nearby and has 10 levels of digital sensitivity. Its the first shot timer to use Accelerometer—recoil—sensor technology, meaning you can wear it on the line right beside another shooter. Its rechargeable battery will power the watch for about 3 months, and when used intensely as a timer, it will run for about 30 hours. In addition to four types of start delays, par settings, beep and silent activation, lap-capable stopwatch and programmable alarm, it offers Bluetooth connectivity. This will allow for the development of new applications to run on smart phones in the future. MSRP: $149.95 with a one-year warranty.

---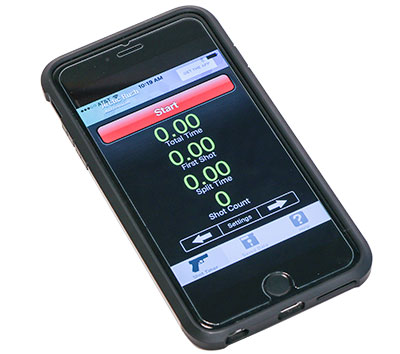 Smart Phone Shot Timers
There are several apps that work as shot timers. Some perform reasonably well. Others are problematic, mostly due to sensitivity issues. If you have a range buddy to hold the timer they're not a bad option. For the solo trainer they can be challenging to activate or hold where they will reliably pick up every shot. The Innovative Applications (ia) iPhone app has a handy feature that lets you to save and e-mail results. On the plus side, shot timer apps are affordable, costing between nothing and about $10. There's no excuse to not have one and it will likely convince you to buy a real shot timer.