Too often, people who carry a handgun for self-defense have some misconceptions, and popular culture is to blame: Potential attackers are portrayed as ski-mask-clad burglars and muggers armed with knives or pistols or sundry melee weapons, while they skulk in the shadows waiting to pounce on unsuspecting victims.
While the stereotypical career criminals are someone with whom we all should all be concerned, the fact is "bad guys" come in many benign-looking forms. Your potential attacker could be a pushy cabbie, an unhinged road-rager who believes you cut him off on the highway, or two severely inebriated guys who accost you on the street. (The latter of which recently happened to me while honeymooning in New Orleans' French Quarter.) The two men offered to show us around, but their crossed eyes were intently focused on my smartphone during the duo's drunken dialogue, and it didn't take a rocket scientist or a gimpy gunwriter to know what they had in mind. Thankfully, they were hardly a condition to stand, much less mug anyone.
Though none of the above fit the typical "bad guy," each scenario could be potentially dangerous and pose a genuine threat to your safety. Therefore, it's smart to develop a plan for dealing with such encounters though alternative methods of force. Every responsible concealed-carry licensee should have a less-lethal alternative. Options leading up to using deadly force, such as less-lethal self-defense devices provide greater you with greater versatility in effectively dealing with potential threats—without having to reach for your handgun. The Krudo SNAG Folder Controller is just such an alternative when an altercation is unavoidable.
The creation of martial arts expert and knife designer, Louis Krudo, at first glance the SNAG 2.1 Folder Controller resembles a training knife. While it can be used as such, in truth it's got a lot more going for it—so much so Krudo doesn't market it as a trainer and likes to refer to it as a "pain-compliance tool." Many less-lethal self-defense alternatives, like pepper spray, require distance from your attacker or, special training, such as a baton. That's not the case with the line of SNAG Controllers. The device is ideal in close-quarters—those bad-breath distances when you must contend with a threat within arm's reach—and under the type of broom closet conditions that make employing a handgun less than ideal. While its appearance may bewilder some at first glance, there's enough similarity between the SNAG 2.1 Folder Controller and other tactical folding knives, which makes using it easy and intuitive as opposed to other CQB devices.
When open, the device has a unique S-shaped design with design elements of a karambit and a scimitar. The SNAG possesses the typical ring associated with a karambit's pommel, but instead mimicking the concave shape of the popular Indonesian utility knife, Krudo opted for a concave-shaped the blade with a deep belly and a generously curved spine. Closer examination of it, however, reveals the true versatility of the device. While it is similar in appearance and handling to a knife, the SNAG is actually closer in function to a folding kubaton, which is used like a knife to strike boney surfaces, pressure points and sensitive parts of the body (such as knuckles, forearms, the bridge of the nose, shins, stomach, solar plexus, spine, temple, ribs, groin, neck and eyes) until he or she either ceases being a threat, is sufficiently incapacitated or you can create sufficient distance to escape.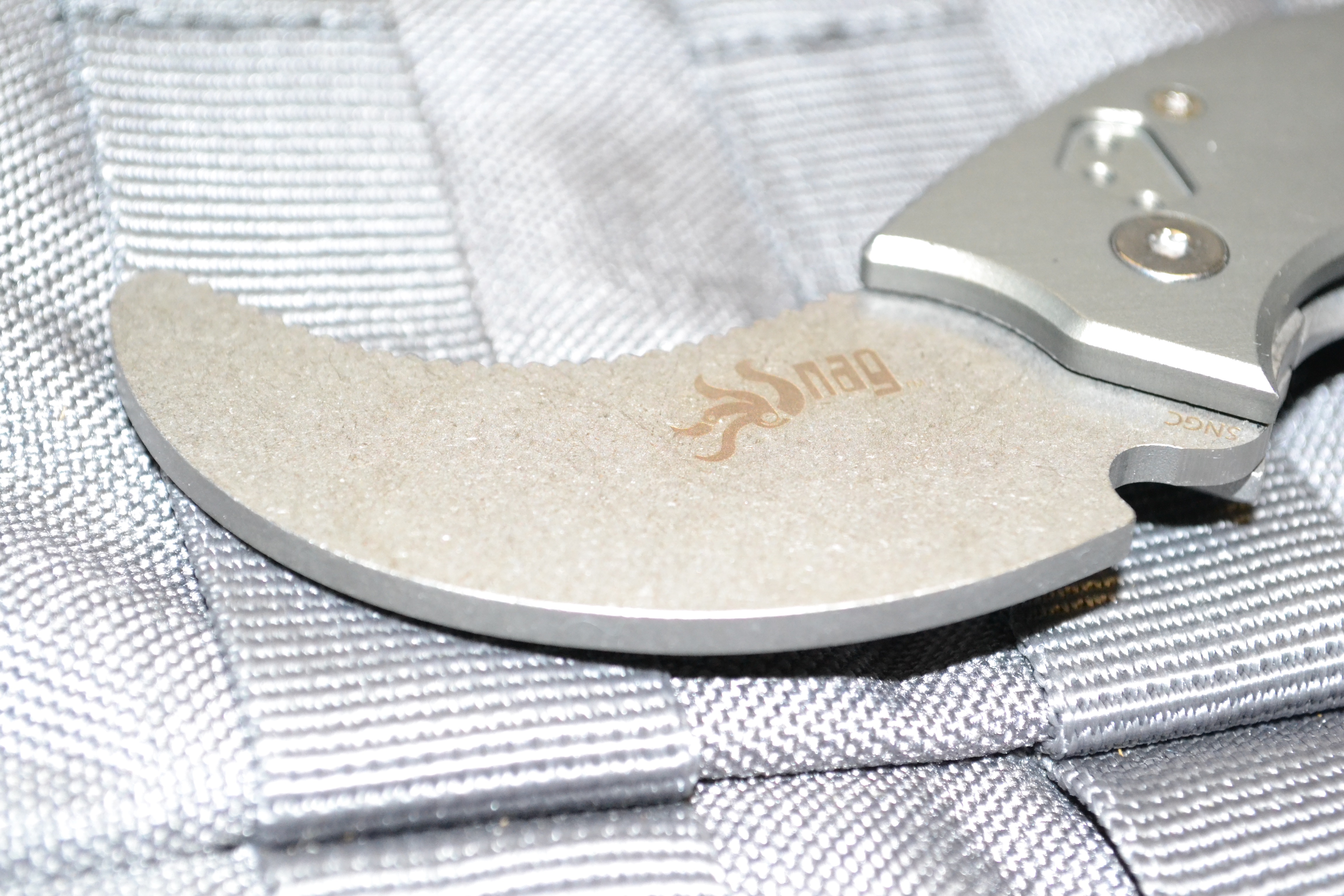 Best of all, you don't need to deploy the SNAG's blade to defend yourself effectively. Placing your index finger inside the ring and adopting an underhanded grip provides welcome purchase and retention that is vital in close-quarters battle. There's a small, lever (or tang extension—as seen on old-fashioned straight razors) at the base of the blade, which resembles a cat's claw protruding slightly from the front of the handle when the device is closed. It's also jibbed for enhanced purchase. Opposite the tang extension is a karambit-style ring that features nub along the outside of its ring as other means of eradicating bad behavior. (Think makeshift ice pick or brass knuckles.) Need access to the blade in a hurry? While gripping the SNAG underhanded, simply pinch the ring between your index finger and thumb, while simultaneously straightening your remaining fingers to make sure their out of the way. Then, using a finger from your opposite hand, push on the SNAG's tang-extension lever—Voila, blade rapidly made ready!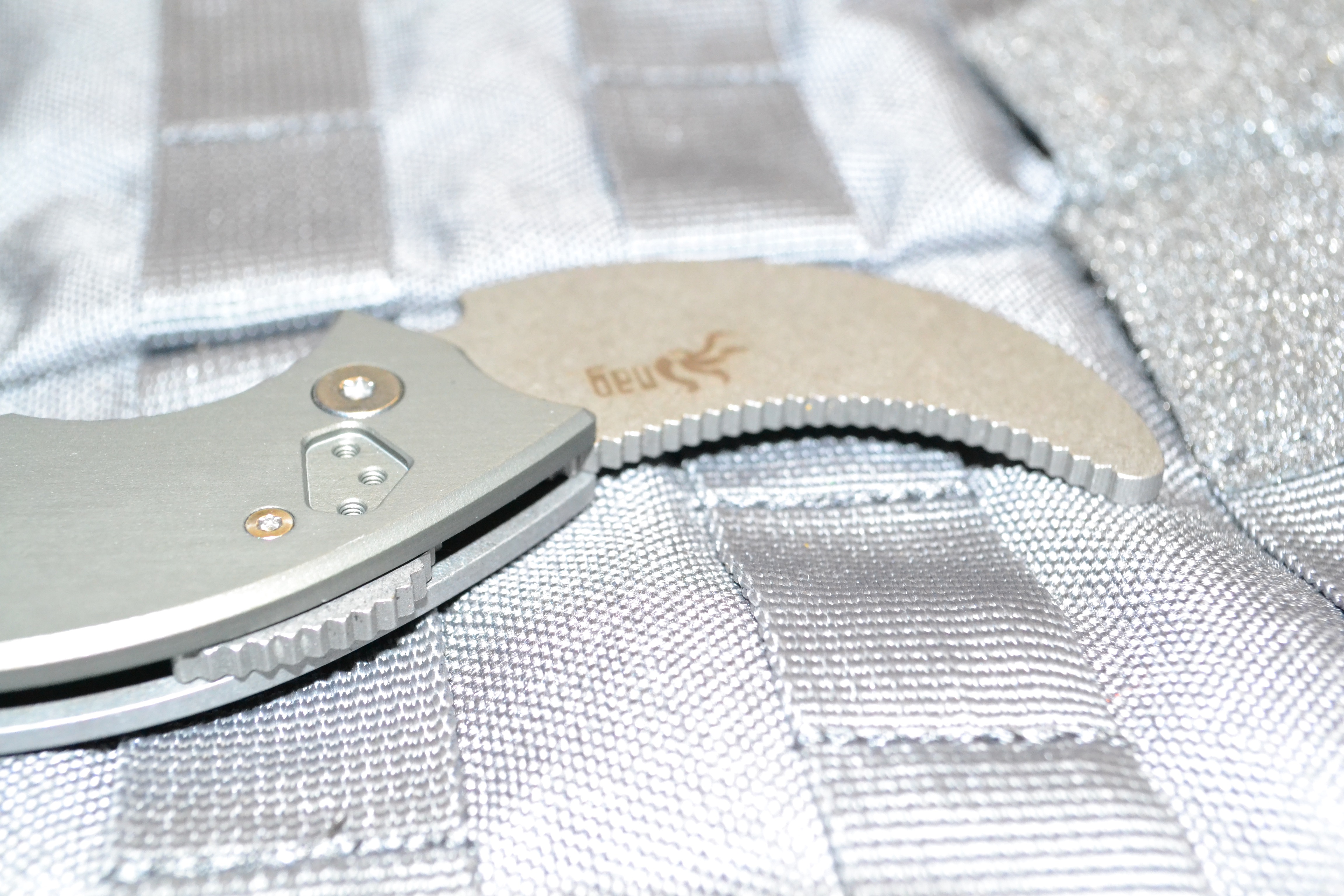 As they say in infomercials, "But, wait, there's more." The curve of the Controller's spine is jibbed to assist in the hooking (and, you guess it SNAGging) of limbs or other body parts. There's even a fold-out lever located just above the ring, which you can deploy and tip the scales in your favor by placing t your thumb against it create leverage to foster greater control/compliance.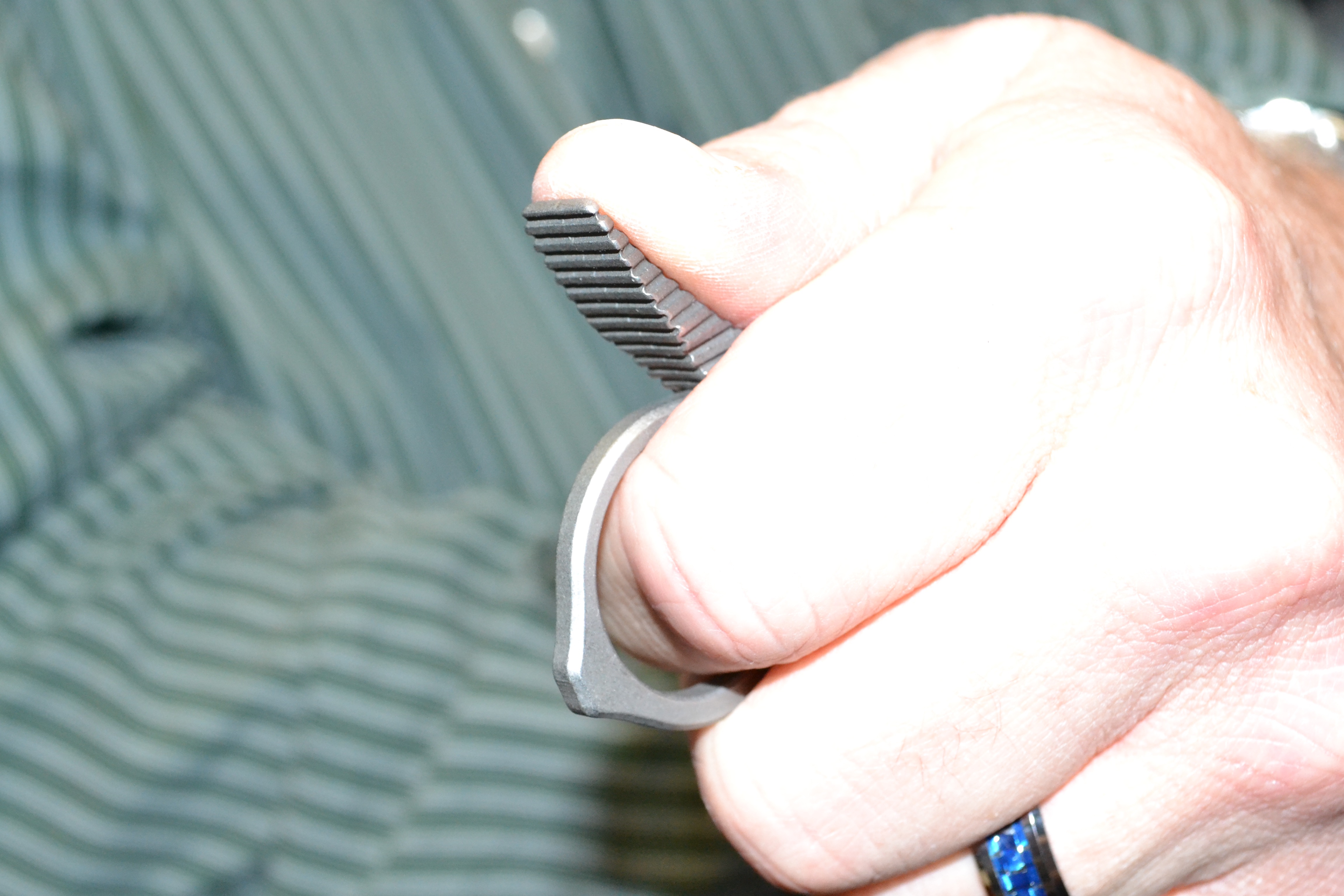 Though it isn't a knife in the truest sense, the SNAG Controller is designed to be carried like one. Its adaptability is further reflected in the product by its reversible, four-position clip that allows for multiple carry options. Thanks to the ring along the pommel, accessing it is simple, and you have two different methods depending upon your needs: Pinch the between your index finger and thumb and lift straight up to deploy with the Controller with the blade closed. Or, to draw the SNAG Controller with the blade at the ready, pinch the between your index finger and thumb and tilt it slightly outward from your pocket and give it deliberate yank. The outward angle and deliberate tug catches the tang-extension lever gets caught on the edge of your pocket and summons the blade.
For those who prefer to carry a different mode of conveyance, the company also offers a polymer Quick Deployment Holster that mounts to your belt or tactical vest and is capable of deploying the blade as fast as you can pull it out of your sheath.
Of course, other versions of the SNAG Controller are also available with a "live blade," (meaning with sharpened edges). 
No matter how you slice it, the SNAG 2.1 Folder Controller adds non-lethal options to your self-defense toolbox. 
SNAG 2.1 Folder Controller MSRP: S135, krudoknives.com
See the SNAG 2.1 Folder Controller and other complementary gear in the December 2015 Shooting Illustrated Pro Shop column.