Synergy is a combined effort or effect greater than the parts going into the final product. In the gun industry, when two forces—such as a well-known custom manufacturer and an acclaimed firearm trainer—combine, the odds are good the result will turn heads and ultimately be well received. As a student in one of Jeff Cooper's earliest handgun courses, and later as a primary instructor for the American Pistol Institute (which later became Gunsite) Hackathorn has spent 40 years training military and law enforcement personnel, as well as civilians, on how to proficiently use all manner of firearms for self-defense. Given his background and well-publicized love for the 1911, it's no surprise that friend and fellow enthusiast Bill Wilson approached him about teaming up to design a pistol from the ground up, featuring the trainer's preferences and the quality for which the custom gunsmith is known.
At the heart of the pistol is Wilson Combat's full-size carbon-steel frame and slide, which are CNC machined for tight tolerances, then fitted and shaped at the hands of one of the company's pistolsmiths. Its 5-inch, stainless match-grade barrel and bushing are fitted, and a reverse-cut crown is added to the muzzle. Inside, the pistol uses a traditional recoil spring, recoil-spring guide and plug. Per Hackathorn's design parameters, the company's Bulletproof components are added for enhanced durability.
The flattop slide is serrated across the top for added aesthetic appeal, and is flanked by the company's low-profile front post and a Battlesight rear. The latter I found extremely impressive, given its wide, .145-inch, U-shaped notch. The notch area is recessed in a pocket, providing a crisp, protected sight picture that aids in rapid alignment under stress. This sight also sports dual setscrews to provide a rock-solid interface capable of shrugging off abuse. My sample pistol also came with tritium ampules in both the front and rear sights for defensive use in low-light encounters. Although the sights' edges are radiused, an external shelf makes for easy one-handed cycling.
As with most custom 1911s, the ejection port of the Hackathorn Special is lowered and flared for improved reliability. Cocking serrations are found fore and aft and serrations also span the back of the slide. As a final touch, fluting on the exterior of the barrel hood serves as a means of redirecting malfunction-inducing crud.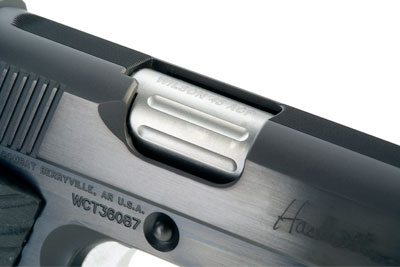 In keeping with the pistol's concealed-carry design, its beavertail grip safety has a raised palm swell on the rear to aid in quick deactivation, while the tang portion has been partially bobbed to reduce the likelihood of snagging on clothing during the draw. The undercut trigger guard promotes a high grip on the pistol, bringing the hand closer to the bore, which translates to less felt recoil. Perfectly executed 30-lpi checkering on the frontstrap and the backstrap paired with G10 Starburst flat-bottom grips offer a comfortable purchase-enhancing tactile surface without the skin-abrading bite. The dished-out area on the right panel aids in reaching the pistol's slightly extended magazine release.
The Hackathorn Special is fitted with a skeletonized hammer and medium-length solid trigger, which promotes easy access even with gloved hands and broke at a crisp 3 pounds, 11 ounces. To accommodate my southpaw affliction, a sublimely contoured ambidextrous thumb safety was included. Its narrow ledges foster easy deactivation while providing just enough real estate for my thumb to comfortably reside while shooting. In testing, the cavernous hole of the one-piece mag well facilitated effortless reloads, and although it extends the grip by about .25 inches, I find it a practical addition, especially to a carry pistol.
My time at the range with the Hackathorn was fantastic. Its slide cycled silky smooth, as though gliding across ball bearings. Alas, testing was not stoppage free, with two failures-to-feed occurring while shooting Remington Golden Saber during the second and third groups. In both instances, the slide locked rearward despite a loaded magazine. I cured each by simply depressing the slide stop, chalking them up to break-in-related hiccups or upward pressure applied to the magazine from the shooting bench. Regardless, the pistol proved capable of phenomenal accuracy across a wide range of bullet weights. The best group was a miniscule .53 inch achieved with 150-grain OTF HPR BlackOps at 25 yards. Furthermore, given the velvety sheen of its hand-finished, deluxe blue finish, this no-nonsense custom 1911 is as pleasing to the eye as it is practical.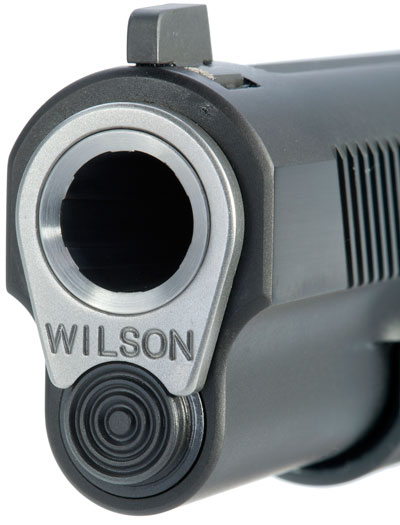 The Hackathorn Special is unquestionably one of the finest 1911s I've had the pleasure of evaluating to date. More the sum of its parts, this Wilson Combat handgun represents the culmination of four decades of firearms-training knowledge from a top-tier trainer in the industry. The pistol combines handcrafted attention to detail, custom features and top-notch performance to fulfill the demanding needs of the serious defensive shooter.
Specifications
Manufacturer: Wilson Combat; (800) 955-4856
Action-type: Recoil-operated,  semi-automatic
Caliber: .45 ACP
Capacity: 8+1 rounds
Frame Material: Carbon steel
Slide Length: 7.5 inches
Finish: Armor Tuff; Hand Finished Deluxe Blue (tested)
Barrel Length: 5 inches
Rifling: 6 grooves; 1:16-inch RH twist
Sights: Battlesight rear with tritium inserts; snag-free front with tritium insert
Trigger Pull Weight: 3 pounds, 11 ounces
Length: 8.7 inches
Width: 1.3 inches
Height: 5.6 inches
Weight: 35.6 ounces
Accessories: Soft case, silicone cleaning cloth, manual, trigger lock
MSRP: $3,750
Shooting Results
| | | | | |
| --- | --- | --- | --- | --- |
| Load | Velocity |   | Group size |   |
|   |   | Smallest | Largest | Average |
| HPR BlackOps 150-grain OTF | 1,091 | .53 | 2.53 | 1.62 |
| Remington Golden Saber 185-grain JHP | 963 | 1.06 | 1.78 | 1.41 |
| Federal American Eagle 230-grain FMJ | 810 | 1.16 | 2.10 | 1.49 |

Velocity measured in fps at the muzzle for 10 consecutive shots with an Oehler Model 36 chronograph. Temperature: 57 degrees Fahrenheit. Accuracy measured in inches for five consecutive, five-shot groups from a sandbag rest at 25 yards.