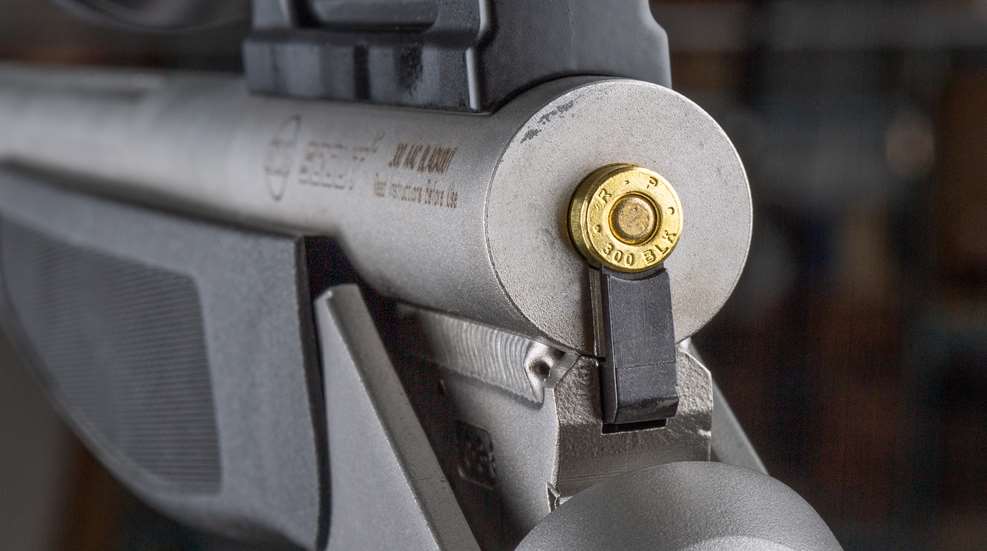 Fall is just around the corner, and although we are not exactly through the ammo shortage, things are better than they were in January. As hunting season is already underway here in the Southeast, sporadic ammo availability got me thinking about the utility of certain single-shot, break-action rifle designs. Although single-shot rifles peaked in popularity right after the Civil War, modern, multiple-chambering versions of these long guns are still capable of providing us with some needed flexibility.
I should say up front that if you are trying to expand the ammunition compatibilities of a modern, defensive rifle, one of the caliber-swap methods we have previously covered will likely be the best solution. Examples include adding a new upper-receiver assembly to an AR or using a switch-barrel semi-automatic or bolt-action rifle. However, if you are in the market for a no-frills, flexible, first rifle—or you live where a conventionally styled rifle is either preferable or necessary—the new and used markets have several break-action rifles that are simple, reliable and flexible right out of the box. That each of these rifle types is or was once made in chamberings that are suitable for both defensive use and medium- or large-game hunting is another benefit.
Aside from premium double rifles and European-style Drillings that will set you back many thousands of dollars, combination rifle/shotgun over/unders are the most plentiful options, especially in the used arena. I am supposed to be the rifle guy, but shotgun barrels make good sense in this context. In addition to the obvious utility of having a scattergun barrel for specific close-range or moving-critter tasks, over/under setups like these tend to have iron sights—and in some cases scope rails—that allow accurate shooting with rifled slugs out to reasonable distances. So, in the end, the shotgun barrel makes for a nice backup to your rifle.
In past years, Russian-made double rifle and rifle/shotgun combos from Baikal came through various importers in some interesting chamber combinations. These doubles usually appear in the resale market as IZH 94s or MP94s. Break-action, internally hammered and wooden-stocked, Baikal's utility rifles had shotgun barrels in 12 gauge, 20 gauge or .410-bore. A variety of rifle chamberings included .22 LR, .223 Rem., 7.62x39 mm, .308 Win. and even .30-'06 Sprg. These utility guns are scarce, but they show up on auction sites from time to time. Prices range from the mid-hundreds to more than $1,000.
Chiappa Firearms' Double Badger line consists of several wooden-stocked, folding guns. Offered in .410-bore and 20 gauge over .22 LR, .22 WMR or .243 Win., they are currently priced on the company's website from $441 to $647. Chiappa is one of two companies that also make an updated version of the old M6 survival rifle over shotgun, TPS Arms being the other. Mostly chambered for small game, neither company's version is intended to be used as a primary rifle. Each maker offers .22 LR and .22 WMR on top, while TPS also has .17 HMR, .22 Hornet and .243 Win. options. Chiappa raises the shotgun ante with .410-bore and 20 gauge, while TPS only offers a .410-bore. Designs share single-shot, selectable barrels, big trigger guards over glove-compatible triggers, screw-in shotgun chokes and buttstock ammunition storage. Chiappa's higher-cost ($799 to $999) model folds, while TPS' M6 ($589 to $625) separates into halves via an AR-style front pin. Easy to store and get into action, but not super fun to shoot in the largest caliber and bore sizes, M6s nonetheless make a great backup for camping or confined storage spaces.
The most plentiful rifle/shotgun combos are found in the now-discontinued Savage Model 24 family. These are single-shot, break-action, rifle-over-shotgun setups with an external hammer, single trigger and barrel selector. Savage made many different versions of the Model 24 over an approximately 60-year run. Most had wooden stocks, but black polymer was used for later models. Rifle calibers included .22 LR, .22 WMR, .22 Hornet, .222 Rem., .223 Rem., .30-30 Win. and even
.357 Maximum chamberings. Shotgun sizes included .410-bore, 20 and 12 gauges, with later models using screw-in chokes. I have several Savage Model 24s, including my first firearm: a well-worn .22 LR over 20 gauge. It is the most accurate .22 LR I have ever fired and my centerfire 24s shoot well within minute-of-vitals at 100 yards with iron sights.
Still-plentiful on the resale market, prices range from around $400 to well beyond $1,000. Savage replaced the Model 24 with the Model 42 (now the 42 Takedown), which is only available in .22 LR or .22 WMR over .410-bore. 
Moving to single-barreled break-actions, Rossi's Matched Pairs used to be offered in a variety of rifle calibers and shotgun gauges, but the current "Tuffy" version is only available with .22 LR and .410-bore barrels. These are simple rifles with polymer furniture and short-radius open sights. Rossi's little single-shot, multi-barrel gun is the cheapest option of all, retailing at $219 with extra barrels costing $165 to $185 each.
CVA offers its Scout break-action platform in multiple chamberings and barrel lengths/styles, including threaded models for use with a suppressor. Options from .410-bore to .450 Bushmaster are available, some with muzzle brakes. All models have an optics rail, but no iron sights. Prices range from $349 to $419.
The last on my list single-shots are Thompson/Center's break-action rifles. Since the introduction of the Contender pistol in 1967, multiple frame variations have been offered in a seemingly endless list of chamberings. Today's Encore and Encore Pro Hunter rifle models encompass 17 chamberings with full barrel interchangeability. G2 Contender rifles have at least seven caliber options, all capable of being used in the same frame. Pricing for T/C's switch-barrel singles appear to begin around $700 and go up from there, with extra barrels starting out around $300 each.
If I have a choice, I will not plan to use a single-shot rifle, or a rifle-shotgun combo, as my first line of defense—ever. Still, I have been in situations where one of the above models is all that I had access to, and I was happy to have a good-shooting rifle (and shotgun) with which I was very proficient. A moderate amount of practice will make loading, shooting and reloading a break-action rifle effectively and efficiently a pretty simple affair. If it is all you have on-hand, or the only rifle you have ammunition for, a break-action will be worth its weight in rhodium.