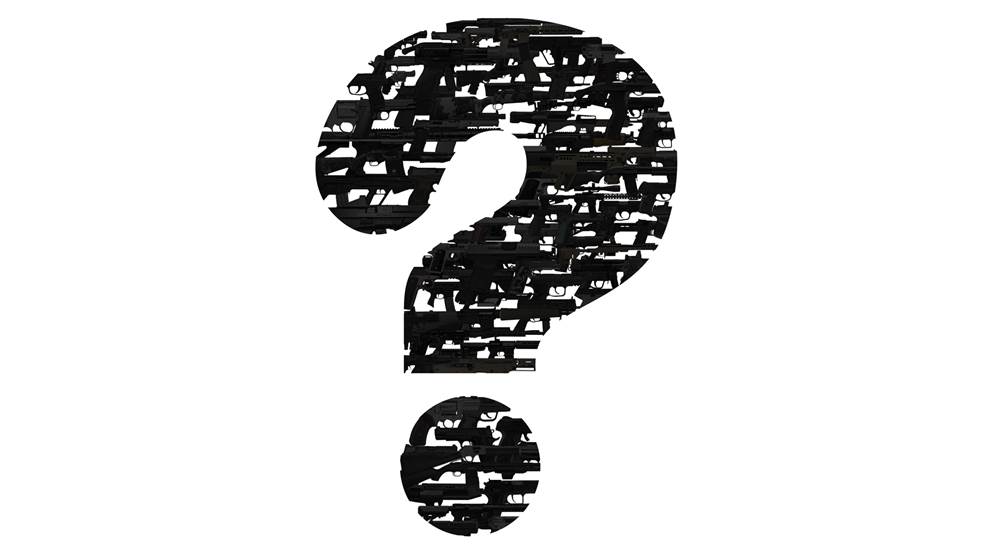 I got the question again this week. I live in a small town and a good number of folks know that I contribute to NRA Publications. To many, this means I am an authority of sorts and they would like to ask me about gun stuff. I make no claim on so-called "authority" status, but I have been working as a writer in various firearm publications for 36 years. For me, a deep interest in guns in general began when I was still in single digits, age-wise. So, I don't mind answering a gun question when I can. You meet a lot of good people in these conversations.
Other than "How did you get the job?" the most frequently asked question is "Exactly what's the best gun for … ?  In these troubled times, you can fill in that blank with home-defense. People are genuinely troubled about personal safety—even in their homes—where locks and lights once almost guaranteed security. It was just this past week that I got the Question from a friend who was born abroad and was a little puzzled about American customs and laws. I first asked a few questions about a gun for concealed carry, which would limit his choices to a compact handgun. He was not interested in this class of firearm; he wanted a gun to be used to defend his home.
This widens the field of consideration. The major characteristic of any defensive firearm is the ability to get the job done quickly. By this yardstick, almost any centerfire rifle and most shotguns, as well as semi-automatic pistols and revolvers greater than .32 caliber, will get it done. Although we commonly respond with "handgun" when someone says "defense," there is no need to rule out guns of greater size when there is no need to conceal them. In your own home, there is no need to hide the defensive gun, so anything of decisive power that can be safely stored will work. There are some common-sense factors involved in doing this. Particular care is important when choosing a safe place to store the gun.
The distance at which you might likely have to shoot is a factor. As an example, consider a scoped bolt-action rifle chambered in .300 Win. Mag. The long barrel, scope and caliber optimize the rifle for very long-range shooting and penetration on impact. That is way more than you need for home defense. For an article of several years past, I once measured the distance of every possible shot that might be taken inside a medium-size, three-bedroom house. By actual measurement, that distance was approximately 12 yards. Some folks might be fortunate enough to have bigger digs, but this is a sensible working figure. A rifle that can deliver an effective shot across my living room (like that .300) can also deliver one across the town in which I live. Choosing such an arm is ill advised—too much gun.
Logically, choosing a handgun for the home-defense role is understandable. If you are not going to carry concealed, there are plenty of pistols with generous capacity and revolvers in large calibers. Some careful shopping will show you a huge variety of sizes, calibers and systems. Also, there are numerous makers that offer special, small safes that securely store any handgun. For quite a few years, this has been my personal favorite field of interest. It is a fascinating subject, but the original question was the best gun for home defense. This is not—in my opinion—the very best. A shotgun is.
Many shotguns will do, but the best of breed is a quality 12-gauge pump with an 18-inch barrel. Currently, that is the Remington 870 or Mossberg 500. At our standard 12 yards, one of these guns will put eight or nine .33-caliber lead balls into a group the size of a dinner plate and often smaller. Each of those pellets—size 00 buckshot—will be moving at around 1,100 fps. Shotguns usually command a great deal of respect, but there are several persistent misconceptions surrounding both the scattergun gun and its ammunition.
Most importantly, it will not guarantee a hit. If your target is inside our 12-yard limit, the group will likely be around 10 inches or less. Unless the gun is carefully aimed, you can easily miss completely. But, if you get your group on the center of mass of a criminal attacker, he or she will almost certainly stop. 
Although sporting use of a shotgun involves getting only a few hits of small pellets in a large area, defensive use seeks to get 100 percent of your pellets on a small point. This is why the home-defense shotgun, in its most refined form, has some of the features of a rifle—sights and stocks.
I firmly believe that a shotgun is the best possible gun for home defense, but only in the hands of a gun-wise shooter who has taken the time to get a proper gun and learn its manual of arms. Ideally, a course is a good idea.
And I hang onto the belief that the scattergun rules as home-defense fightin' iron.