Not all factory grips are the best, nor are they created equal. They are usually well designed for that gun, but not everyone's hands fit them. It's one reason many guns come with interchangeable backstraps. But there is even more to a grip than size.
Just like buying a gun is a very personal decision, choosing whether to be happy with the factory grips or upgrading to something extra is also a personal choice. Sometimes you need extra material around the outside for a more customized fit. If you choose to upgrade, to what? Choices, choices, choices…
The purpose of an aftermarket grip is to improve the factory grip by either adding more texture or more girth, so your hands don't slip and you manage recoil better. It's also a comfort issue: different grips can reduce the vibration of the gun.
Aftermarket grips fall into three basic categories: soft rubber, gripper tape, and custom etching. Let's look at the basic design of each and what makes them good and bad.
Soft Rubber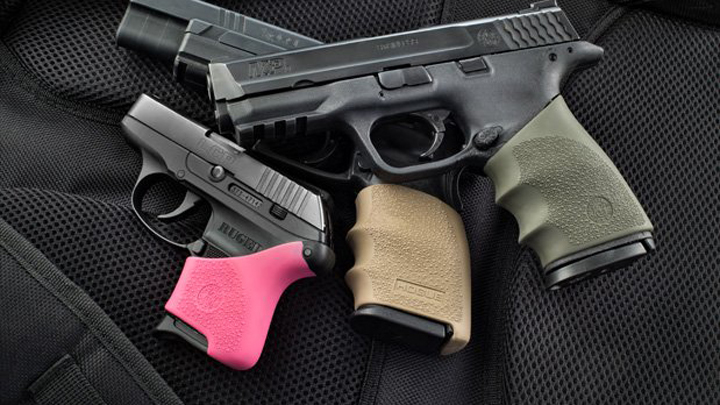 Pioneered by companies such as Hogue, the rubber grip is traditionally synonymous with revolvers but has found its way onto semi-autos in recent years. Started in 1968 by Guy Hogue, the company's first customers were LAPD officers who wanted extra friction when grabbing onto their wood revolver grips. Since then, Hogue has expanded their line and other companies have joined the market with competing grips.
The biggest benefit of the rubber grip is its stickiness. Not sticky like glue; sticky like friction. Rubber grips are unfazed by sweat and rain, allowing for sure grip matter the conditions. They also don't freeze under normal winter conditions, so ice and snow also don't affect them. Also, most rubber grips are fairly thick, adding a layer of bulk atop the factory grip to allow a firmer grasp on the gun. 

Grip Tape/Talon Grips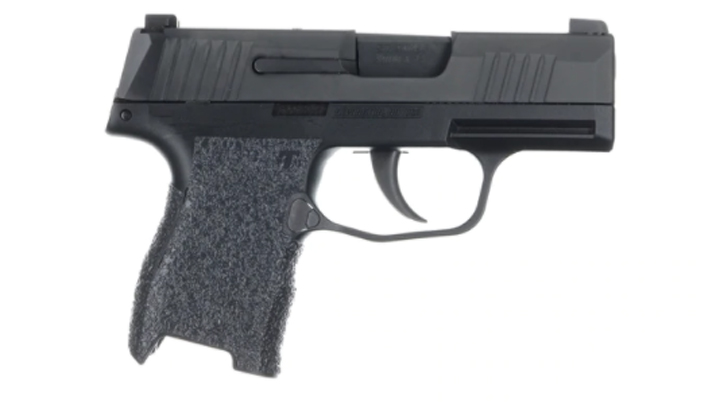 For added grip without added bulk, the next option is grip tape, often found under the brand name Talon. As Kleenex is synonymous with facial tissue, the Talon name is often used generically to refer to grip tape, even though several manufacturers offer similar products. The basic premise behind grip tape is that it alleviates much of the slickness on metal or polymer grips, offering extra resistance so the gun won't slip out of the shooter's hand. Like soft sandpaper, grip take works by adding a layer of bumpiness to the grip.
Unlike rubber grips, grip tape does not add any substantial thickness to the grip. If you like your gun's grip thickness, grip tape may be the way to go. Most manufacturers have pre-patterned products that fit standard gun models, but you can also customize grip tape by removing sections where you might not want the extra roughness.

Custom Etching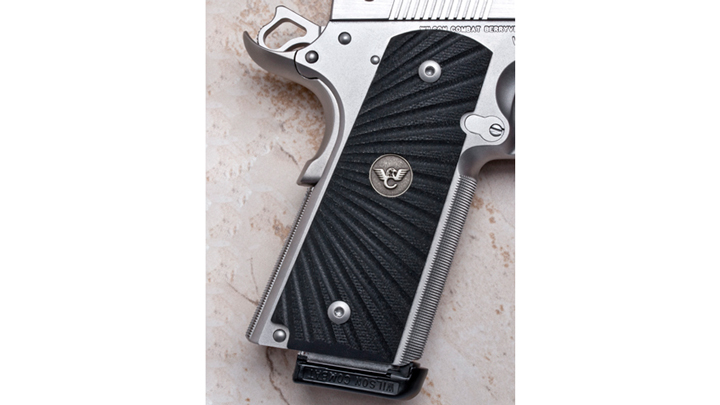 One benefit of custom gunsmithing is getting to play with, among other things, the slide, the barrel, and the grip. Many custom gun makers offer special grips that vary in how close they are to the original factory grips. Companies such as Wilson Combat and others have signature grips with their logos embedded in the pattern. Often these grip patterns are designed after much research on how the hand interacts with the gun to maximize the effectiveness of the cuts, stripes, and checkering.
The upside to these custom grip jobs is they don't wear out over time and will likely never need replacing. They are permanently attached to the gun. The downside is they tend to be very expensive, typically running anywhere from a few hundred to thousands of dollars, depending on the company and amount of custom work needed.

Choosing the Best One

If you're not happy with the factory grips and need a change, it's best to try out different grip styles before you buy. Of course, budget is a big consideration. Unless you're willing to fork out a small fortune on gunsmithing, rubber grips or grip tape is likely the winner. But if you have the funds, sometimes a custom grip is just what the doctor ordered. Whatever you choose, make sure it works for you. Don't get it just because your buddy said so. It's your gun. Get what you need.