by
posted on April 30, 2020
Support NRA Shooting Illustrated
DONATE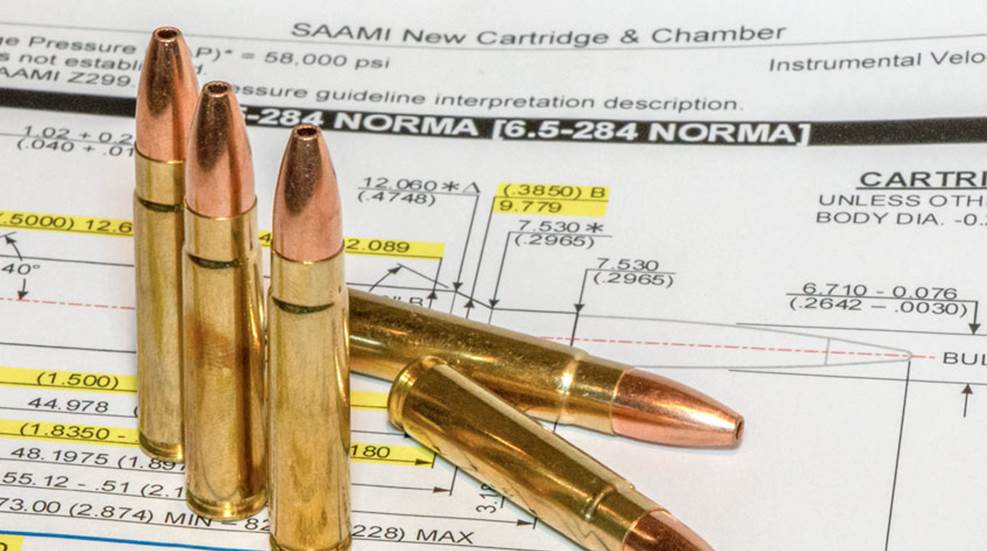 The 300 HAMR (shown) and the 6.5-284 Norma (SAAMI data sheet shown) are the two newest cartridges to be accepted by SAAMI. This acceptance will undoubtedly make both more popular in America.
Humans have a tendency to seek acceptance. Cartridges, on the other hand, are inanimate objects; they seek nothing. However, for a cartridge to be accepted by humans, at least American humans, it first needs to be accepted by SAAMI. I've written about SAAMI (Sporting Arms and Ammunition Manufacturers' Institute, Inc.) here before. It's the organization that makes sure there's an established level of safety in commercially manufactured firearms and ammunition.
Elsewhere in the world, C.I.P. (the Commission internationale permanente pour l'épreuve des armes à feu portatives) is the SAAMI equivalent. C.I.P. established a set of uniform rules for the proofing of firearms and ammunition to ensure the reciprocal recognition between its members. Though different than SAAMI, C.I.P. is not worse or better, it's just not the standards-assurance organization to which American firearm and ammo manufacturers adhere. If a new cartridge is going to make it in America, it must get through SAAMI.
SAMMI was founded in 1926 at the request of the federal government. It creates and promulgates technical, performance and safety standards for firearms, ammunition and components. It also serves as a global resource for the safe and responsible transportation, storage and use of these products. The acceptance of cartridges by SAAMI is an important step in making new loads legitimate in the firearm industry. The codified technical data and drawings enables other manufacturers to safely and efficiently make products to support further innovation. From chambers and barrels, to other loads, to accessories such as muzzle brakes and magazines, SAAMI acceptance provides a necessary step in vetting and getting data shared throughout the industry.
The size and pressure limits for a particular cartridge are established by the designer/submitting manufacturer. SAAMI, for the most part, just confirms their safety. Once the specifications are approved by SAAMI, those are the specifications ammunition and rifles will be built to. This is why .308 Win. ammunition manufactured today works in a .308 Win. rifle manufactured 60 years ago. It's also the reason the 6.5 Creedmoor is ballistically superior to the older .260 Rem. (at least when factory ammunition and rifles are compared.) SAAMI specifications for the 6.5 Creedmoor mandate a 1:8-inch rifling twist, but for the .260 Rem. a 1:9-inch twist is specified. This means the 6.5 Creedmoor can stabilize longer, more aerodynamic bullets.
In order to sponsor the submission of a new cartridge a company must be a SAAMI member or partner with a SAAMI member. The sponsoring company must submit a package dimensionally defining the cartridge and chamber, as well as the performance of both service and proof ammunition. This package goes through an extensive review conducted by every SAAMI member. It takes about 6 months. Once approved, the standards are published and then firearms and ammunition can be built to SAAMI specs.
In late 2019, SAAMI accepted two new rifle cartridges: 6.5-284 Norma and 300 HAMR. The acceptance process was the same, but the way these cartridges got to SAAMI was different.
6.5-284 Norma
In 1999, Norma submitted the 6.5-284 to C.I.P. It had existed as a popular wildcat and was adored by long-range shooters. With the ability to push 6.5 mm bullets to velocities about 150 fps faster than the now popular 6.5 Creedmoor, you can understand its appeal. Not only is the 6.5-284 Norma faster than the Creed, it operates at a MAP (Maximum Average Pressure) of 58,000 psi as opposed to 62,000 psi. However, given no acceptance by SAAMI, the 6.5-284 Norma has remained mostly a cult cartridge in the United States.
Nosler submitted the 6.5-284 Norma to SAAMI, and now with acceptance I would expect to see not only a variety of Nosler factory loads, I would also expect Nosler will be offering rifles as well. Given the rising popularity of 6.5 mm rifle cartridges, I would also think we will soon see ammunition and rifles for this cartridge soon offered by other manufacturers.
300 HAMR
SAAMI has also accepted the 300 HAMR (and killed the apostrophe in it's original name), which was developed in 2018 by Bill Wilson of Wilson Combat. Designed for self-defense, law enforcement and hunting, it is roughly comparable ballistically to the .30-30 Win. However, the HAMR has a substantially flatter trajectory due to the higher ballistic coefficients of the bullets used. SAAMI acceptance of the 300 HAMR is important, because it gives the AR-15 platform a cartridge undeniably suitable for big-game hunting.
This 300 HAMR works best with 95- to 150-grain, .30-caliber bullets and functions to perfection in the AR-15 platform. Muzzle velocities range from 2,280 fps to 2,770 fps out of a 16-inch barrel, and it operates at MAP pressures of 57,500 psi. With a good selection of .30-caliber bullets in this weight range, it is ideally adapted to a multitude of applications. Wilson Combat worked with Starline Brass, Western Powders and SIG Sauer to get SAAMI acceptance.
Why? It's actually pretty simple, Wilson Combat is not an ammunition manufacturing member of SAAMI. Wilson Combat assembles ammunition—uses components from other manufactures—but it does not manufacture ammunition. Starline and Western Powders helped Wilson Combat with cartridge development, and SIG Sauer submitted the cartridge to SAAMI. We could assume SIG was just being nice to a friend in the industry, but what's more likely is that we will soon see SIG Sauer 300 HAMR ammunition and rifles.
Just as with all previous SAAMI-accepted cartridges, we can now also expect a higher level of acceptance of the 6.5-284 Norma and the 300 HAMR by American shooters. After all, for a cartridge to become "real," it has to be accepted by SAAMI first. Cartridge drawings for all SAAMI-approved cartridges are available on SAAMI's website, saami.org.