Non-binding referendums in support of concealed carry for personal protection received overwhelming support by voters in 10 primarily non-urban Illinois counties in the 2012 general election. While local law does not trump Illinois state law, CCW advocates say they hope the results help apply pressure on lawmakers in the coming legislative session to finally approve a concealed-carry law.
Measures supporting concealed carry received overwhelming approval in Adams, Bond, Henry, McDonough, Mercer, Randolph, Rock Island, Schuyler, Stephenson and Warren counties.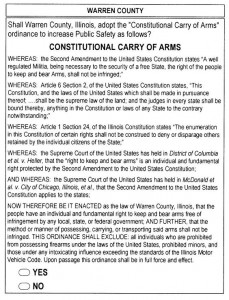 Illinois remains the only state that completely forbids citizens to carry firearms.
Glenn Sanders, president of the Mississippi Valley Hunters and Fishermen's Association in Adams County said he believes voters in his county, which includes the city of Quincy, sent a clear message a message to Illinois politicians.
"They need to know (most) citizens support this issue," Sanders, a retired Illinois Conservation Police sergeant, told the Quincy Herald-Whig last week.
Of the 30,000 votes cast in Adams County, 78 percent favored the concealed-carry measure. Voters in Warren County approved its measure by a 73- to 27-percent margin. Referendums in the remaining eight counties were also approved by significant margins.
However, the legislative fight for concealed carry in Illinois promises to be a decidedly uphill battle for proponents when lawmakers return to Springfield in January 2013.
Gov. Pat Quinn (D) continues to support even tighter gun-control laws, including a statewide ban on certain types of rifles with higher-capacity capabilities. In addition, Gov. Quinn has repeatedly vowed to veto any pro-carry legislation that crosses his desk.