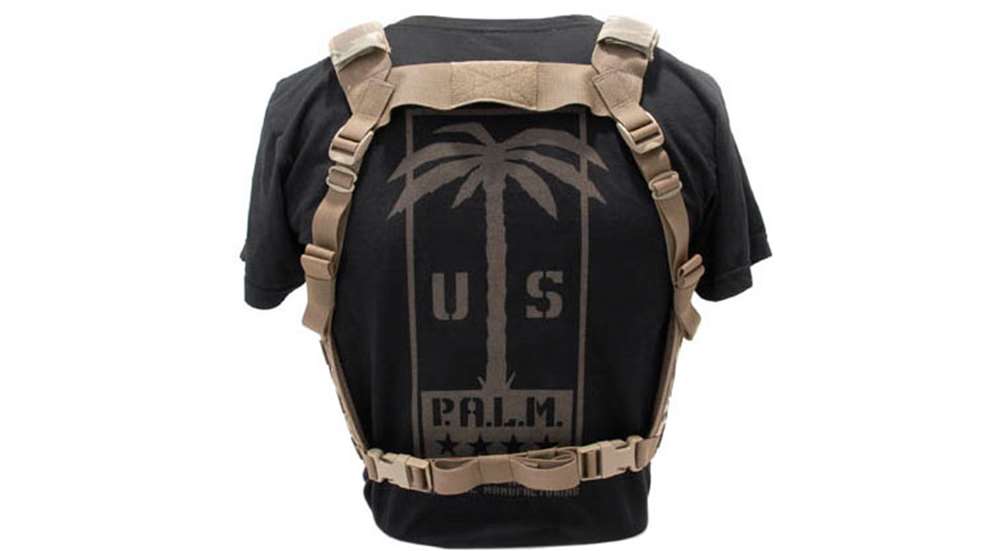 You snap awake in the middle of the night, your pulse racing. You aren't sure why, and then you suddenly hear the unmistakable sound of glass breaking downstairs. You slip your pistol from the safe in your nightstand drawer and grab the flashlight you keep by your bed for emergencies, moving to take position in the bedroom door where you have a commanding view of the hallway. This won't end well for someone, but can you make sure that someone isn't you?
In a potentially life-or-death scenario like a home invasion, both criminal and homeowner have advantages and disadvantages. When it's your home, however, wouldn't you prefer to maximize your tactical supremacy? U.S. PALM has decided the advantage should decisively go to the defender... or rather, the Defender.
Instead of grabbing your gun and running to the sound of a broken window or kicked-in door, put this vest on first, and you'll gain a psychological edge from the knowledge that you are at least somewhat protected.
The Defender is a simple body armor concept, perfectly executed in rugged black, MultiCam, coyote brown or Ranger Green 500D Cordura nylon. A single, IIIA, soft body armor panel (available in large or extra-large) covers the vital chest area, riding on a pair of padded, adjustable shoulder straps. A simple wrap-around strap cinches the armor around your midsection. Best of all, you are "good to go" in about the time it takes to read this paragraph—or about 5 seconds.
The basic back panel is unarmored, but it can carry a second armor panel if the user so desires. In addition, the soft armor can be swapped out for most 10x12-inch Level IV hard-armor plates in both the front and rear, giving the user multiple-shot protection against even rifle fire.
The Defender variant I have on hand is the Handgun Defender. It mounts a universal holster (which fits most pistols, with or without an attached weaponlight) atop three universal handgun mag pouches (one on the right, two on the left). The magazine pouches could also conceivably carry a tactical flashlight or pepper spray canister without any problem at all. The vest also has a small admin pouch at the top of the vest.
U.S. PALM makes other Defender variants, including three models designed to carry rifle magazines for the AR-15, AK-47 and .308 Win.-chambered semi-automatics like the AR-10.
In addition, the company offers a MOLLE version on which you can add your own pouches, and a slick version without any pouches at all for wearing beneath clothing.
All Defender vests feature a common rear panel with a MOLLE strip across the back (not a bad spot for your IFAK or tourniquet), and two pouches ideal for carrying emergency supplies. The single-panel Defender weighs just 1.6 pounds, while the dual panel model tips the scales at 3 pounds.
The single 10x12.5-inch armor-panel vests retail for $199 ($249.99 for the 11x13.5-inch XL version), and the dual-panel variants with front and back Level IIIA  panels retail for $99 more ($124.99 more for XL), which makes the Defender series a steal when it comes to body armor.
It must be noted that the Defender lacks the wrap-around side protection of many soft-armor systems typically worn by military and law enforcement personnel, but that is by design. The Defender series was conceived for those who do not need to wear a vest all the time, but who may need to don one quickly. Home defenders also tend to know what direction home invaders are coming from, and a homeowner in a good defensive position is is mostly likely to be facing the threat, head-on.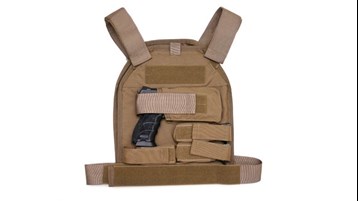 Another possible alternative for those who like U.S. PALM's armor concept—but feel they simply must have side protection in a relatively quick-donning vest—is the Desert Tracker Plate Carrier, which was originally designed to address a specific law enforcement problem.
Police officers in the American Southwest face desert heat that can be every bit as deadly as a criminal's bullet. As a result, they've sometimes chosen not to wear body armor to minimize the possibility of heat stroke or heat exhaustion resulting from wearing heat-trapping body armor for long periods of time in the desert sun.
U.S. PALM's Desert Tracker features a front vest panel designed to carry a SAPI or ESAPI rifle plate, and sides that can carry Level IIIA  6x6-inch soft armor for added flank protection. The back of the vest is open for ventilation, and the shoulder straps, front and side panels are lined with a moisture-wicking mesh on padded backing. It is available as either a MOLLE version, which is what I have for review, or with three double-magazine pouches holding six AR-style magazines in total. Colors offered include MultiCam, Ranger Green, coyote brown and an Italian special operations desert camouflage pattern called CB62 that works very well in the American Southwest, where this plate carrier was designed to operate. The only issue some civilians may have with the $249.99 Desert Tracker is it comes as the plate carrier only, with the user needing to provide armor of their own.
Both the Defender series and the Desert Tracker provide purpose-built armor carriage for specific customers, and you'd be hard pressed to find anyone else making equipment that hits these niches at such attractive prices.
As a civilian far away from the desert, relatively unlikely to come upon a cartel gunman crossing the border with an AK-47 in hand, I admittedly don't have the need of the Desert Tracker. But, we buy car insurance, medical insurance and home insurance hoping that we'll never have occasion to use them. The Defender just makes sense as part of your conflict insurance—an insurance plan that includes your firearm(s) and training. Understood with this context in mind, the most surprising thing about the U.S. PALM Defender is that a lightweight, easy-to-use and relatively inexpensive armor vest has taken so long to arrive.