by
Evan Brune, Associate Editor, Shooting Illustrated
posted on April 26, 2018
Support NRA Shooting Illustrated
DONATE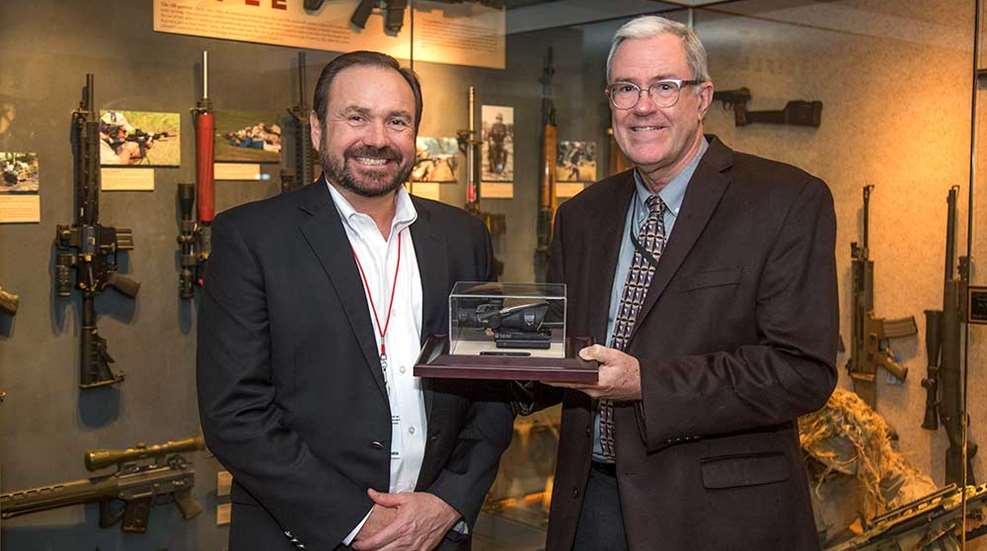 Standing in front of the "America's Rifle" exhibit at the
NRA National Firearms Museum
,
Trijicon
VP of Sales and Marketing Chuck Wahr officially donated a commemorative-edition ACOG optic, one of 100 produced, made to celebrate the company's one millionth ACOG battle sight. NRA Museums Director Jim Supica was on hand to receive the celebrated optic on behalf of the NRA Museum.
"Trijicon's really proud of the ACOG," Wahr said. "It's a milestone, and we wanted to celebrate the significance of it. For us, there was no better place to bring it than the NRA."
Supica said the optic was extraordinarily well-received from its inception and was a true breakthrough for military optics. He also commented that the optic would have a fitting home in the "America's Rifle" exhibit at the museum, which celebrates the storied history of the AR-15, a rifle platform widely used in conjunction with the ACOG.
"We're very honored to have it, and it has a great home right here, " he said.
In 1986, Trijicon founder Glyn Bindon, then working for Ford Motor Company as an aeronautical engineer, came up with the idea for a compact rifle optic by shifting the prism located inside of the riflescope. The design he came up with also incorporated tritium that provided target illumination at night without the use of bulky, heavy batteries and fragile electronics. The Advanced Combat Optical Gunsight (ACOG) was born, and it was lighter and more compact than any other optic on the market at the time.
When the first ACOG, the TA01 model, rolled out of the factory in 1987, it employed fiber optics in a configuration many experts claimed wouldn't work. However, thanks to its unique design and battle-ready construction, the ACOG performed so well that it was included in the Army Advanced Combat Rifle program in the same year.
The Trijicon ACOG gained popularity on the commercial market, and in 2004, the TA31RCO model of the ACOG became the first-ever official combat optic of the U.S. Marine Corps.
"The ACOG mounted on the M16 service rifle has proven to be the biggest improvement in lethality for the Marine infantryman since the introduction of the M1 Garand in World War II," said Maj. Gen. James Mattis, then commanding general of the First Marine Division.
In April 2005, the company reached its first production milestone with the creation of the 100,000th ACOG optic. In 2007, the U.S. Army selected the 4x32 RCO model of the ACOG as its field-carry optic, and Special Forces troops fielded the company's 4x32 ECOS in the same year.
The company's one millionth ACOG battle sight rolled off the assembly line in October 2017.