At 2:27 p.m. on March 30, 1981, President Ronald Reagan was leaving a speaking engagement at the Hilton Hotel on T Street Northwest in Washington, D.C. Just 69 days into his presidency, Reagan was waving to an assembled crowd while walking toward his waiting limousine when six shots rang out. As the president's protection detail scrambled in response to the shots fired, Secret Service Agent Robert Wanko opened a specially modified Samsonite briefcase he was carrying and drew the weapon inside of it: a 9 mm Uzi submachine gun. Journalists present that afternoon documented the entire incident from start to finish, capturing images that became front-page, international news overnight. Wanko and his Uzi appeared prominently in many of those memorable and dramatic images.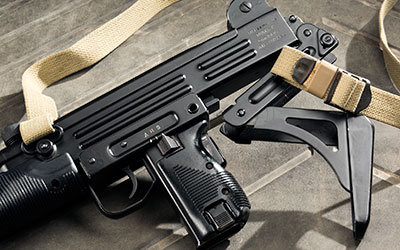 Although the Uzi submachine gun had, by that time, been around for more than a quarter century, it still offered something no other submachine gun did: compact firepower. Sure, there were small-frame personal-defense weapons (PDWs) like the Czech Vz. 61 Škorpion in .32 ACP and the Soviet Stechkin APS in 9x18 mm Makarov, but those were Warsaw Pact designs not available to the U.S. Secret Service and they were chambered in undesirable calibers. The British L2 Sterling submachine gun in 9 mm had its merits, but the horizontally mounted magazine was less than ideal for concealability. There was also the West German Heckler & Koch MP5 in 9 mm, but it was several inches longer than the Uzi, even with its stock collapsed. Anatomically speaking, the Israeli Uzi was the best option available in 1981 for concealment in a customized carrying case. Thanks to an innovative telescoping bolt design and its combination pistol grip/magazine well—features that allow for a shorter overall firearm—the Uzi is a mere 18.5-inches long with its buttstock folded. Because of this compactness and the ubiquitousness of the 9 mm cartridge, the Uzi was selected as the gun to protect the president.
But the U.S. Secret Service was not the only foreign user of this simple and reliable open-bolt submachine gun in 1981. By that time, the Uzi had been exported to more than 90 nations that purchased versions made either in Israel by Israel Military Industries (IMI) or under license in Belgium by Fabrique Nationale d'Armes de Guerre (FN). This worldwide proliferation put the submachine gun in the hands of elite forces and security services in Europe, Africa, Asia and the Americas. 



Just a year after Agent Wanko wielded his Uzi during the aforementioned presidential assassination attempt, Argentina had occasion to use its Uzis in combat during that nation's invasion of the Falkland Islands. On April 2, 1982, a small force of 16 Argentine amphibious commandos attacked the governor's compound at Government House in Stanley. One of those men, Suboficial 2° Ramón López, fought the British that morning armed with an Uzi. The Uzi showed up again the following year when U.S. troops invaded Grenada during Operation "Urgent Fury."


This firearm born in the 1950s, and a veteran of major world conflicts in the 1960s and 70s, was entering its twilight years. The U.S. Secret Service ultimately phased out the Uzi in the 1990s and adopted the Heckler & Koch MP5, eventually replacing it with the FN P90 PDW. Israel's military phased out the Uzi by 2004. But, there was a time about three decades ago that an example of Israeli technical innovation protected the American president and remained a key part of the warfare that characterized the closing years of the Cold War.