by
Philip Schreier, Director, NRA Museums
posted on April 14, 2021
Support NRA Shooting Illustrated
DONATE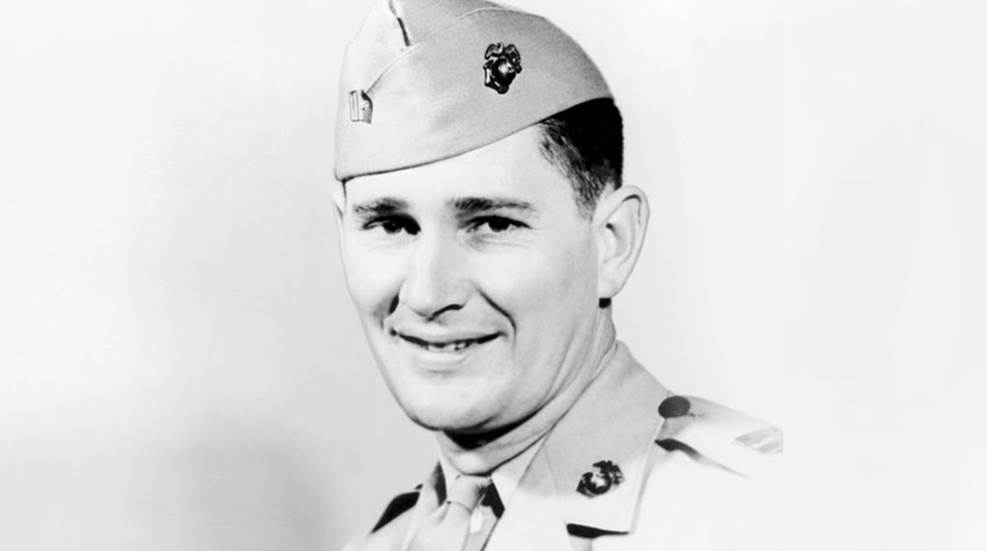 An iconic USMC photo of Foss shows the Medal of Honor recipient with his rakish grin.
The NRA has been fortunate in its 150 years to have had some of America's greatest patriots serving as our president. Military heroes, successful politicians, television and movie personalities and pillars of the community from the private sector are just a few of the varied backgrounds of those who have led the Association since its inception in 1871.
Joseph Jacob Foss (1915–2003) was NRA president from 1988 to 1990, and he left a larger-than-life footprint in each of the above-named categories. As a United States Marine Corps pilot in World War II, he was the first to equal CPT Eddie Rickenbacker's World War I record of 26 aerial victories. He was awarded the Medal of Honor, our nation's highest award for gallantry, by President Franklin D. Roosevelt at the White House in the spring of 1943.

He later served as a brigadier general in the Air National Guard. As a politician, he won election to two terms as governor of South Dakota. He hosted the Emmy nominated "The American Sportsman" television show for multiple seasons on ABC, and was the first commissioner of the American Football league, serving in that office for seven years.
Larger than life, Joe Foss was an extraordinary American. His autobiography, "A Proud American: The Autobiography of Joe Foss," written with his wife Donna, has a cast of characters who interacted with Foss that reads like a "who's who" of the 20th century. There wasn't anyone he didn't know, and he treated everyone he ever met with kindness. 
The first book to find its way into print about Foss was "Joe Foss Flying Marine" by Walter Simmons and published in 1943. In the book, Foss recounts the details of his early life on a South Dakota farm, how much he enjoyed being outdoors and his joy upon receiving his first gun—a BB gun—at the age of 8. His father was a strict, but fair, disciplinarian who instilled in Foss and his younger brother Cliff a sense of responsibility when it came to the handling and use of firearms.


Foss once recounted a story to me about the first shotgun he ever owned. It was a beautiful Winchester Model 12 made in 1920 with a 30-inch, full-choke barrel in 12 gauge. Foss had worked all year to save enough money to buy the gun and was finally given permission from his father to purchase it. Earning the money from various odd jobs and chores, he was extremely proud of the new acquisition once he had it in his hands.

It became his prized upland game gun and few birds were able to get past his sights without being dropped by the marksman with 20/10 vision. (BG Foss' good friend, BG Chuck Yeager, another celebrated air combat ace and avid outdoorsman, also had 20/10 vision). Foss' Model 12 was his go-to gun throughout his adolescence on the farm and he honed his ability to lead, shoot and follow through while hunting birds.
In 1933 his beloved father was killed in a horrible accident when Foss was almost 18 years old, leaving him, his widowed mother and younger siblings alone to manage the farm. Eventually he was able to attend college, and in 1940 he joined the Marine Corps with the intention of becoming a pilot. He earned his commission and wings in 1940, and was 26 when the U.S. entered the Second World War on Dec. 8, 1941.

Combat fighter-pilot slots generally went to men 5 years younger than Foss, and he was sure he would spend the war stateside as an instructor. He was able to finally wrangle a fighter-squadron slot and headed to Henderson Field on Guadalcanal in 1942. The rest, as they are fond of saying, is history. On May 18, 1943 he was awarded the Medal of Honor by FDR at the White House, and a photo of him grinning from ear to ear was the cover of the June 7, 1943, issue of Life magazine.
The accompanying article: "Joe Foss, No. 1 Ace," by John Field, gave Life's readers an insight into Foss' background and upbringing, the types of things that contributed to his success over the Japanese in the South Pacific at a time when many thought the odds could go either way in terms of final victory. Foss' widowed mother was pictured at her desk reading a telegram from Foss. Sadly, some ne'er-do-wells who read the article realized that Foss, being an avid sportsman whose gun collection at home was in the care of his mother, settled on a plan to rob the house while she was away at church services one Wednesday evening.

They broke into the empty house, kicked the door open to his bedroom and emptied his gun cabinet. When the war ended and Foss came home, he found all of his prized guns were gone forever. The thieves, in their haste, had neglected to look behind the kicked in door where one of Foss's shotguns was perched against the door jamb and obscured. That shotgun was the old Model 12, his first and the firearm he had labored for a year to earn the money to purchase.
Some 40 years later, Foss consigned a healthy portion of his memorabilia to an auction house in an effort to downsize his possessions. A number of firearms were up for bid, and I was the lucky winner of the Model 12. I had no idea of the backstory associated with it, and only found out when I informed the General that I had acquired it when we next saw each other at the NRA Annual Meetings a year later. It remains one of my prized possessions, especially since I had the privilege to spend many an hour in his company over the 12 years I worked with him.
BG Joseph Jacob Foss, USAF and Maj., USMC, Medal of Honor recipient, NRA President, proud American and hero of our Republic, is interred at Arlington National Cemetery. His grave is decorated every holiday season by NRA's Executive Director of General Operations Joseph P. DeBergalis, Jr. during the Wreaths Across America "Wreaths In" event.