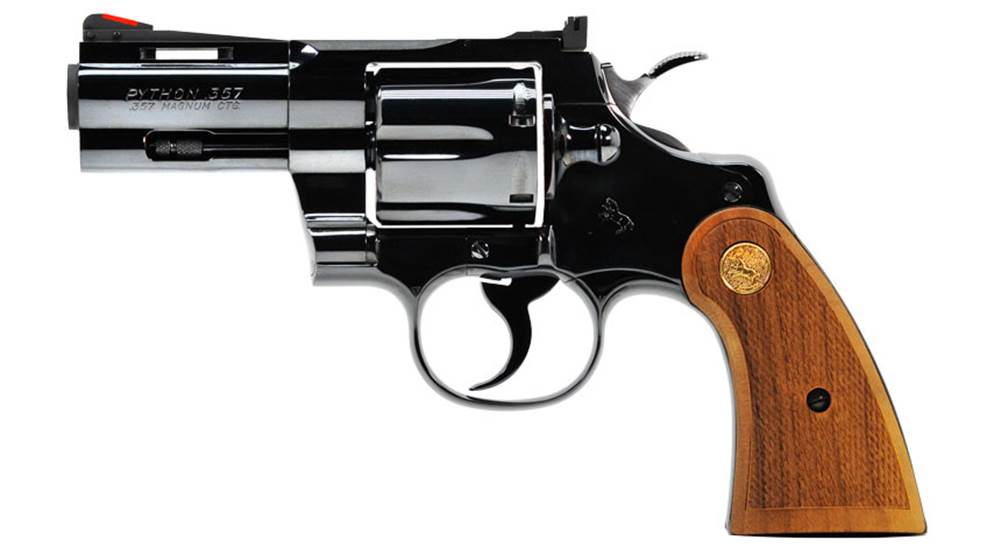 The gun came along at a crossroads in history. World War II had ended in a great flash and America's warriors came home to a new affluence. They had left hard times in the Depression for harder years of war service, and a bit of serene prosperity was in order.
After a few peaceful post-war years, the good times showed up on the nation's highways with flashy new cars and in the nation's living rooms with an electronic and cultural phenomenon called television. It wasn't all that bad a time to be living in the American republic, as anything was possible. Nowhere was that so true as in an old brick factory on the river in Hartford, CT.
Colt Firearms was well aware of the significance of Smith & Wesson's pre-war bombshell, the .357 Mag., and responded with a firearm that achieved iconic status. Yeah, it was the Python, and we all know what has happened to that superb firearm.
But, if you've been prospecting the Gobi desert since 2006, when production ceased, let's review some of what has transpired. The gun was originally manufactured in 1955. It was made on an adjustable-sighted version of the medium or .41 frame, initially with a 6-inch, fully underlugged and ventilated-rib barrel. Other barrel lengths came along—2.5-, 4- and 8-inch—as well as many other variations. The major point is simply that Colt made a premium-quality service revolver for more than 50 years and sold some 600,000 of them. A few years after production ended, shooters suddenly awoke to the fact that Colt wasn't kidding and there would be no more Pythons. From there on, it was simple economics—fixed supply, steadily increasing demand.  A product that originally sold for $125 sells for several thousand dollars today, if in mint condition. And the inevitable variations in markings, sights, finish and barrel lengths can drive those prices exponentially higher. 
It is one such Python variant that pre-occupies me these last few months: the 3-inch-barreled blued guns made in the 1980s. There were probably only a few hundred made, but to me this is the most handsome of them all. It also would seem to be one of the more-practical versions for balance and pointability. The "Threes" were first made for the Lew Horton company in 1988 and marked "Combat Python." I have never handled or even seen one of these, but I have handled a version that has one of the most-interesting pedigrees of all: the California Combat Python. 
When the new 8-inch .38 Spl. Python tanked as a viable target revolver, its value dropped dramatically. A Sacramento, CA, distributor obtained a quantity of them and re-chambered the cylinder to .357 Mag. and cut the barrel to 3 inches. It was a nicely executed modification that got many Colt fans into using the coolest Python ever. As a shooter never reluctant to modify a handgun to suit my needs, tastes or desires, I saw the exotic 3-incher as a gun I had to have. The search was on, but it eluded me for more than 30 years. (To make matters worse, I had a 4-incher, only to part with it unpleasantly.) I did, however, find a barrel.
Numrich used to run a full-page ad in the major gun magazines with all kinds of intriguing gun parts. I noticed 3-inch Colt Python barrels were available and quickly placed an order. When it arrived, I had the hard part of my elusive short Python. I waited until just recently for the right gun on which to install my barrel. Then I was told that the working Python, owned (and used) by an old friend from my early days of gunwriting, was coming to me. When it arrived, I saw a sound 4-incher with all the nicks and dings of trips afield and to the range.
A gunsmith in Hamilton, MT—the Custom Shop (that's the actual name)—returned what looked like a new gun, but it was my friend's trusty Python. It was now a beautiful revolver with brand-new (correct) service grips, not a scratch anywhere and no turn ring on the cylinder. The secret of all quality gun refurbishing is preparing the metal, which can only be done by the experienced hands and knowing eyes of a highly motivated professional gunsmith.
I long coveted a 3-inch Python and now I have one. Since the barrel was an aftermarket installation, my new gun would never "letter," but it came from the armory of a dear friend with whom I had some raucous good times. It was, in plain terms, a keeper of regal proportions. In handling the gun one morning, I noticed that when I was holding the gun at a particular angle, I was able to see my face in the right side of the frame. Just so I could say I did it , I shaved that morning in my new (unloaded) fightin' iron.